Since their beginnings as the original hard labor pants, denim jeans have been everyone's go-to item. Unfortunately, plus size jeans can be a curvy fashionista's nightmare.
Luckily, a curvy woman can look just as fantastic and fashionable in jeans as a size zero fashion model. You just have to find your perfect pair!
Style your jeans the right way and you'll balance your proportions and create the ultimate flattering silhouette.
Here's our favorite jean cuts and shapes for plus size women to help you choose the best pair this season.
Black Jeans
Top of the charts has to be the classic black jean.
Black jeans are available in multiple shades, from washed out slate grey, to deep onyx. They are a more dressed up and fashion forward take on the classic blue jean.
Plain jeans will suit everyone, whilst distressed and ripped jeans will suit those who prefer a more street style look.
Black jeans can look extremely elegant for a night out when paired with stilettos or peep toe heels, but can also be dressed down with fashion sneakers for relaxed weekends.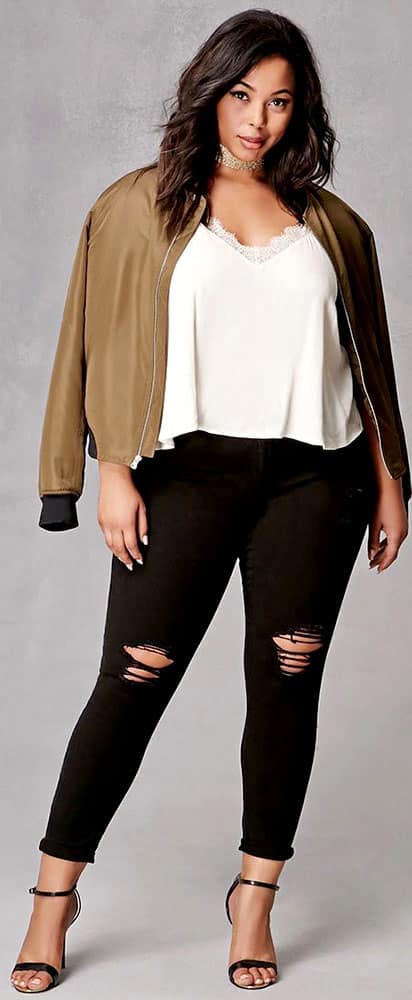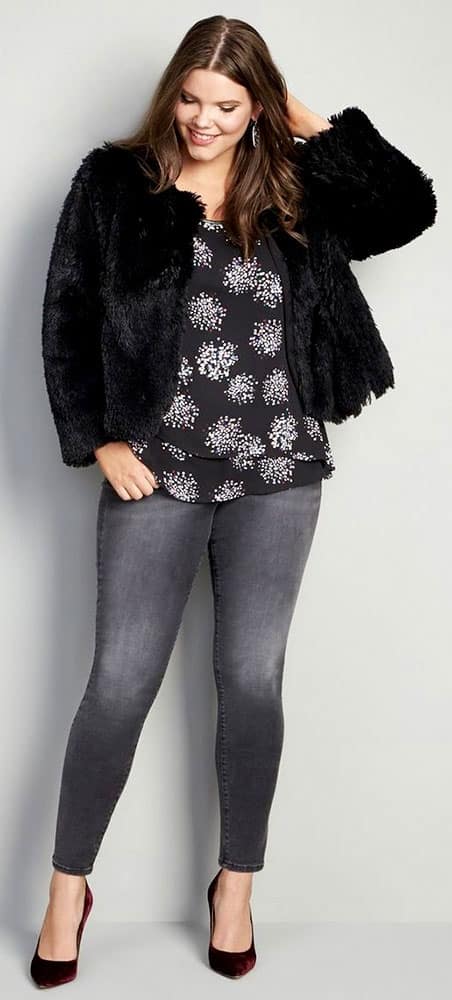 Straight Leg Jeans
The straight leg jean is a great alternative for those who love the look of skinny jeans, but prefer a little extra room and less restriction.
The most popular styles this season are available in sandwashed finishes, coupled with placement rips and shredded patches.
Straight leg jeans can be worn as is, or with a rolled up hem for a little variation.
Pair with this seasons IT boot or easy slip on loafers to complete the look.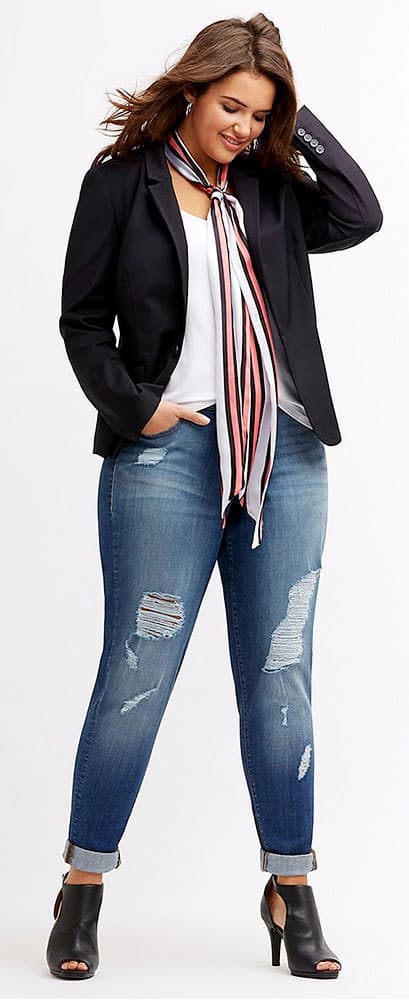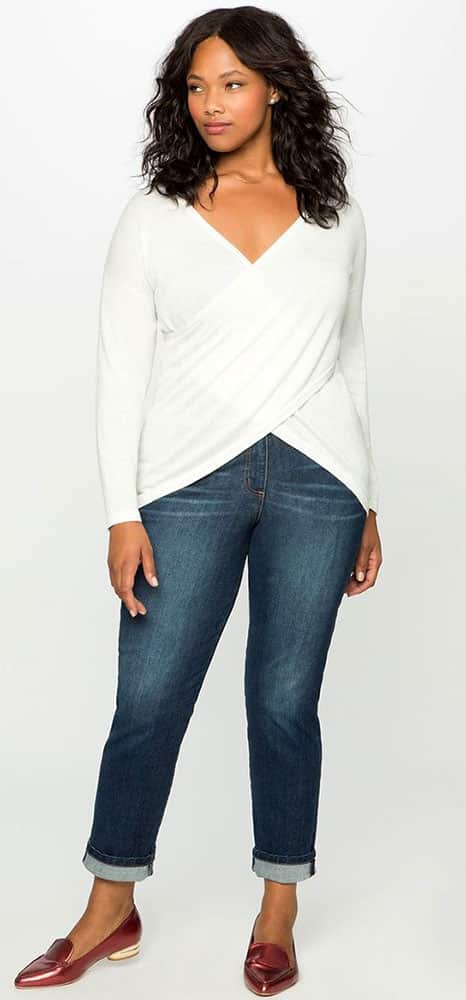 Skinny Jeans
Despite the resurgence of the "Mom" Jean, the skinny jean is still firmly in place at number one!
The fitted style from thigh to ankle can make legs look more toned and elongated, while making them also easy to wear with tucked in ankle or knee high boots.
Skinny jeans come in many colors, and due to their stretchy nature, are extremely comfortable. As well as fully formed jeans, some skinnies also come without the difficulty of buttons and zip flies, using an elasticated waist instead.
Being easy to put on and downright comfortable, the skinny jean is ideal for creating a youthful and dynamic look. They are possibly the best plus size jeans, all things considered.
Pair with your favorite long line top and leather jacket for a perfectly layered outfit.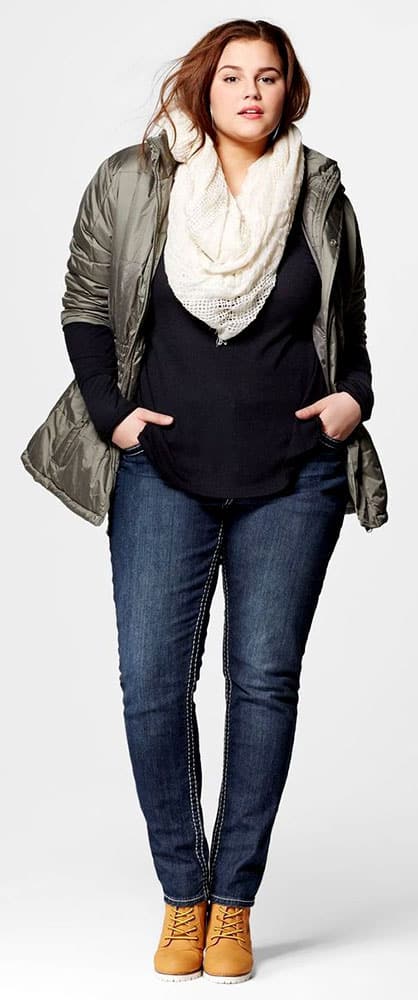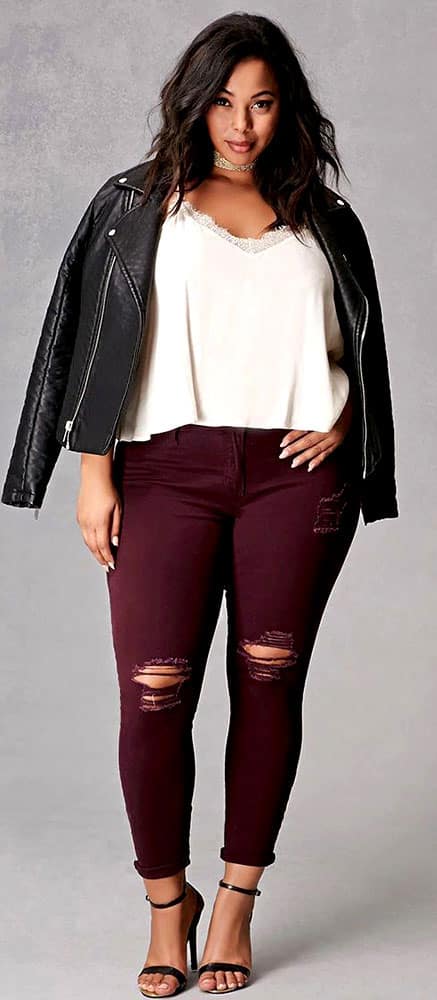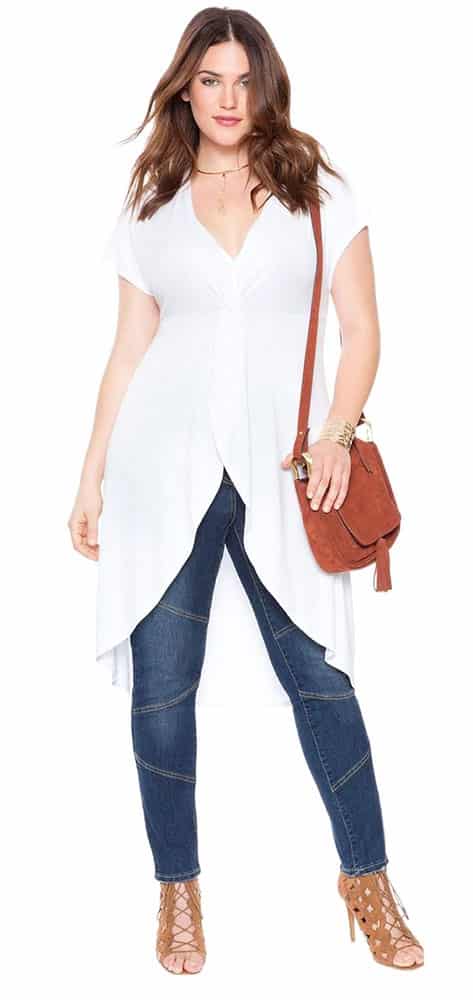 High Waisted Jeans
Famed in the swinging 60's and again in the 90's, the high waisted jean is back for a third time round.
Best suited to those with pear, hourglass and inverted triangle body shapes, the high waist accentuates the bum, giving it a little lift and drawing attention to the waist.
Available with skinny legs, wide palazzo legs and straight legs, there's a high waisted jean for everyone's style.
To keep the high waisted jean looking contemporary, choose dark, rich blues, and always tuck your top into the waist.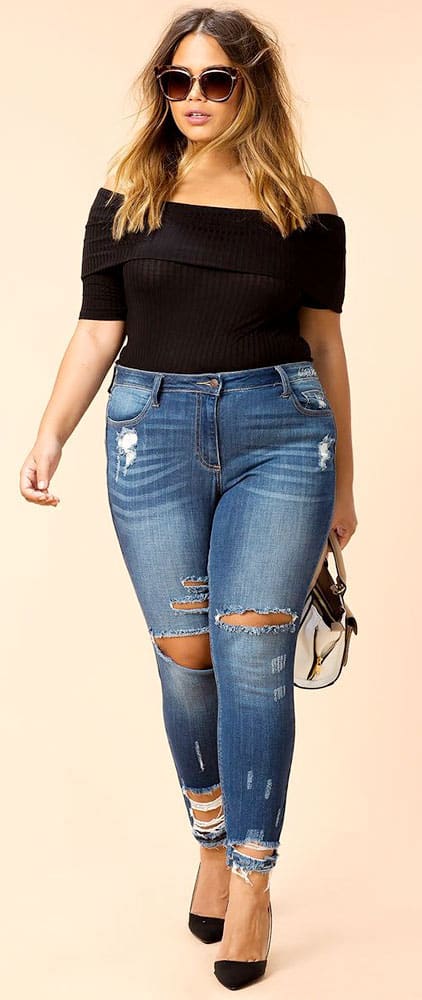 Plus Size Jeans Shopping Tips
Top tips to remember when shopping for your ideal pair of jeans:
Choose jeans with between 1 and 4% spandex for maximum stretch, without feeling like yoga pants
Stretch denim takes longer to wear in than 100% cotton denim
Elastic fibers are prone to breakage, so jeans with a high percentage of spandex or lycra won't last as long as regular denim jeans.