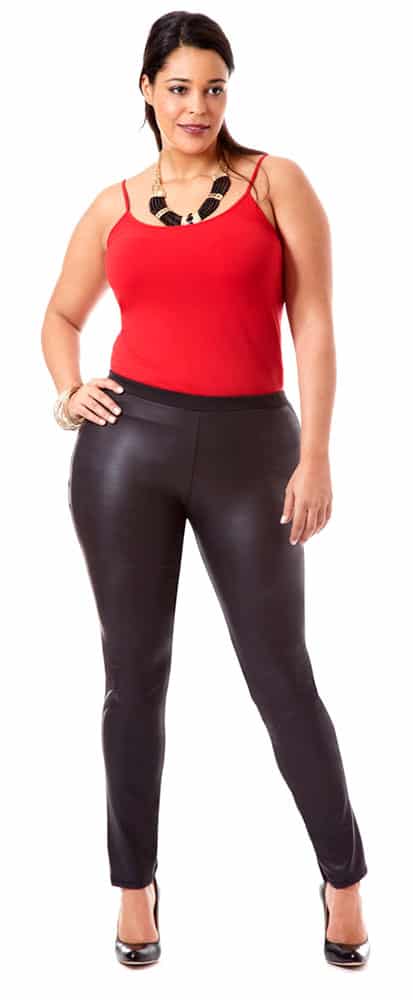 Leggings are simple yet interesting fashion items that are popular for women of all shapes, sizes and ages. Whether you choose plain solid colors, bright trendy patterns or more sophisticated lace and jewel designs, leggings are versatile pieces that fit in with many fashion looks, and can easily be worn both day and night.
Types of Leggings
There is a wide range of leggings available to suit any look out there. You can get footless styles that sit right at the ankle, calf length, stirrup types and even footed leggings.
Footless (Ankle Length) – These are the standard types of leggings that are essentially like tights without the feet. This style should comfortably sit at or just below the ankle.
Calf Length – This type sits just below the knee or mid-calf. Great for workouts and warmer weather styles.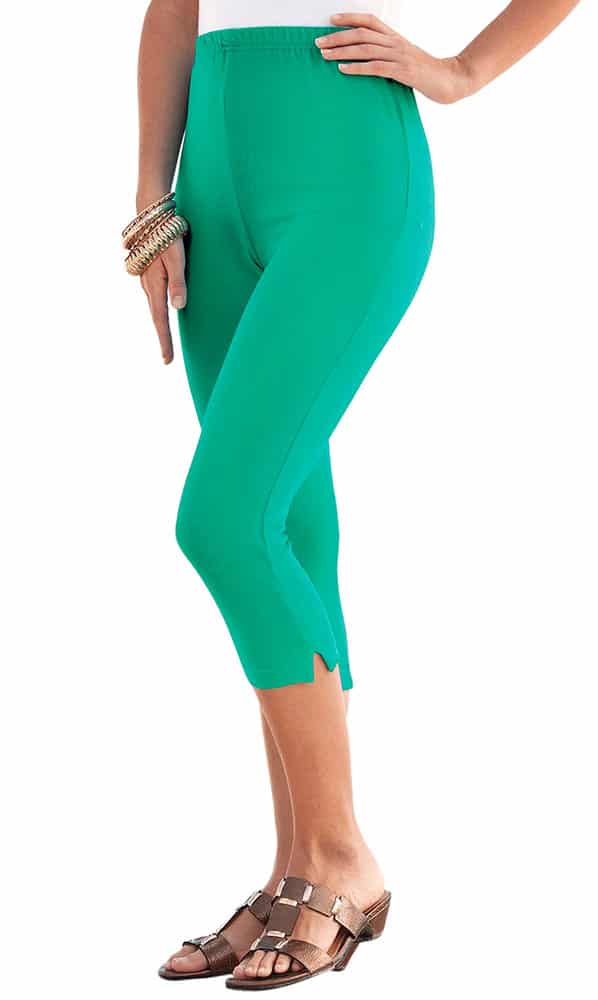 Stirrup Style – This legging style is best worn when hidden in boots, running shoes or dressy shoes that cover most of the foot. They are ideal for anyone having a problem with leggings that ride up.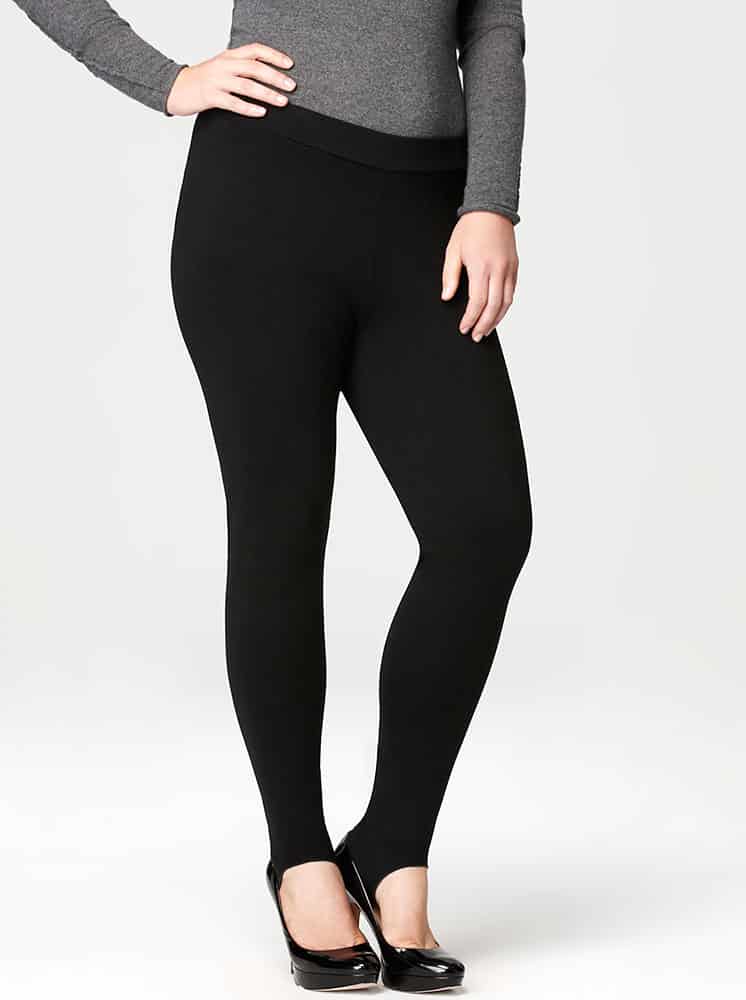 Footed – Often mistaken as tights, footed leggings have a more structured waistband and they are made to be worn like pants. Tights will often have a closer look to pantyhose, which are meant to be worn under pants, skirts and dresses.
You can also find a variety of leggings made from different fabrics to suit every season and look. You can get anything from warm wool leggings for cooler weather, cotton ones for everyday use, and even decorative lace leggings for something a little more sexy. No matter which styles you prefer, just make sure you pair them with appropriate clothing to complete a stylish look.
How to Choose Leggings
Many plus size women feel like leggings are only meant for slim body shapes, but they can actually look great on most plus size body shapes too. The key to finding flattering leggings depends on a few factors like the fabric type, the style and the overall fit.
Fabric
There are tons of fabrics styles to choose from and each one will change the way you look and feel. The golden rule to choosing a good fabric is to avoid light/clingy fabric with a sheer or semi-sheer finish. This rule applies to women of all shapes and sizes. The last thing anyone (even slim ladies) want to do is show off their cellulite (HUGE fashion faux pas!). Try different fabric weights to see which ones give your legs a nice smooth look.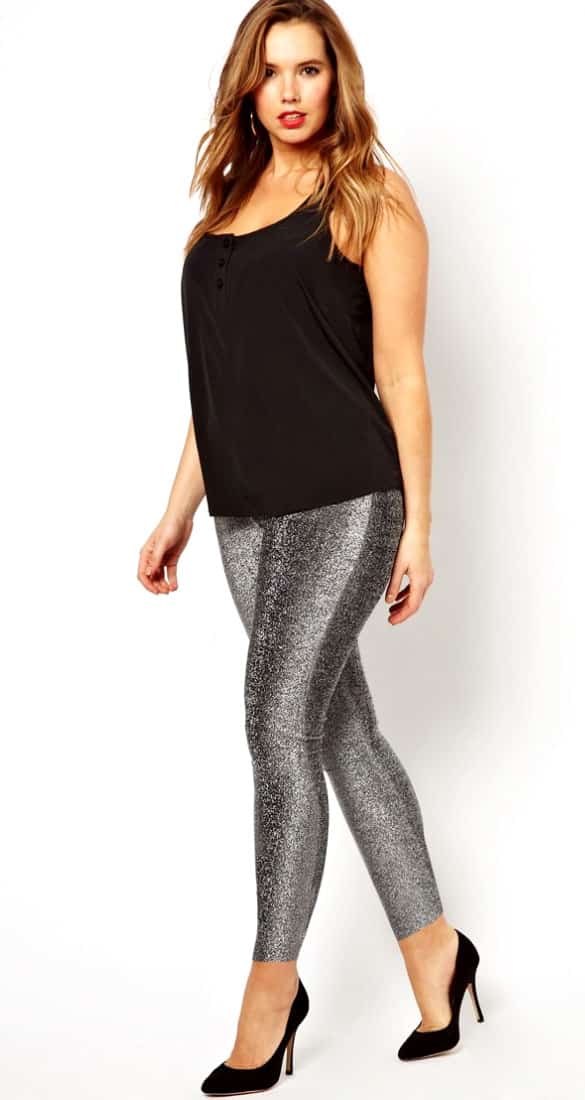 Style
The style will greatly depend on your body shape and needs. Women with longer legs are able to wear any legging style, while women with shorter legs should avoid mid-calf lengths since they tend to give more of a squat look. The same case applies to anyone who has heavy calves. mid-length styles (below the knee or mid-calf lengths) will only emphasize the size of the calves. In this case, ankle length styles are the best choice.
Women with short legs will also face the problem of bunching from longer leggings. If this happens, it's possible to roll them up (on the inside) or hem them with invisible hemming tape.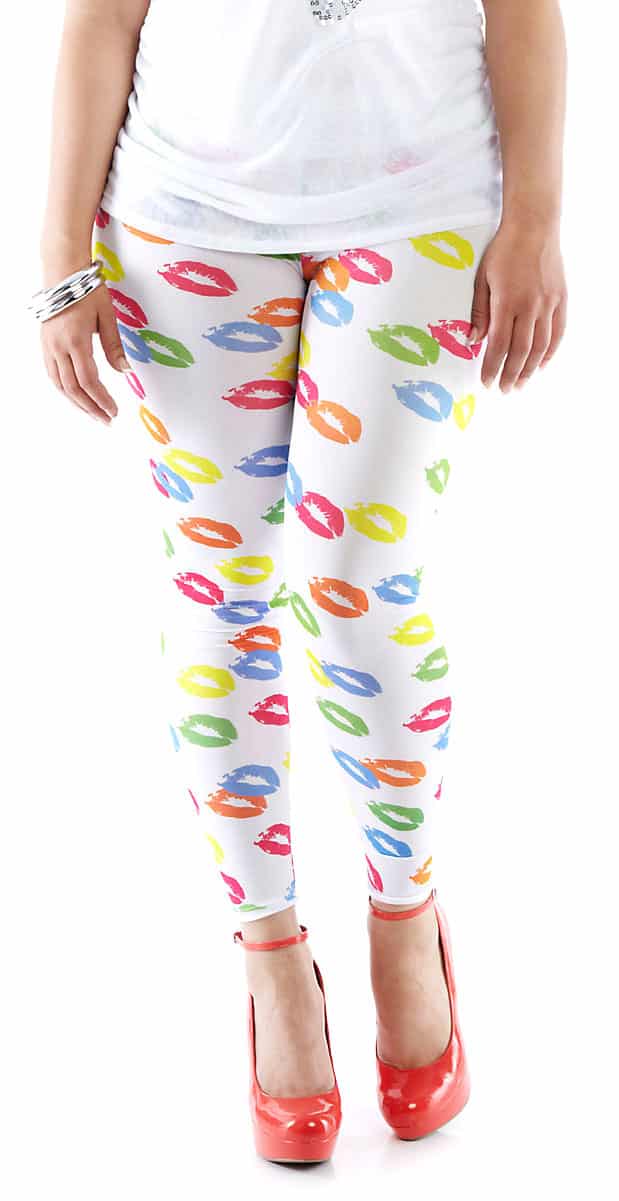 Fit
The rise of the waist is important for leggings as it is for regular pants. If you have a wider waist, it's important to choose something with a higher rise, so that it sits above your natural waistline, or a low rise that sits just below your waist. Just make sure it doesn't fit too tight or else you will create the dreaded muffin top.  For ladies that have wider hips and a bigger buttock area, choosing a mid-rise or high waist style will ensure good coverage, without cutting off at the hip (this creates bulges).

How to Wear Leggings
You can wear leggings with almost any fashion piece you choose, but it's just a matter of choosing something that suits your body shape. Tunics are a popular choice for many plus size ladies since they are loose, flowy and work well with the fitted look of leggings. Longer tops that fall to the waist or mid thigh are another great choice for all body shapes, but if you do have shorter legs, try to keep the length at or just past the hipline, otherwise it will make you look shorter.
Leggings are also a popular choice instead of pantyhose when wearing skirts and dresses. They are more comfortable to wear and tougher to tear from prolonged use. They also help many plus size women deal with the painful and often embarrassing problem of inner thigh chafing when wearing skirts and dresses.
Consider getting a pair of great leggings in your wardrobe. Neutral solid colors are the most versatile, since they can be dressed up or down, and can easily work with any patterned clothing and accessories.