We've all been there. You've pulled four or five (or ten!) dresses into the fitting room, and none of them fit or make you feel good.
Fear not, we have the definitive guide on how to find a dress when your booty calls the shots in the fit department.
Click on the images below to view the product detail. Please note that these are affiliate links – we get a small commission if you purchase a product. It helps pay the bills!
Printed and Textured
Firstly, consider printed and textured dresses.
Not only do prints and textures look fantastic, but they have all the benefits of a solid color dress. They allow the eye to focus on the full garment without drawing it to specific areas.
Medium sized prints are best, as small ones can look dwarfed on a curvy frame, while larger ones can make you look bigger than you are.
Printed and textured dresses are often made from stretch fabric, which is key to finding a good fit whilst skimming over the areas you don't want to emphasize.
Plus, stretch fabric often eliminates the need for a zip, providing extra comfort and making the dress easier to put on.

Alex Evenings Women's Plus-Size Midi Cap Sleeve Dress with Sequin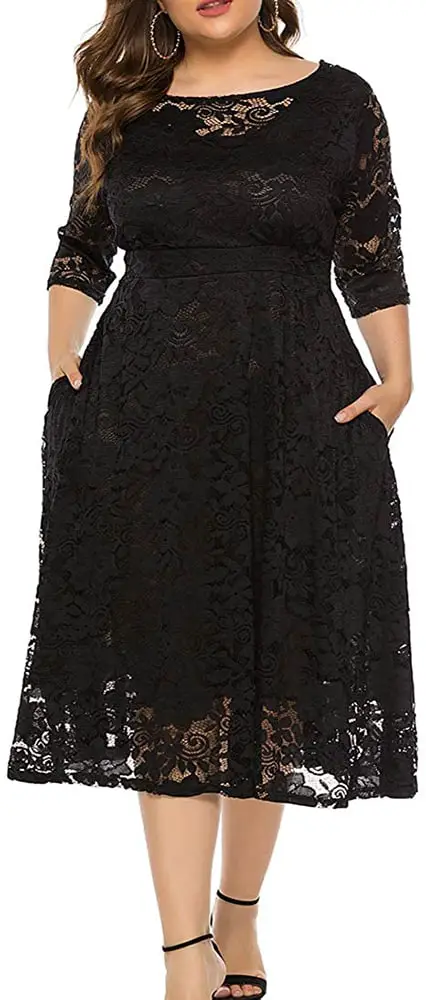 Eternatastic Women's Floral Plus Size Midi Dress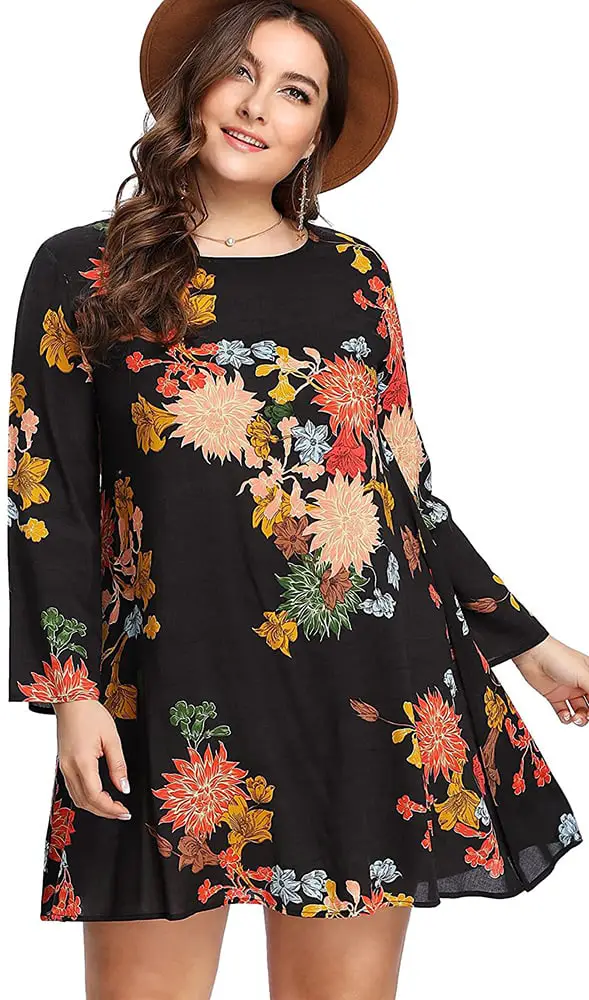 Romwe Women's Plus Size Boho Summer Dress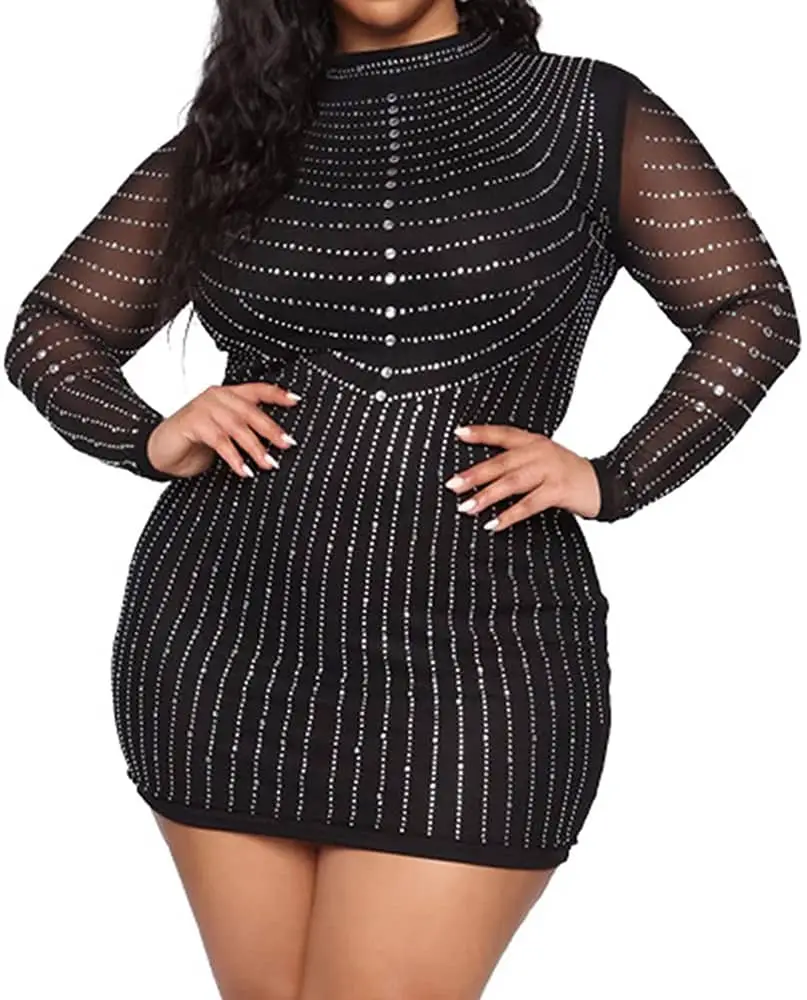 IyMoo Sexy Plus Size See Through Bodycon Dress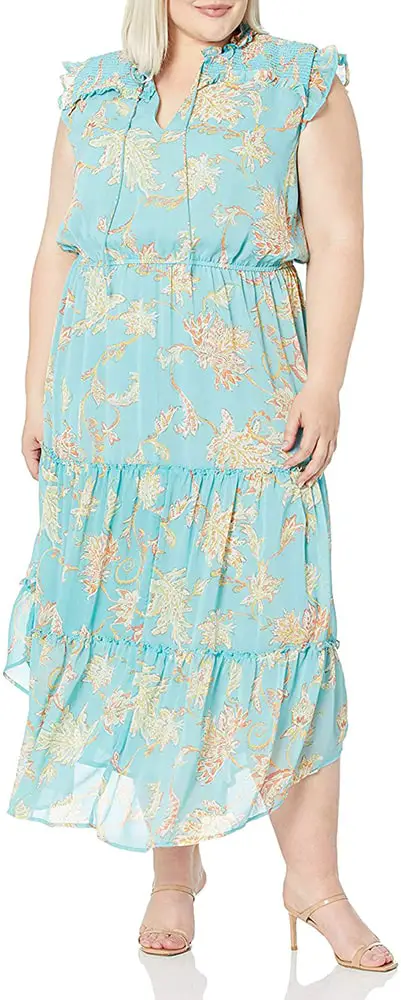 Jessica Simpson Women's Ruffle Trim Three Tier Maxi Dress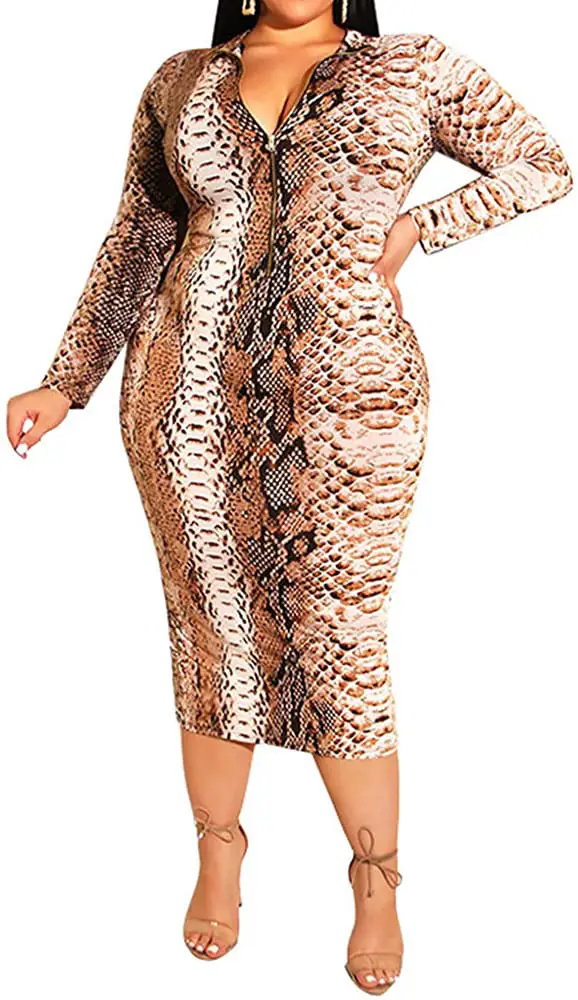 IyMoo Sexy Plus Size Reversible Long Sleeve Bodycon Dress

Alex Evenings Women's Plus Size Tea Length Dress with Rosette Detail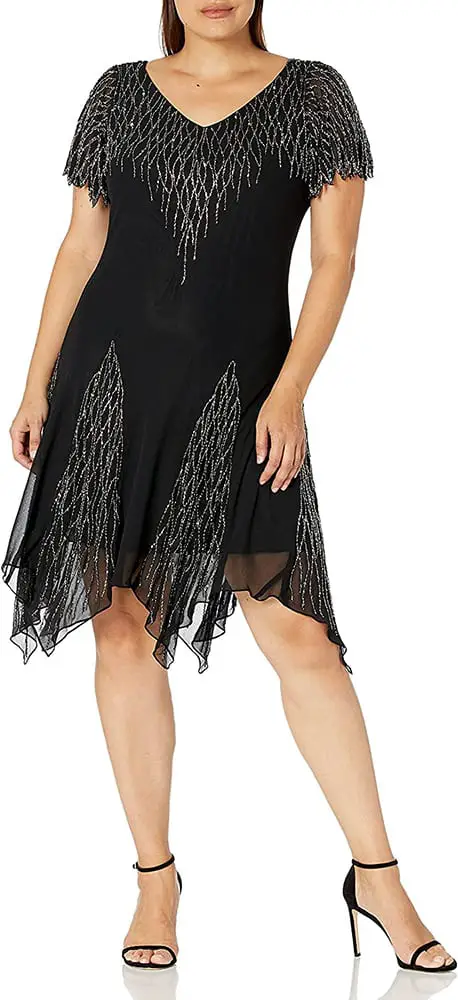 J Kara Women's Plus Size Short Beaded Dress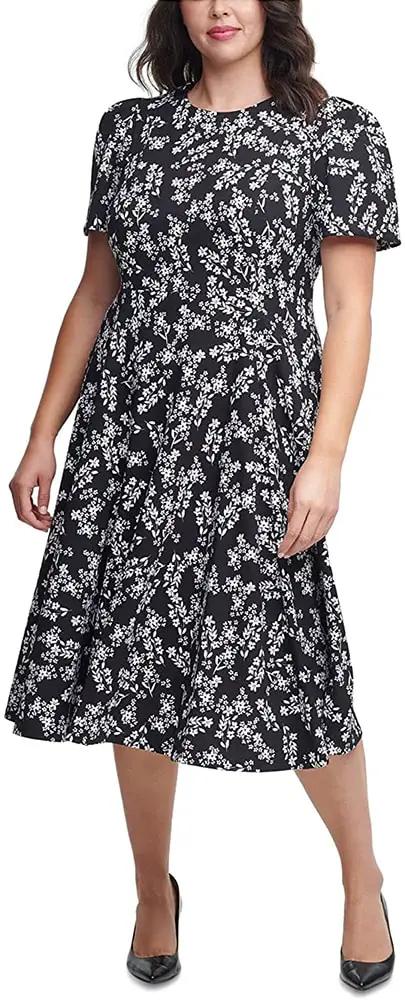 Calvin Klein Women's Plus Size A-Line Dress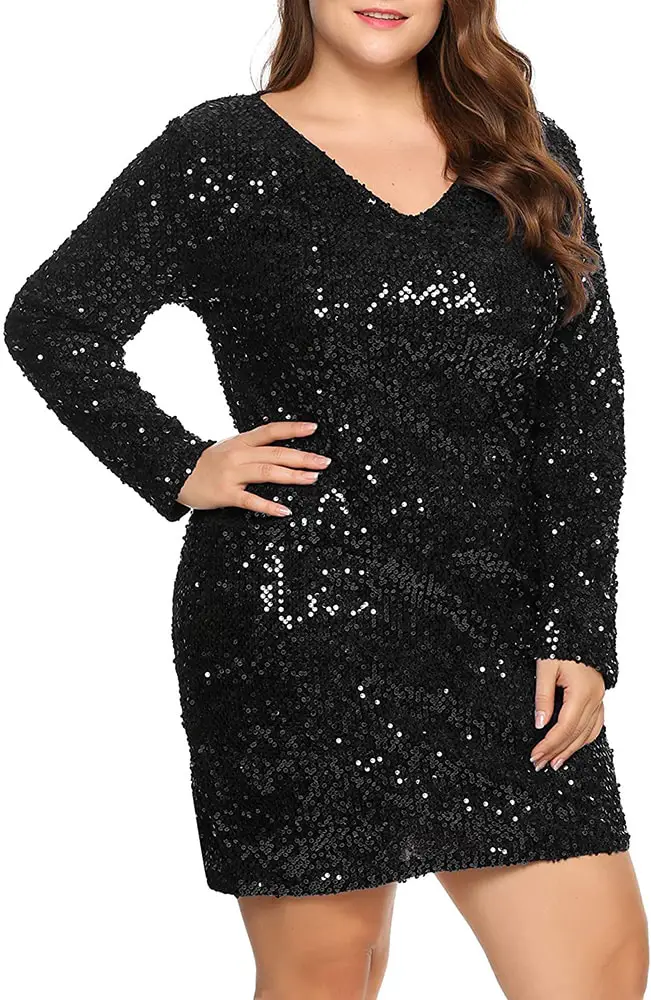 IN'VOLAND Women's Sequin Dress
Draped and Wrapped
Wrapped and draped dresses can either be the dream dress you've fantasized about, or your worst nightmare.
To find the perfect wrap dress, focus on finding one that draws the body in at your smallest or most flattering point.
For most people this is the waist, but sometimes experimenting with this focal point can make all the difference.
Try working the empire line (just under the breasts). A dress that pulls you in here will skim nicely over your stomach, providing an overall more flattering look.
It also gives your booty a little extra room too!
For the draped dress, choose a solid demure color, and ensure the drapes accentuate your assets.
For example, if you're best asset is your legs, choose a draped dress that carries its volume in the lower portion. Or if you would rather not draw attention to your legs, keep the drapes high and allow them to fall from the bust or neck line.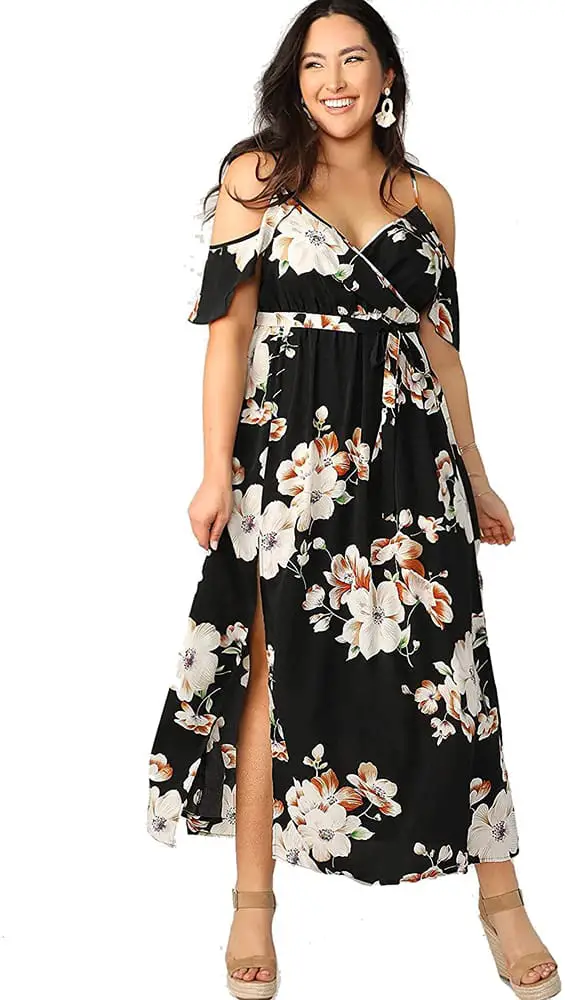 Milumia Women's Plus Size Cold Shoulder Floral Split Dress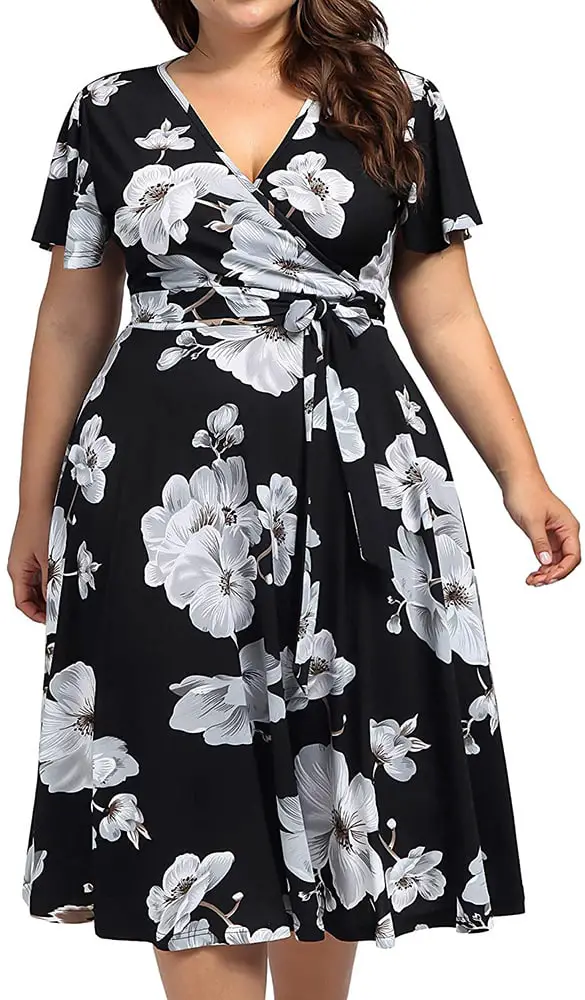 kissmay V Neck Floral Cocktail Party Dress with Pocket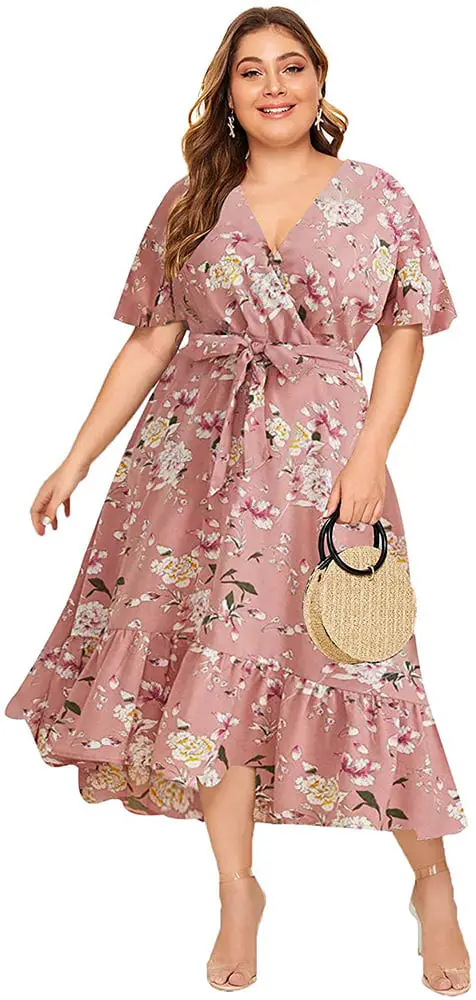 Milumia Plus Size Short Sleeve Wrap High Waist Maxi Dress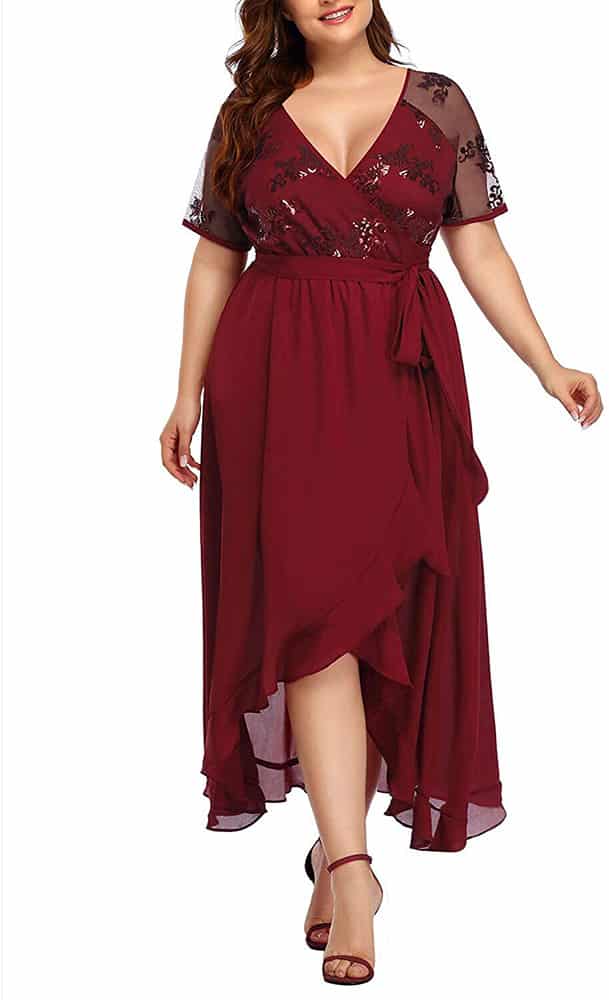 Women's Plus Size Ruffle Chiffon Cocktail Dress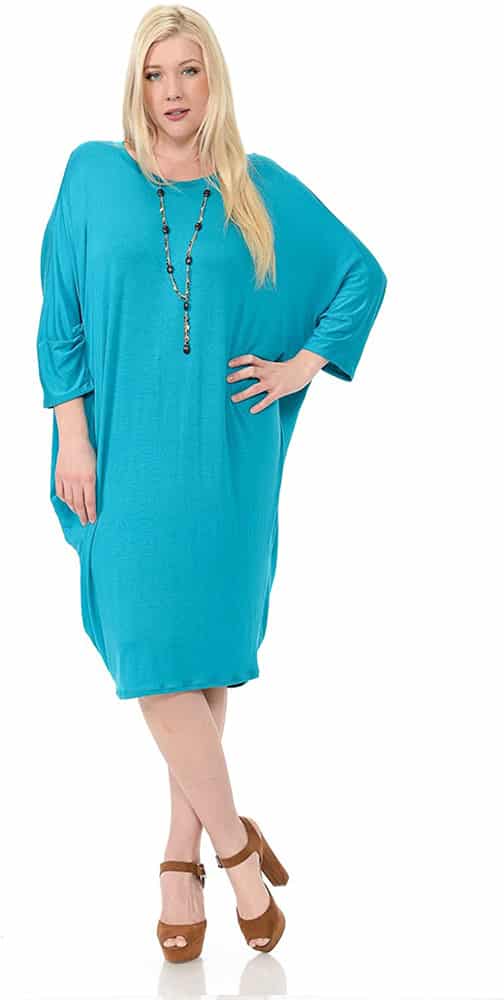 Pastel by Vivienne Women's Side Draped Dolman Sleeves Plus Dress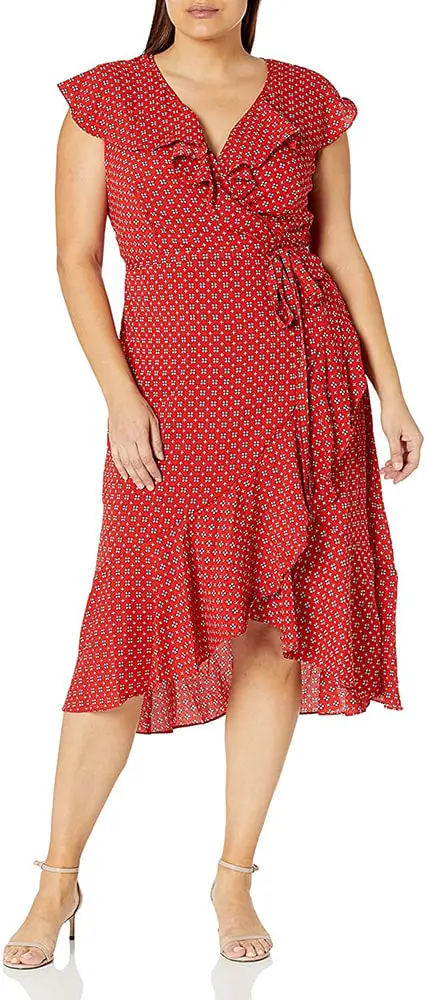 Max Studio Women's Plus Size Ruffle Wrap Midi Dress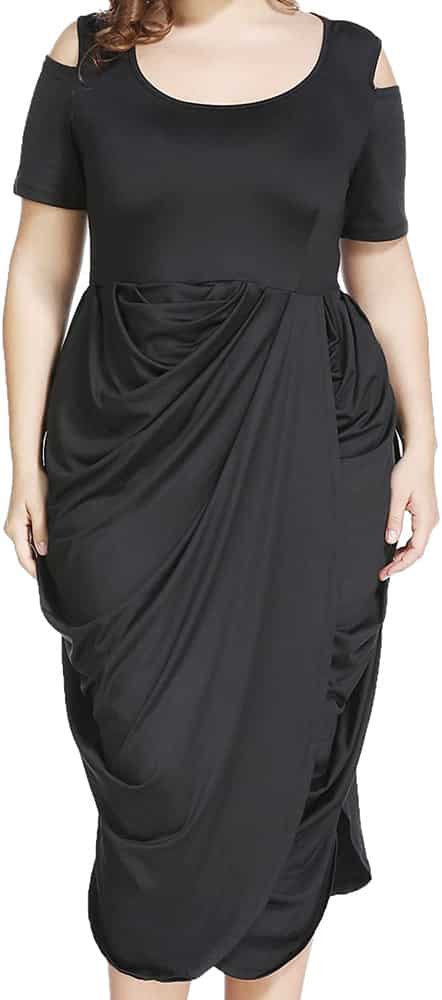 Plus Vogue Women's Cocktail Dress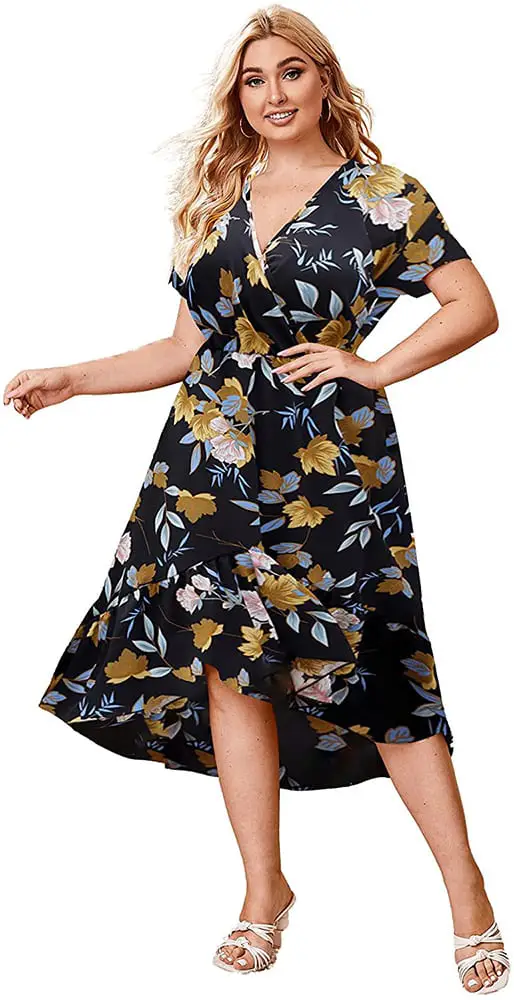 Milumia Women's Plus Size Floral Boho Maxi Dress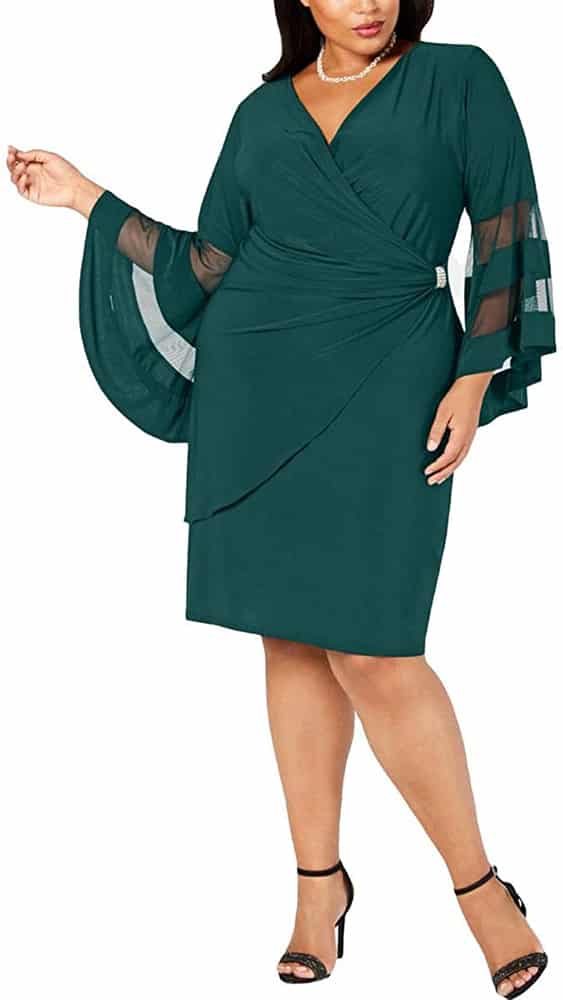 R&M Richards Women's Plus Size Bell Wrap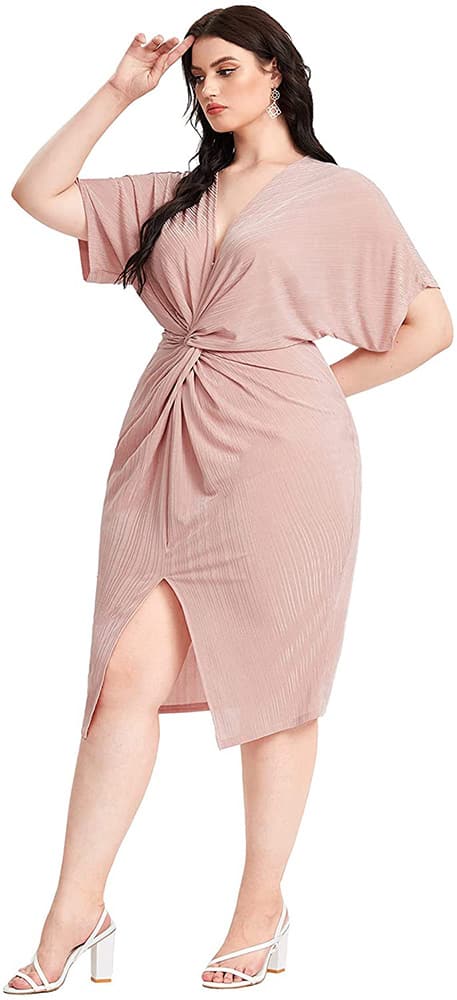 Floerns Women's Short Sleeve V Neck Twist Front Split Midi Dress
Maxi Length
Maxi dresses are eternally figure flattering, and the right cut will skim over the body, hiding a multitude of sins.
To accentuate and accommodate a big booty, choose a maxi dress that pulls you in at the waist or empire line. In this way, the dress will glide over any lumps or bumps in the tummy area, and provide a shapely derrière.
For those of us who wish to minimize attention to their booty, try an unstructured maxi that falls straight from the neckline.
This style is ideal in terms of versatility, as it can be worn loose for those days you don't want to be constricted, or worn with a belted middle for when you want more structure.
Choose a halter neck shape to flatter a large bust, but be aware that it also broadens the shoulders. If accentuating your shoulders sounds like your worst nightmare, a maxi dress with a detailed and distinctive neckline will combat the broadening of the shoulders, giving you the best of both.
Printed or solid color, slits or no slits, the maxi dress is versatile, trans-seasonal and with so many styles to choose from, there is one to suit everybody.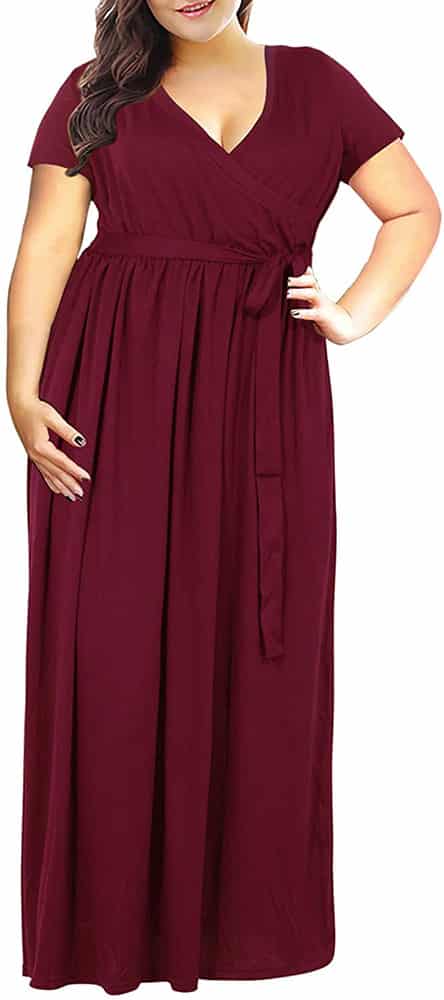 Nemidor Women's Short Sleeve Maxi Dress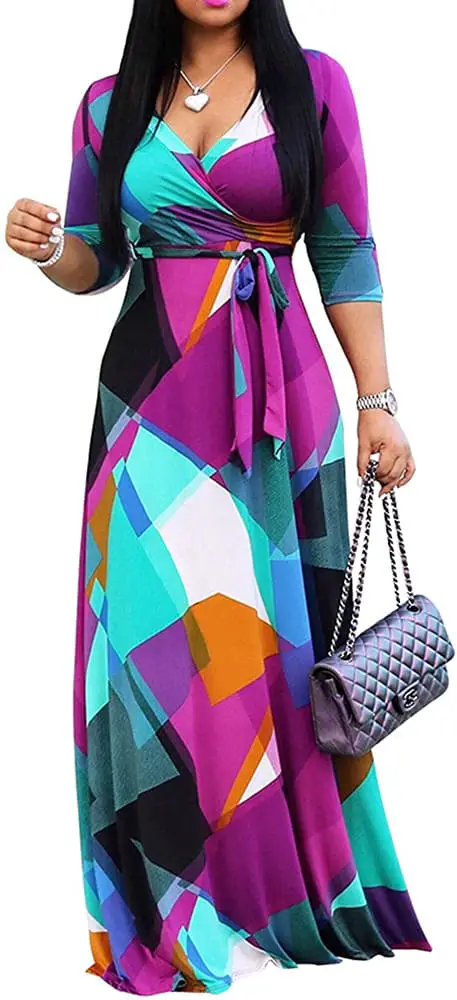 FANDEE Plus Size Maxi Dress for Women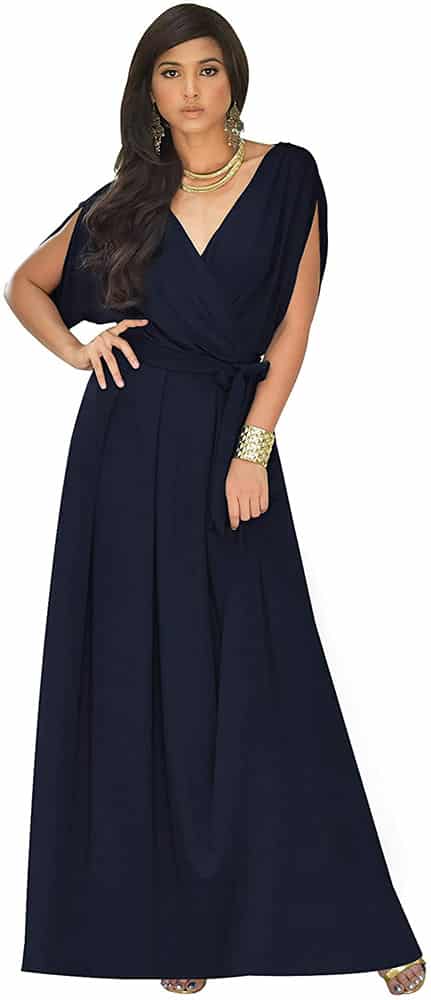 Formal Short Sleeve Cocktail V-Neck Gown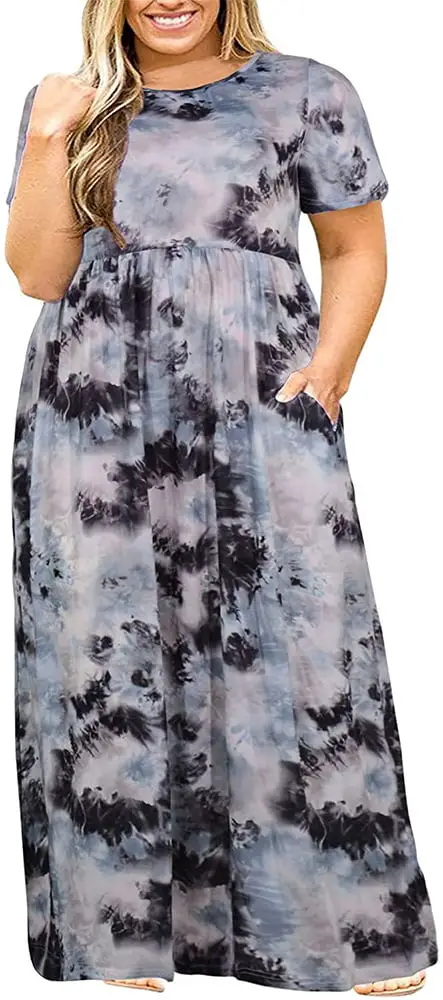 Nemidor Women's Casual Plus Size Maxi Dress with Pockets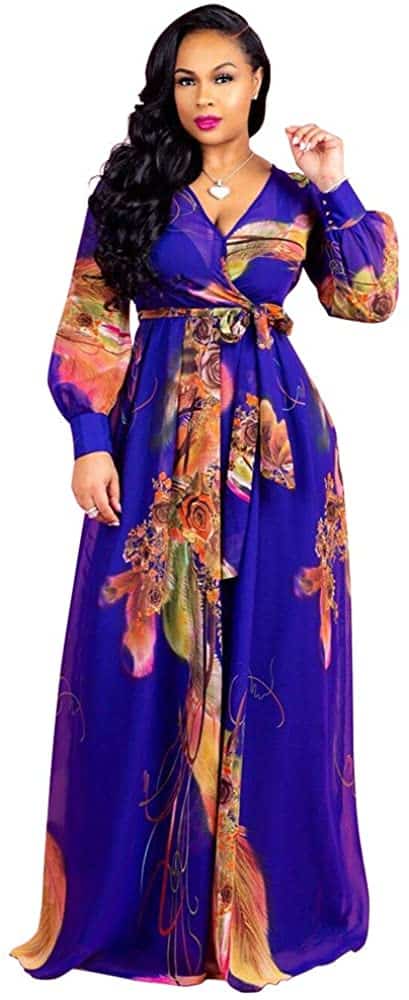 Women's Chiffon V-Neck Printed Maxi Dress

Amazon Essentials Women's Plus Size Maxi Dress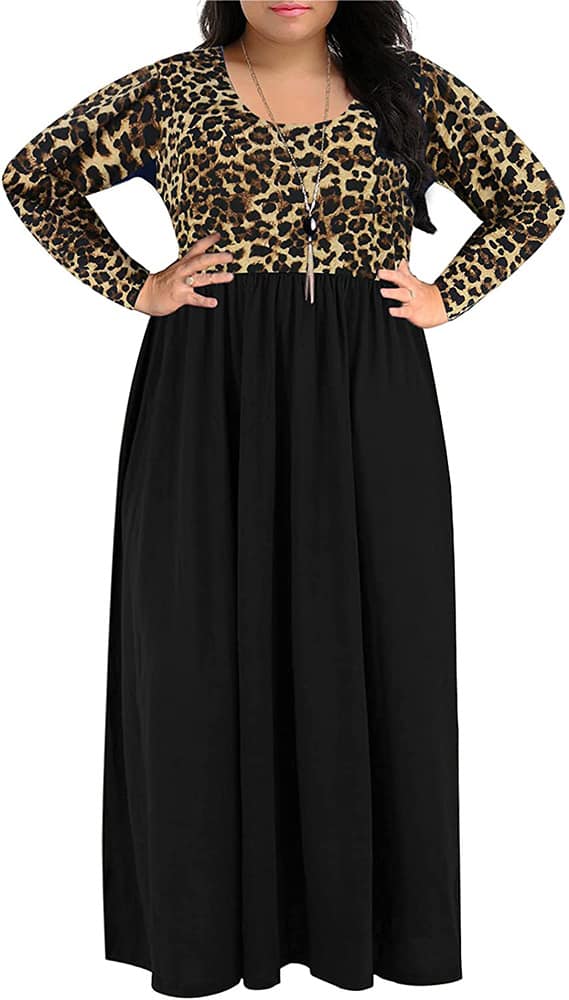 Nemidor Women's Chevron Print Summer Short Sleeve Plus Size Casual Maxi Dress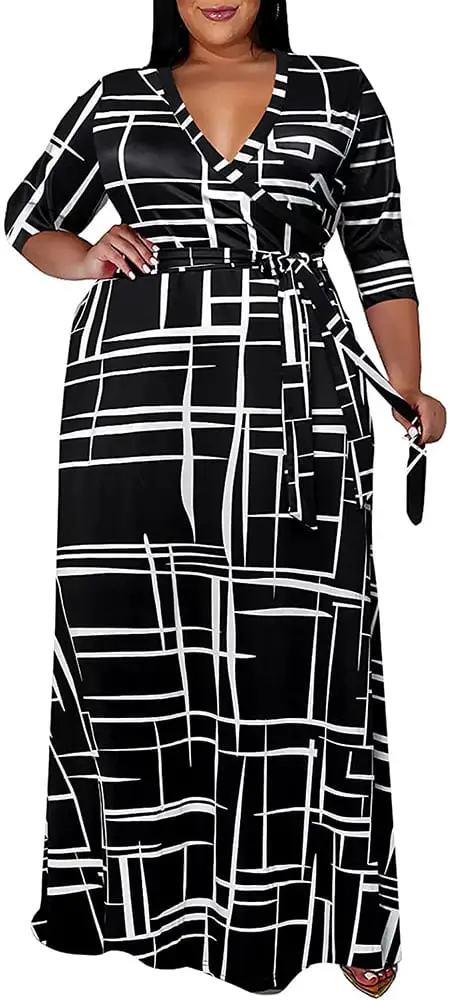 Runwind Plus Size Maxi Dress with Belt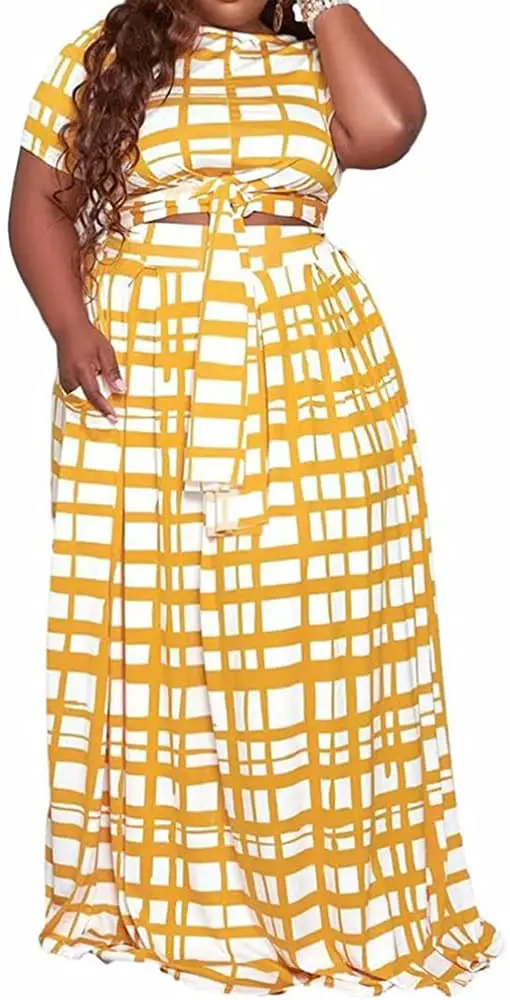 Womens Plus Size 2 Piece Top and Skirt Set

Women's Plus Size Sleeveless Front Split Maxi Wrap Dress
Asymmetric
An asymmetric cut can bring a garment to life, updating the style and allowing for a little extra room in the booty department. A high low hem is a fun and flirty way to work this trend. Be sure that the shorter hem finishes at the most flattering part of your leg, while often a solid color or color block dress works best.
If the high low hem isn't for you, try a standard asymmetric hem in a jersey stretch fabric.
The quality of the jersey is important here, so choose wisely. You want the fabric to have a little stretch and be of medium weight in order to cling to and skim over all the right places, enhancing your derrière.
Again, flatter the legs by making sure the angle of the hem cuts your leg at its thickest point, which is the calves for most people.
Incredibly versatile, you can style the asymmetric dress up with heels and a clutch bag, or dress it down with sneakers or pumps.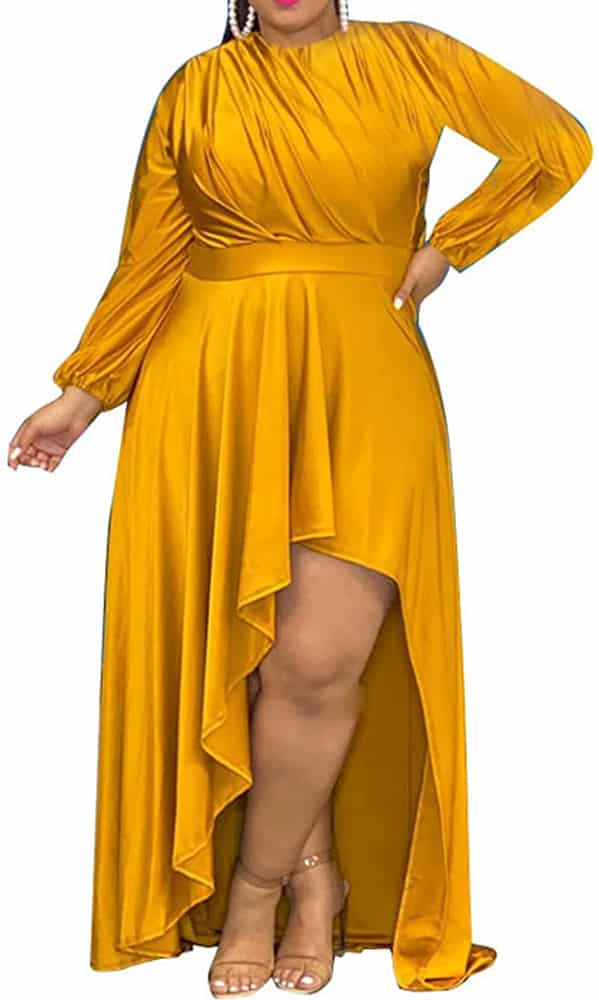 Ekaliy Women's Plus Size One Shoulder Dress

Milumia Women's Plus Size V Neck Asymmetrical Dress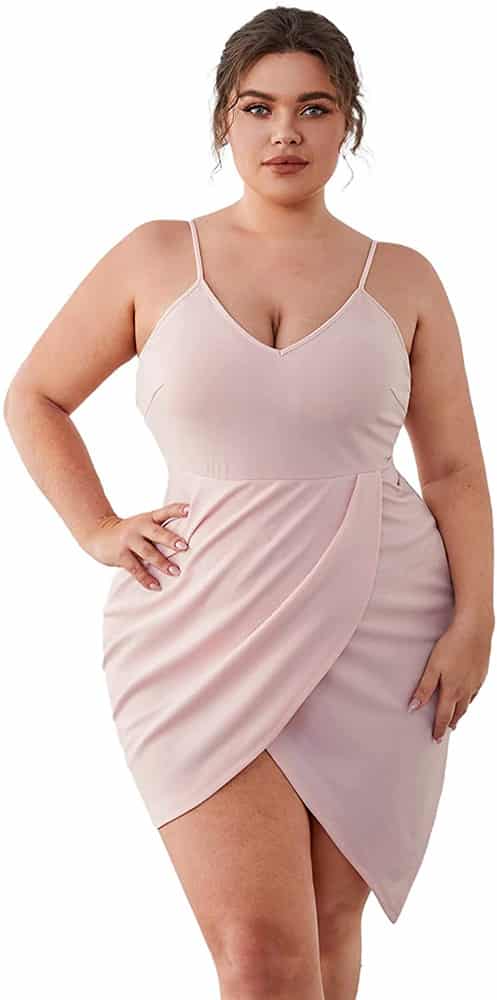 No products found.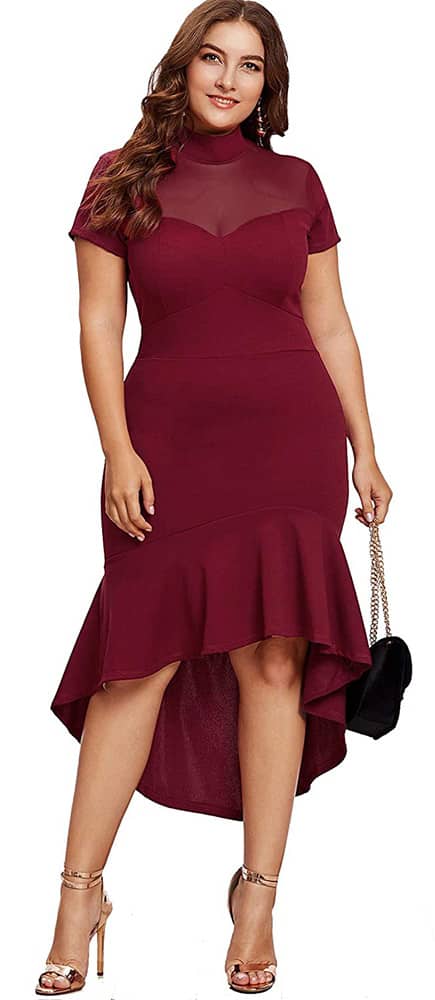 Milumia Women's Plus Size Elegant Dress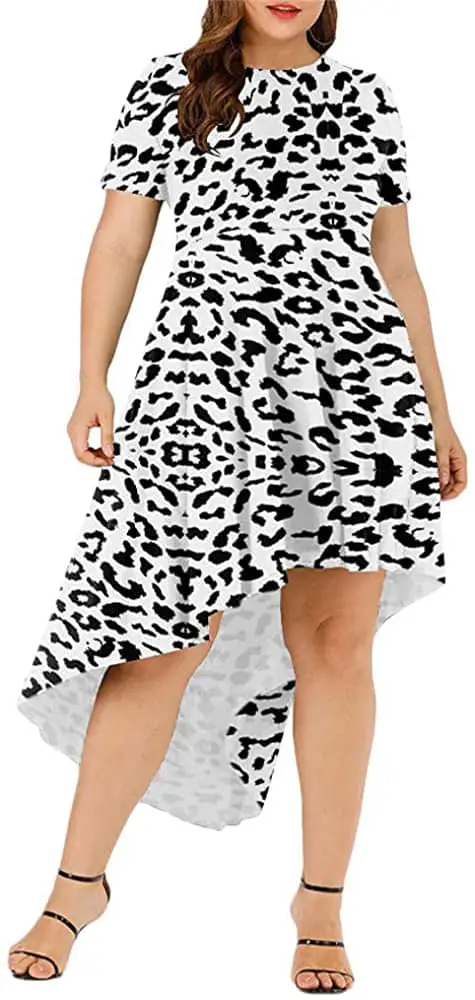 Agmibrelr Women's Plus Size Asymmetrical Dress

No products found.

No products found.

Plus Size Party Dress

Star Vixen Women's Plus Size Sleeveless Assymetrical Fauxwrap Dress with Foldover Collar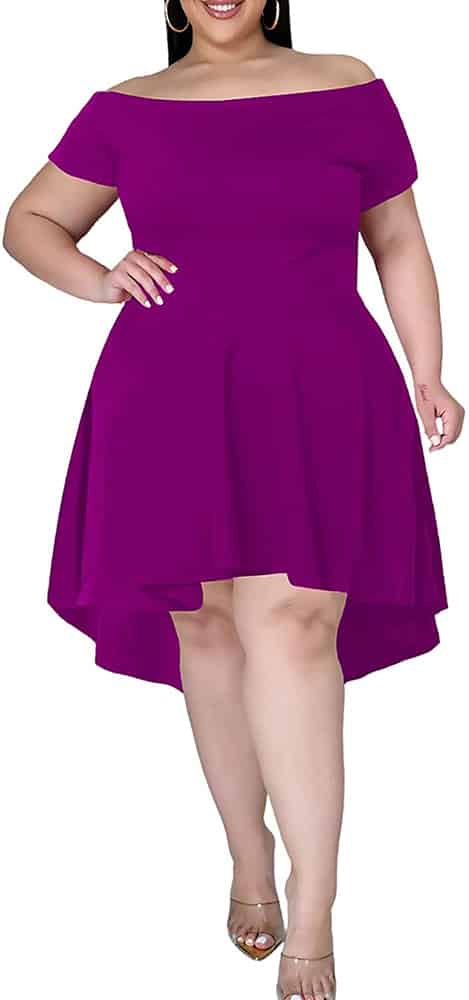 Sidefeel Women's Off The Shoulder Plus Size High Low Cocktail Dress
Bodycon
The last style on our list is the bodycon.
Not for the shy types, the bodycon dress contours the body celebrating your curves. Although it can be restricting at the hips and bottom, it can also be the most flattering.
Choose a bodycon that has a deep V to draw the eye up the body and accentuate the cleavage, with a band just underneath for extra stability. Keep the look minimalist with a long line pendant necklace or statement earrings.
Lastly, if you'd like to try the bodycon trend but don't like the binding feeling of having everything on display, don't be afraid to try a size up. You'll have a little more room to play with on your lower half, and due to the stretchy nature of the dress, it won't look baggy on your top half.

SheIn Women's Plus Size Elegant Stretchy Bodycon Pencil Dress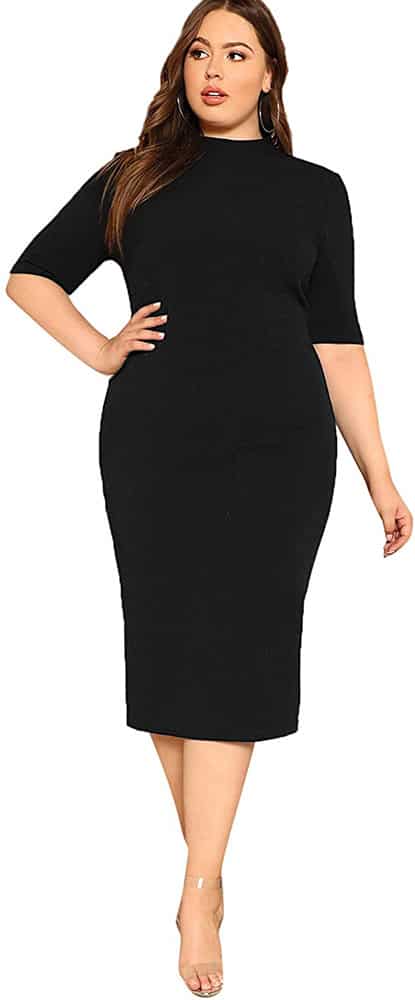 Floerns Women's Short Sleeve Plus Size Solid Bodycon Pencil Dress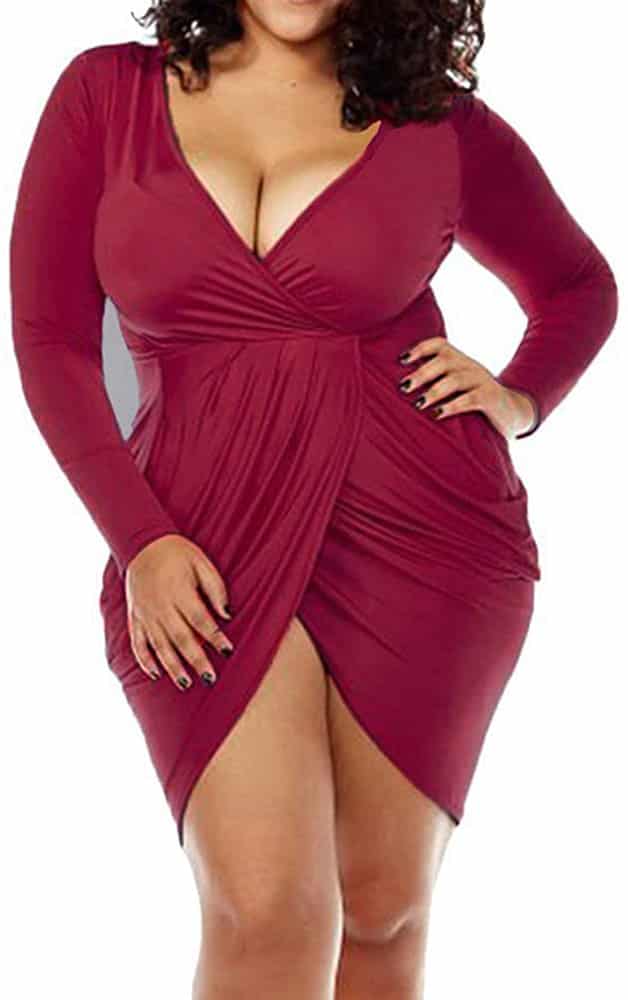 POSESHE Women's Plus Size Deep V Neck Bodycon Wrap Dress with Front Slit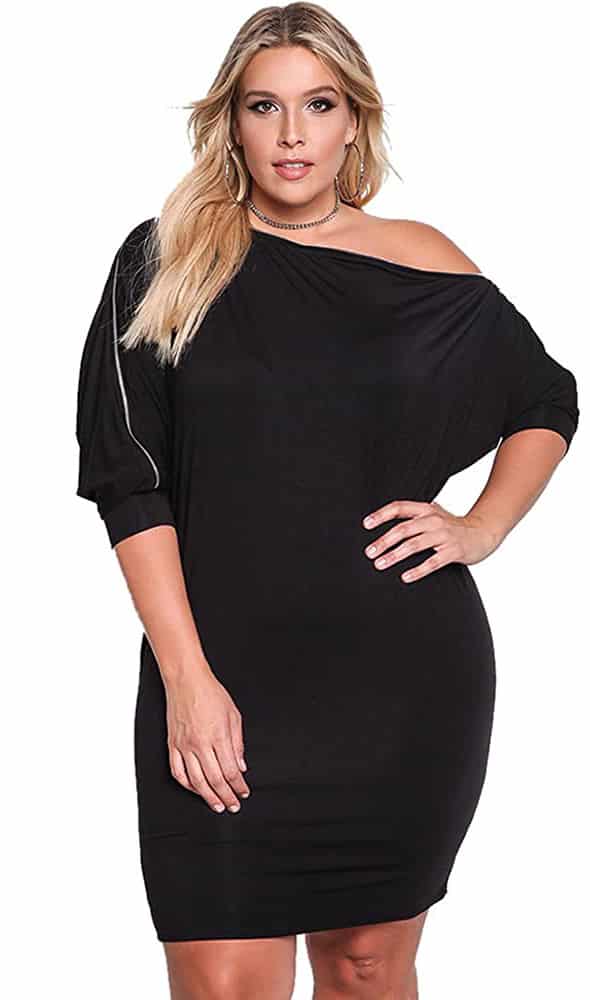 ROSIANNA Women's One Shoulder 3/4 Sleeves Bodycon Fitted Short Plus Size Dress

Floerns Women's Short Sleeve Gingham Bodycon Business Pencil Dress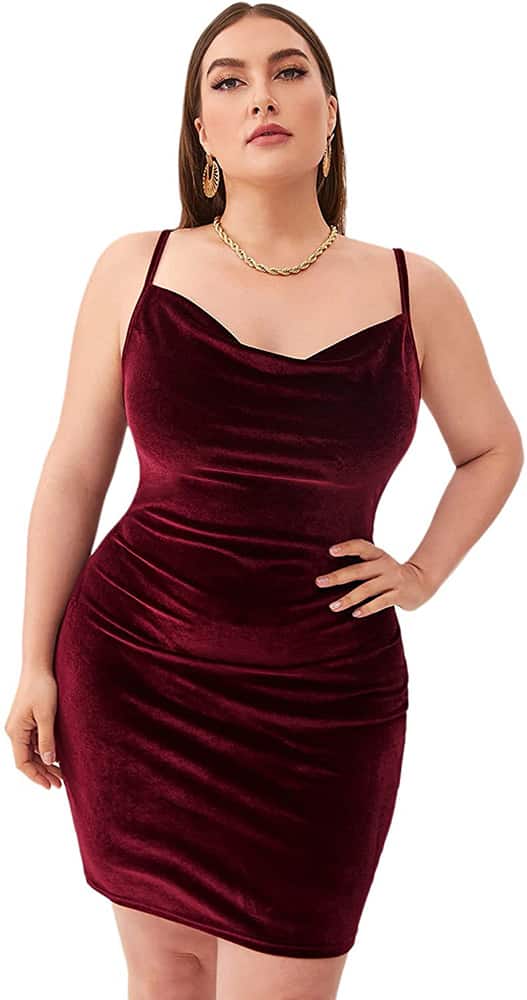 SOLY HUX Women's Plus Size Spaghetti StrapVelvet Mini Bodycon Dress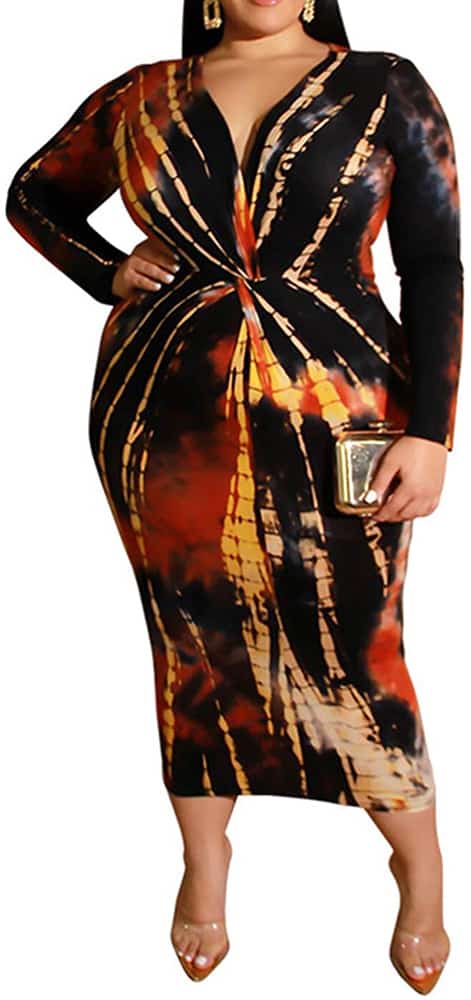 IyMoo Women's Print Bodycon Dress

Verdusa Women's Plus Size Bishop Sleeve Belted Bodycon Dress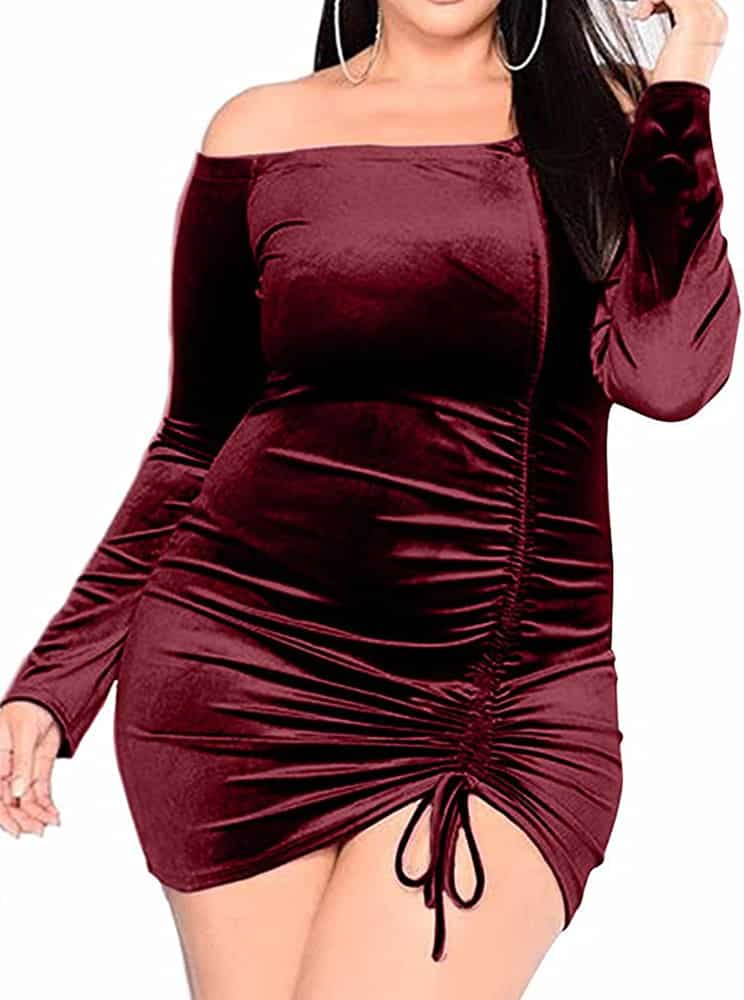 BEAGIMEG Women's Sexy Velvet Plus Size Ruched Bodycon Mini Club Dress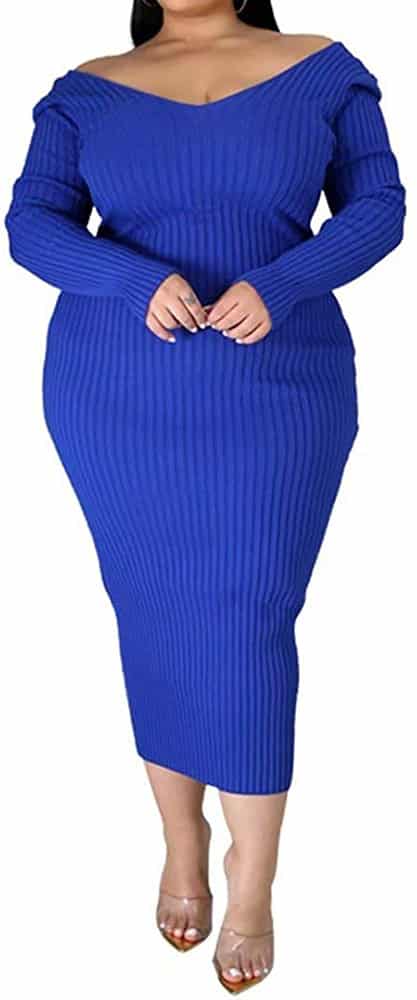 Women's Plus Size Stretchy Off Shoulder Knit Dress