Every girl needs a few sweaters in her wardrobe (among other essential wardrobe staples). They are great clothing items that keep you warm, they are great for layering and can even add wonderful texture to your outfits.
With so many different colors, fabrics and styles out there, it helps to know what each sweater style looks like and how you can choose the most flattering ones for your wardrobe. Welcome to the Curvy Sweater Guide!
Common Sweater Knits and Patterns
You have probably heard of many different sweater knits and patterns, but never quite knew what they were. With so many out there, it can be hard to keep track! To give you a better idea about what the most common knit styles and patterns there are, here is a brief look at each one:
Argyle
That wonderful preppy pattern that gives you an instantly sophisticated look, argyle is a popular pattern for sweaters and sweater vests.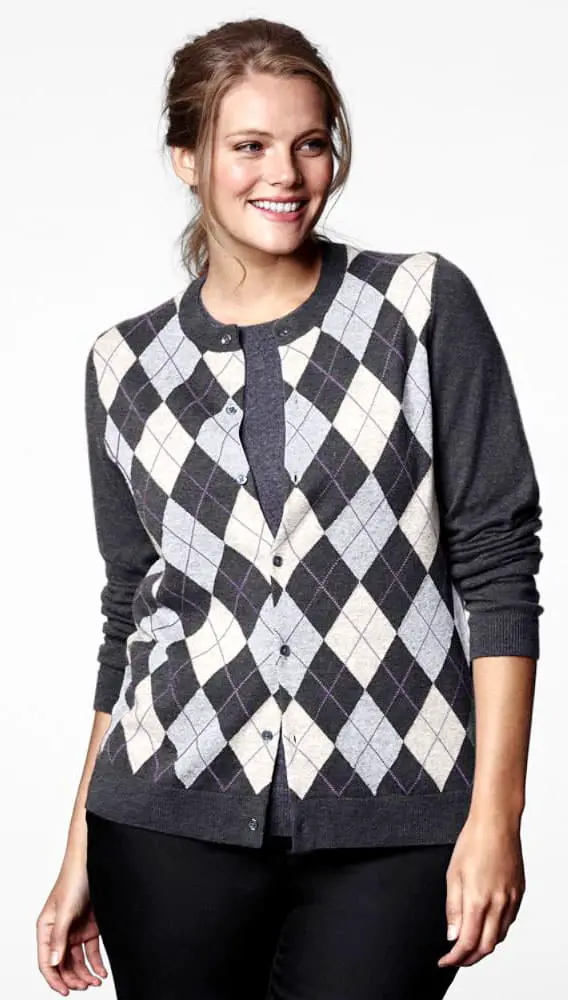 Cable
The cable detail is a textured look that looks like cables running down the sweater. You can find large single or double cables in the front of sweaters, or a series of small cables creating a pattern throughout the sweater.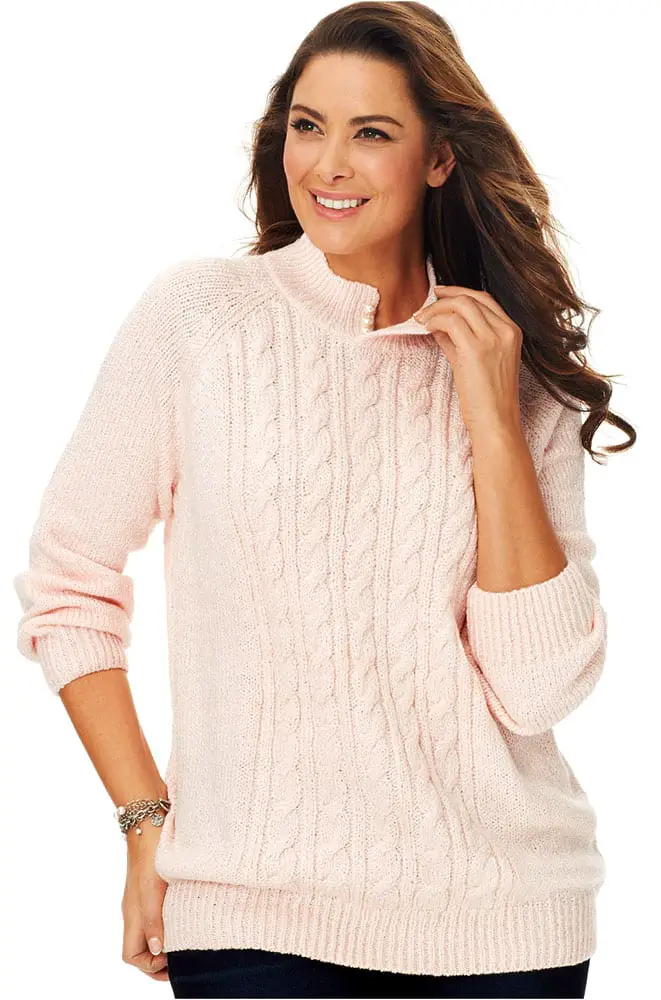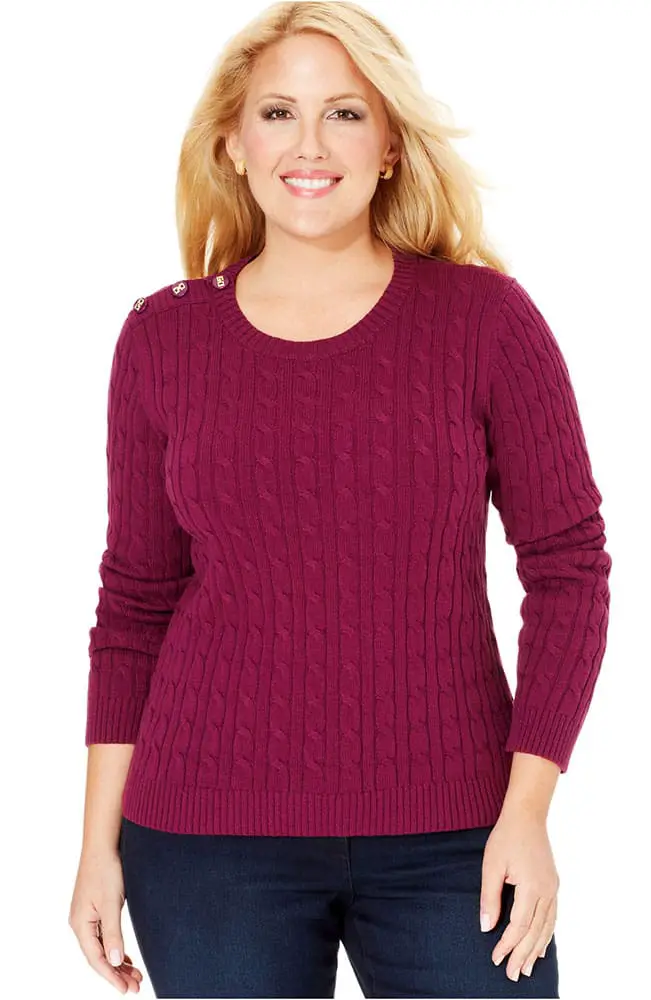 Chevron
The chevron pattern is essentially a "v" repeated over and over again. Often, the chevron pattern will look more like zigzags, but with a slight broken pattern (asymmetrical columns of "v").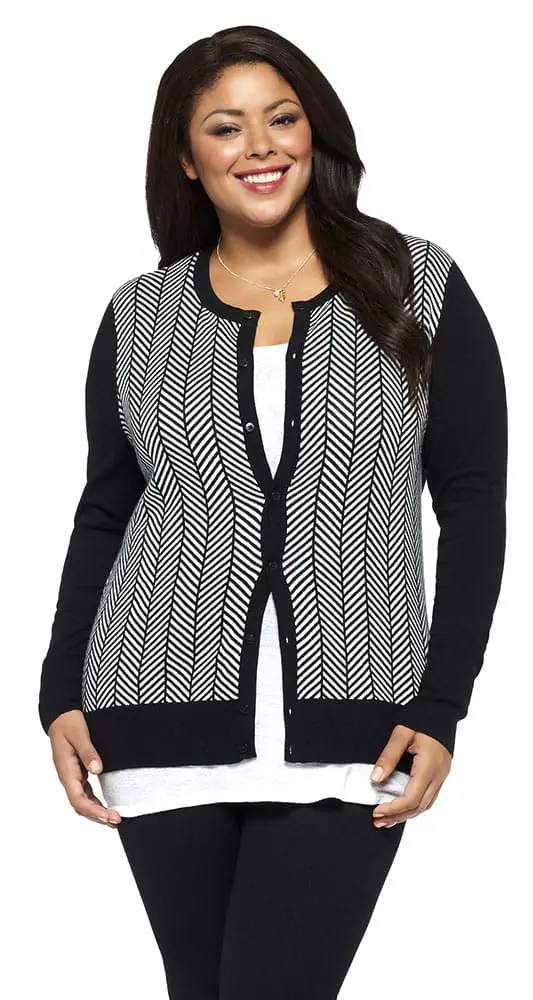 Fair Isle
Originally from Scotland, the Fair Isle patterns will vary in style and colour, but the majority will have a traditional Shetland Islands pattern with rows of alternating colors (generally only two per row).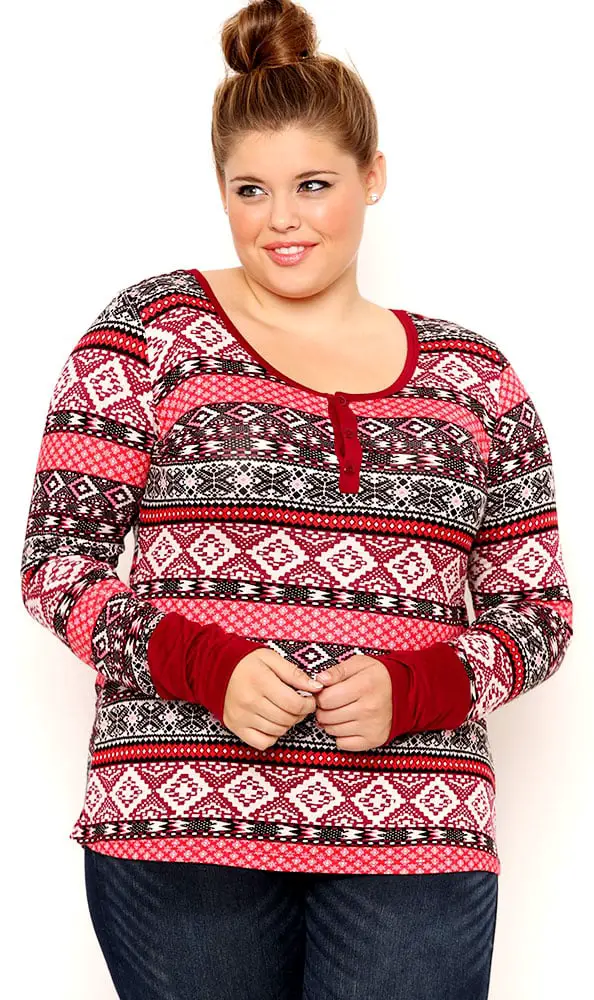 Houndstooth
Also known as the dogstooth pattern, is an abstract pattern that looks like a series of dog teeth in diagonal rows. You will generally find this pattern in black and white or brown and camel.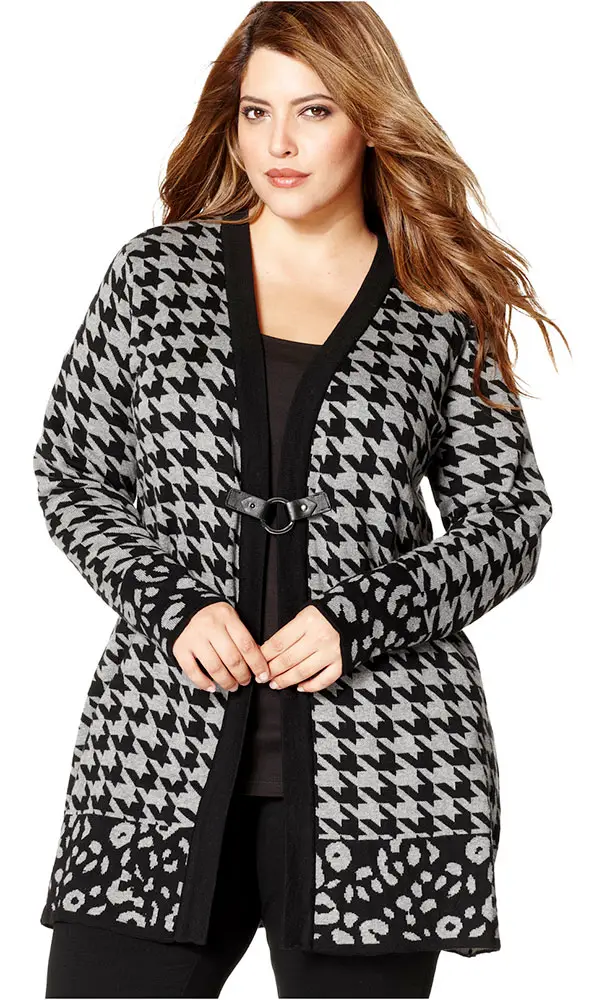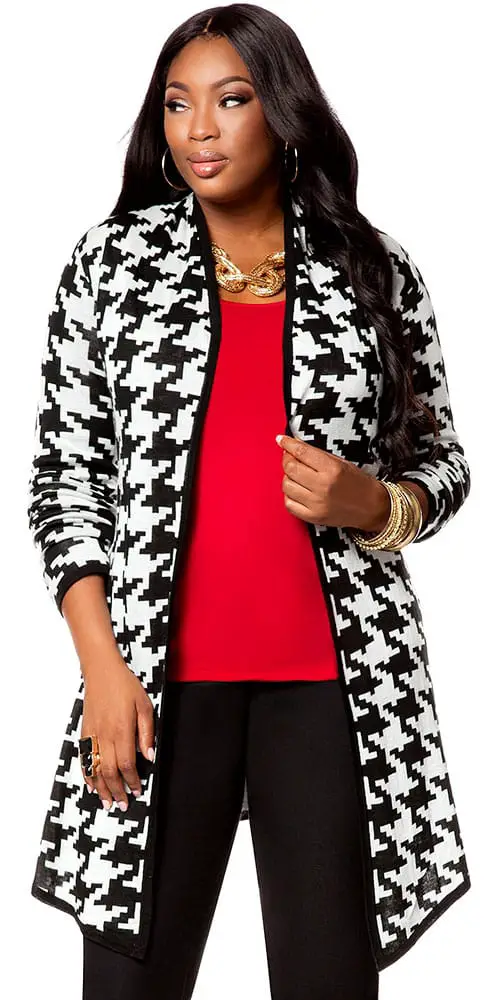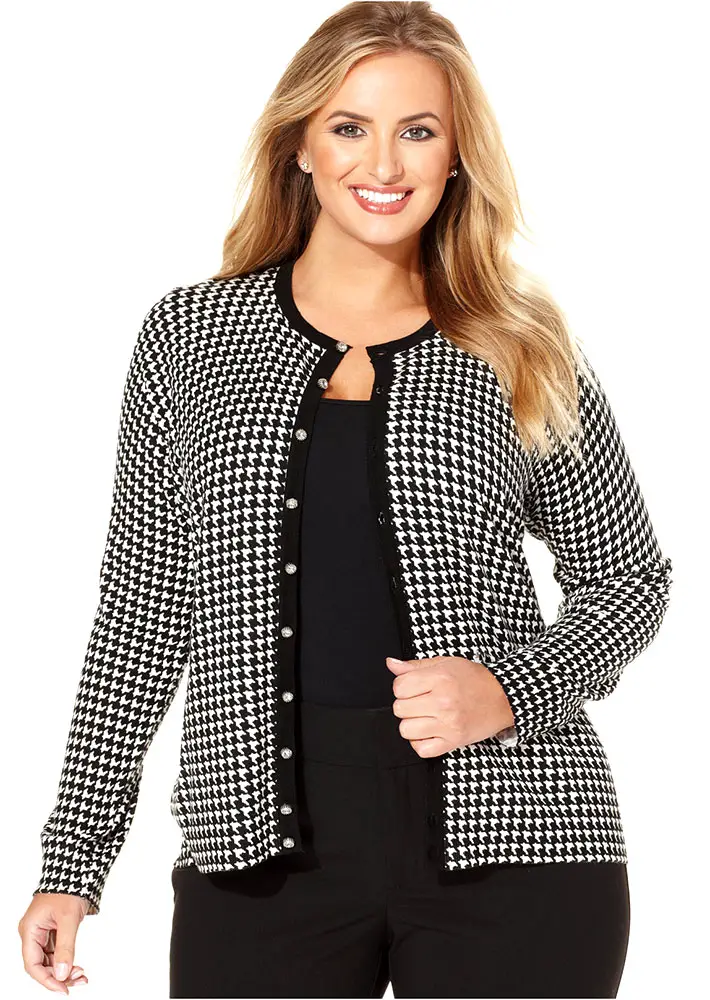 Matelassé
Matelassé is a quilted, often diamond patterned, look that you will normally find on classic Chanel handbags. It gives fabric the illusion of being padded, when in fact, it is not.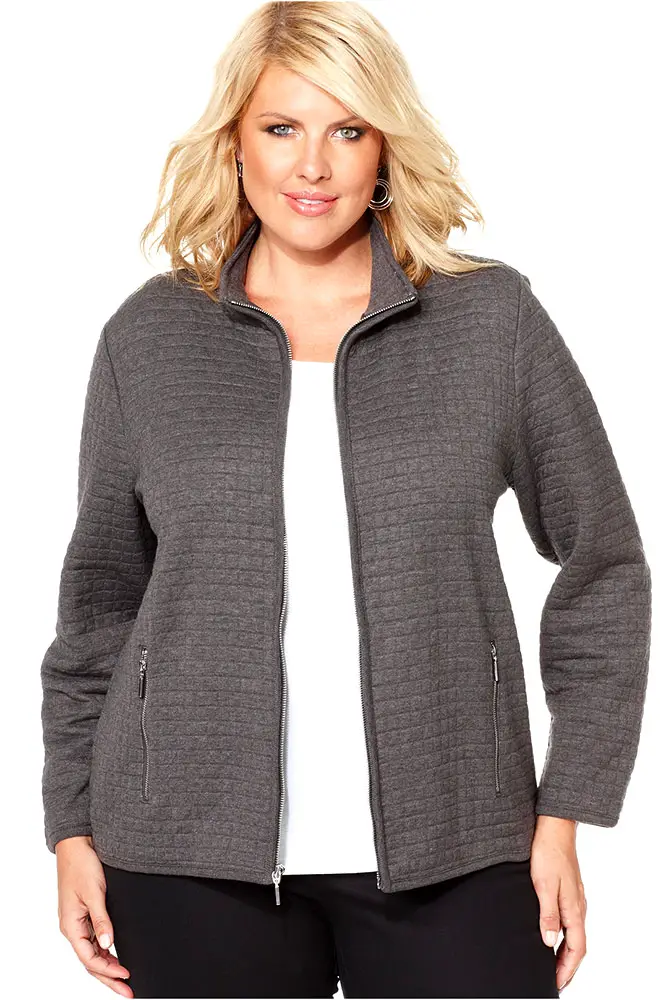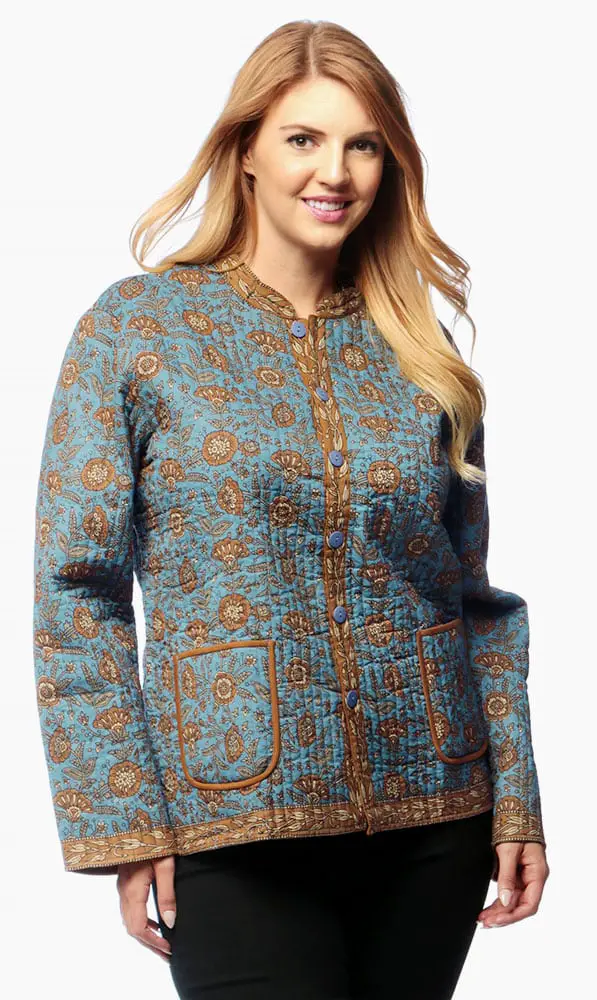 Paisley
The classic paisley print is a curved teardrop motif with an intricate design that mimics vines or leaves. Often called "Persian pickles", the pattern was originally created to look more like common vegetables.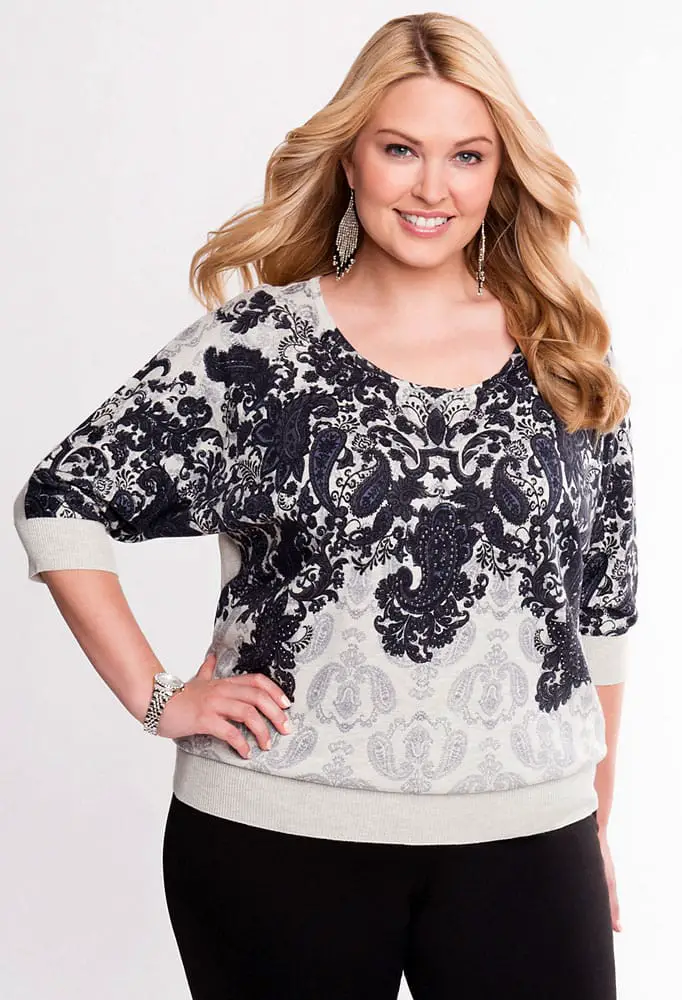 Plaid
Originally known as the Tartan pattern, plaid is a pattern made up of horizontal and vertical lines that cross one another. The key to the plaid pattern is that the lines (or bands) have to vary in width, otherwise it will look like a simple check pattern.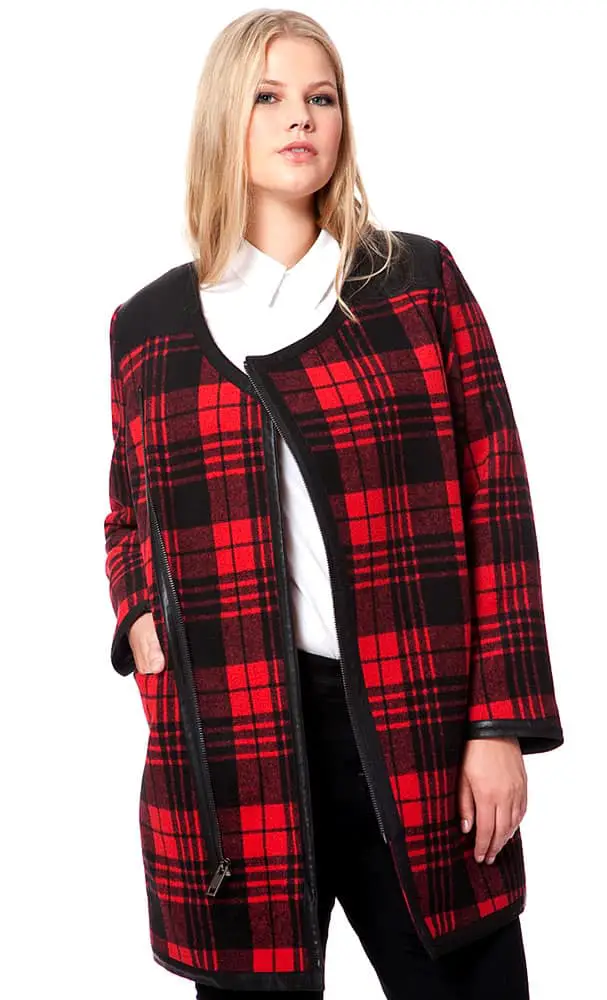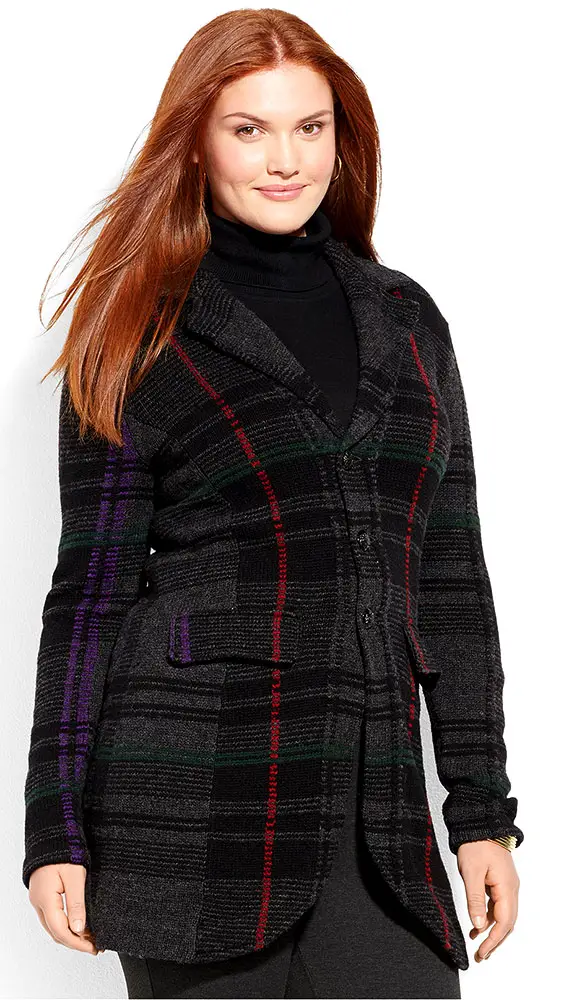 Popcorn
A fun sweater texture is the popcorn knit. It looks like a series of raised bumps that vary in size. You can find tightly knit popcorn patterns or ones that are more spread out, giving it a textured polka dot look.

Ribbed
A ribbed knitting pattern has raised vertical rows of stitches. This provides some stretch in the fabric and (depending on the spaces between rows) creates a striped texture. The ribbed pattern is the most common knit for sweaters.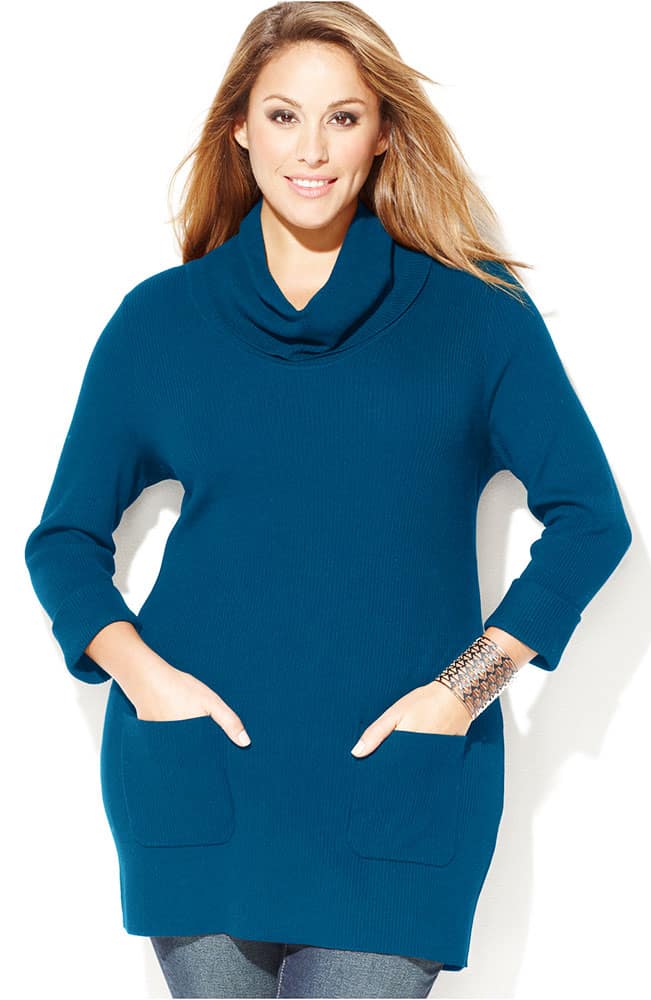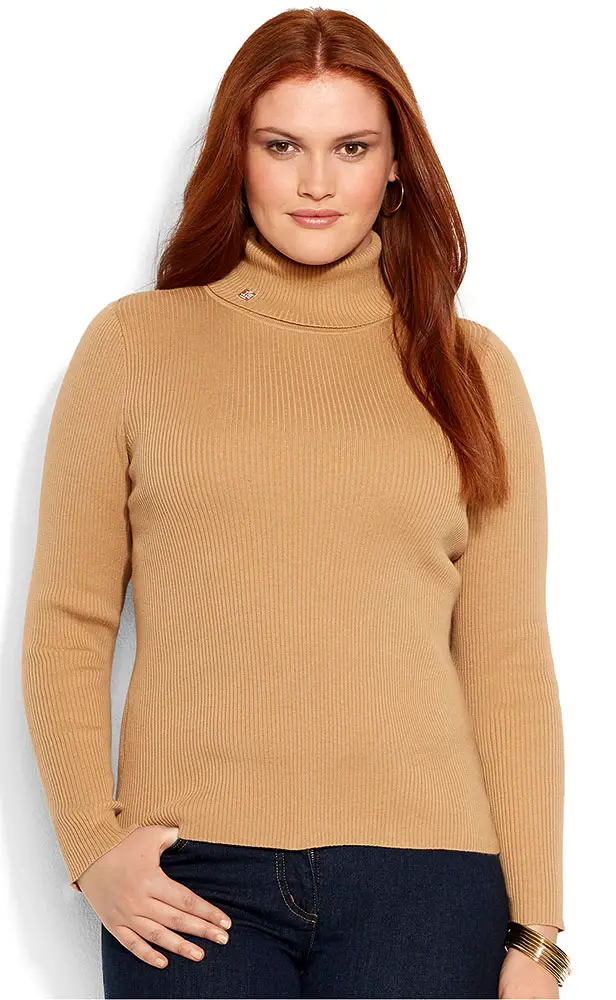 Sweater Fabrics That Keep You Warm
There are many different fabric blends that will either make you feel great or miserable. As a general rule, try to stay away from certain synthetic fabrics like acetate, nylon and polyester. These fabrics do not "breathe", which often means they are not very good at wicking moisture, leaving you feeling hot and sweaty, which is definitely not what you need in cooler weather!
The most common sweater fabrics and fabric blends will either be 100% natural fibers or a mix of natural and synthetic. Here are the most common fabrics that you will find for sweaters:
Wool/Wool Blend
Wool is a warm, strong and breathable natural fabric. It is one of the best insulators, which is what keeps you warm in cold weather. 100% wool can sometimes feel abrasive or "scratchy", but when mixed with other fibers, wool sweaters can feel soft and cozy. The most common wool blends will include cotton, acrylic or polyester.
Two common wool types are angora and cashmere. Both are considered ultra luxurious due to their softness, slight sheen and warmth. They are a popular choice for many people because they are generally quite lightweight, which is great for anyone who does not like to feel bulky in cool weather.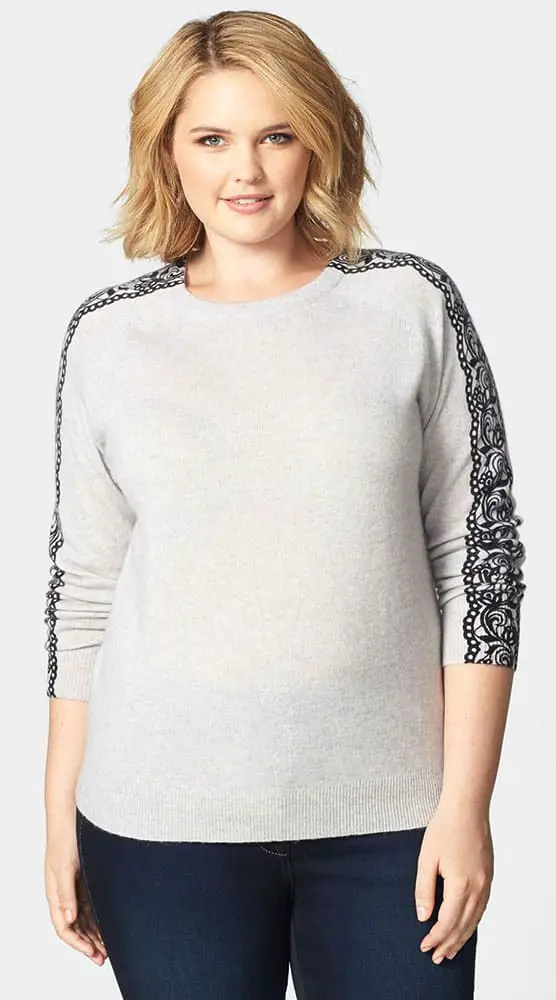 Cotton/Cotton Blend
Cotton is a strong, breathable natural fabric. It can help you feel cool in warm weather and warm in cool weather, which is why it is a very popular choice for sweaters and cool weather accessories. Besides 100% cotton fabrics, you will also find cotton blended with acrylic, polyetster, wool or silk.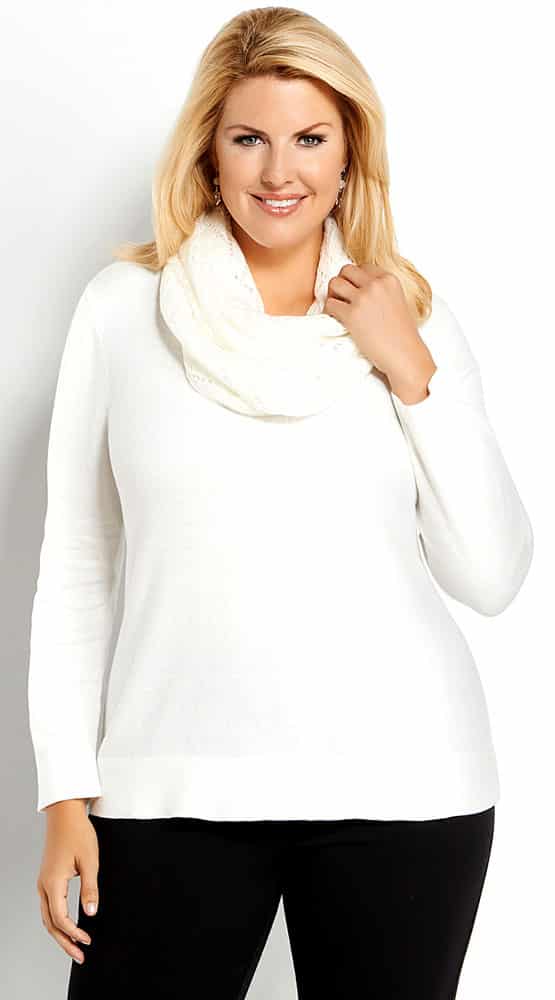 Fleece (Polar Fleece)
Fleece is a synthetic fiber made of a variety of synthetic fabrics. It is a strong, warm, insulating fabric that dries quickly, making it ideal for cold weather. You will find many different things like sweaters, jackets, bedding and cold weather accessories are made of fleece.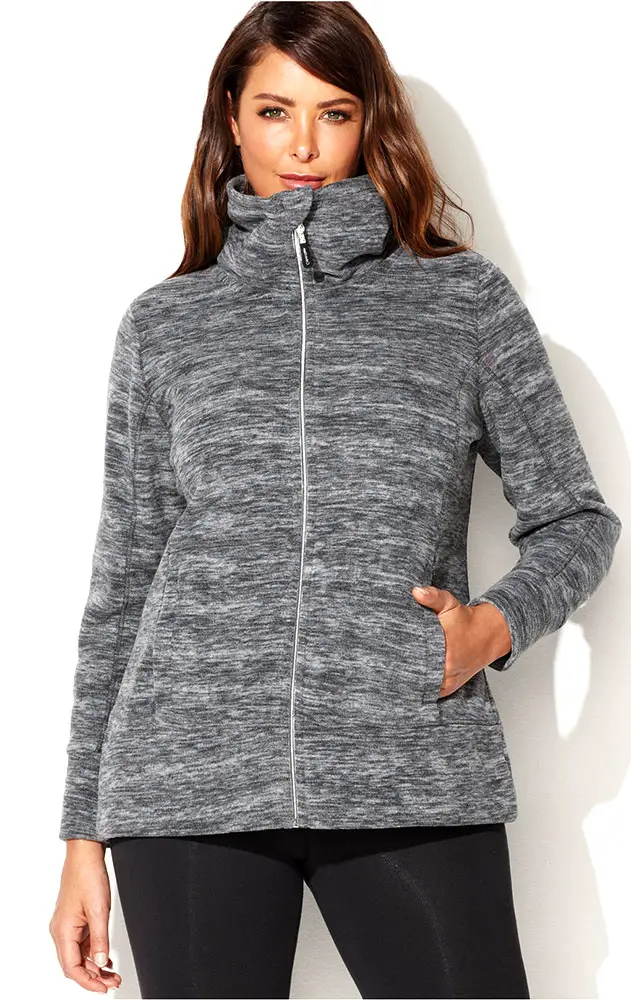 Silk/Silk Blend
Silk is the strongest natural fabric on earth. It is normally considered to be a luxurious fabric, because of its strength, breathability, lightweight and moisture absorbency. Just like cotton, silk will leave you feeling cool in hot weather and warm in cold weather. On top of 100% silk fabrics, you can also find blends that include cotton, wool, nylon and acrylic.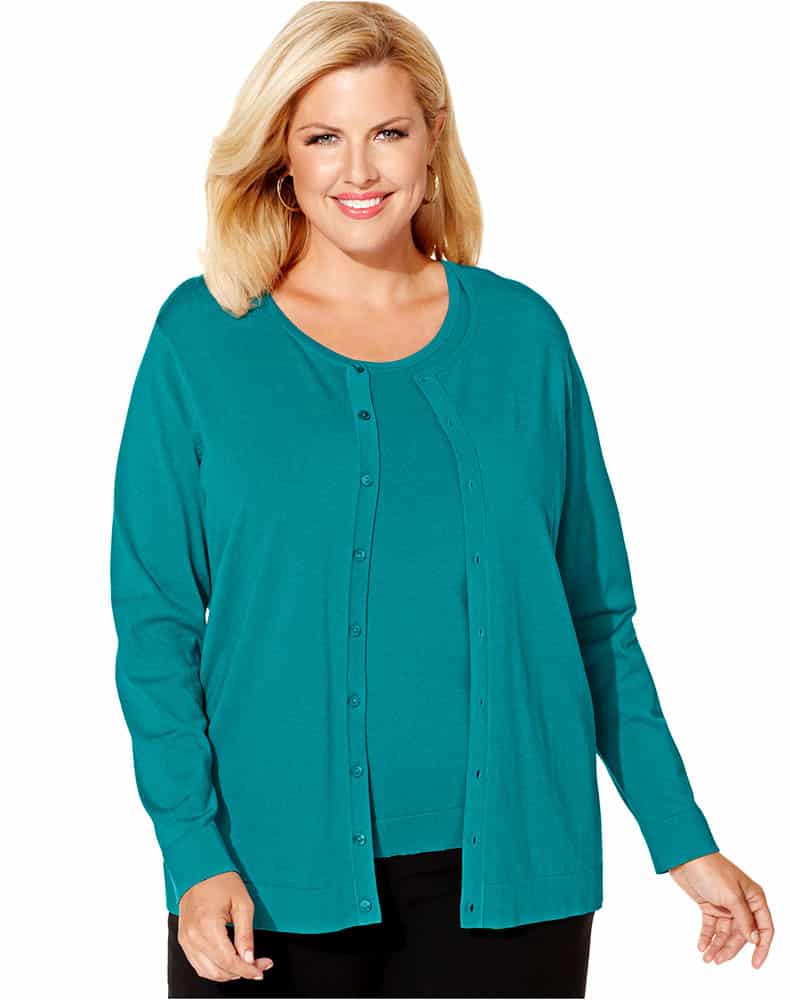 Acrylic
Acrylic is a soft synthetic fabric that is very common in a variety of clothing blends. Unlike other synthetic fabrics, acrylic is actually breathable, making it a popular choice for all-weather clothing.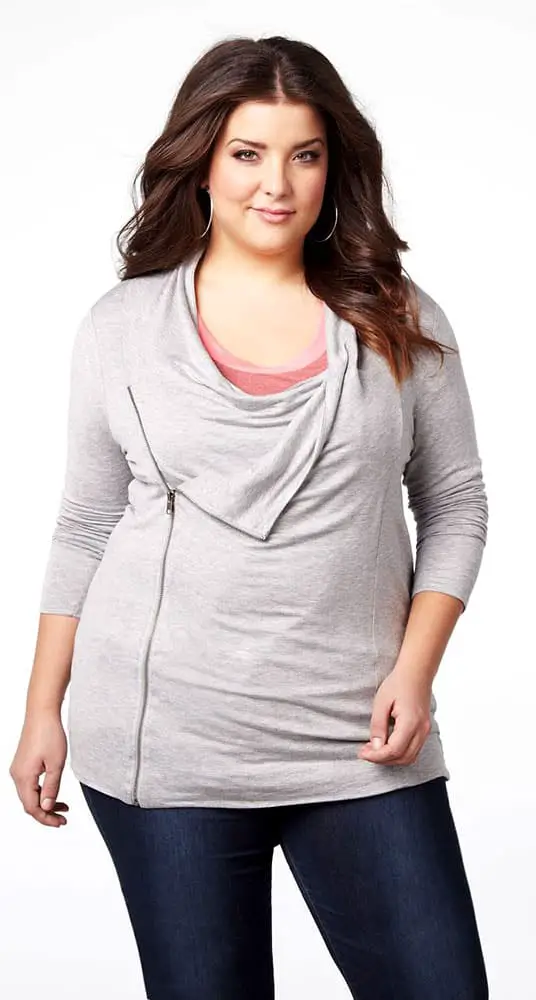 Polyester
Polyester is a strong, stretchy synthetic fabric that is found in many different products. Unlike acrylic, polyester is not breathable and does not absorb moisture well, making you feel hot and sweaty. When mixed with breathable fibers, polyester adds strength and wrinkle resistance.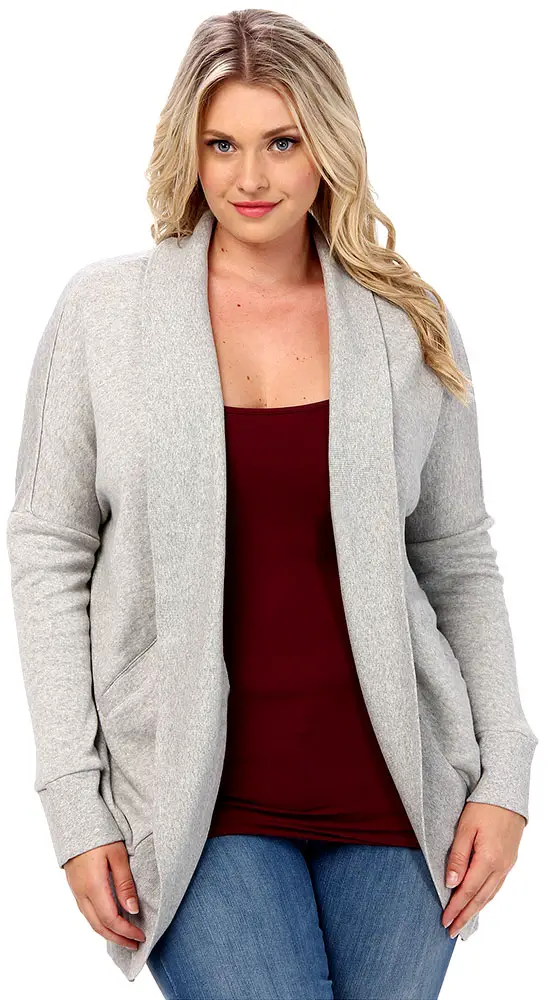 Nylon
Nylon is a strong, lightweight synthetic fabric that is often mixed in fabric blends to add strength and stretch. Like polyester, it does not breathe well, leaving you hot and sweaty.

Sweater Styles We Love
Bat Wing
The batwing sleeve is very wide in the arm and tapers down to the wrist. The sleeves will vary in length from elbow length to extra long knuckle length. Most batwing sweaters or cardigans will have an oblong shape (like a cocoon sweater), while others will have more structure as a standard sweater or tunic.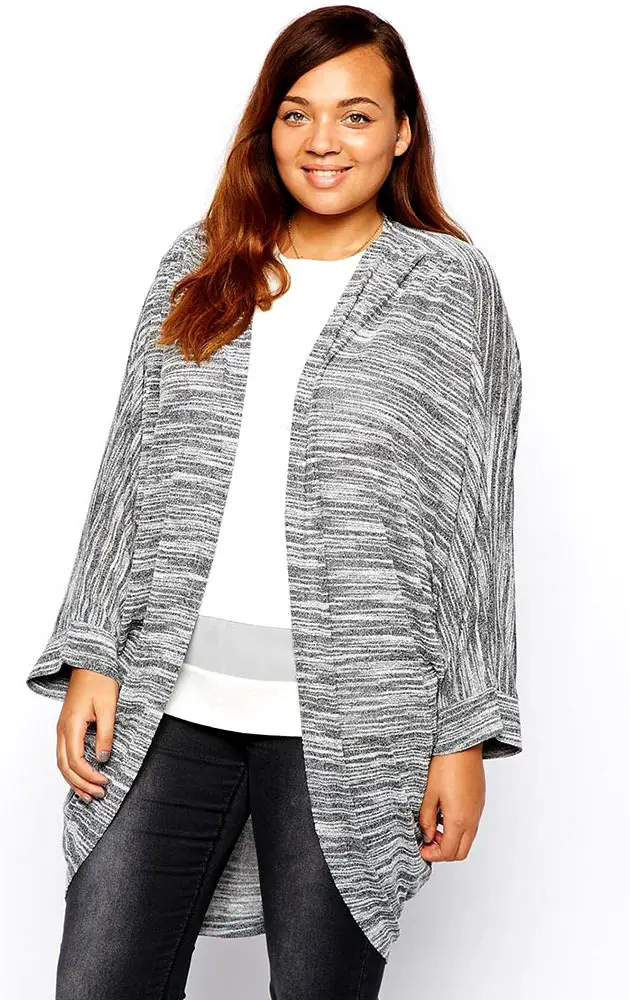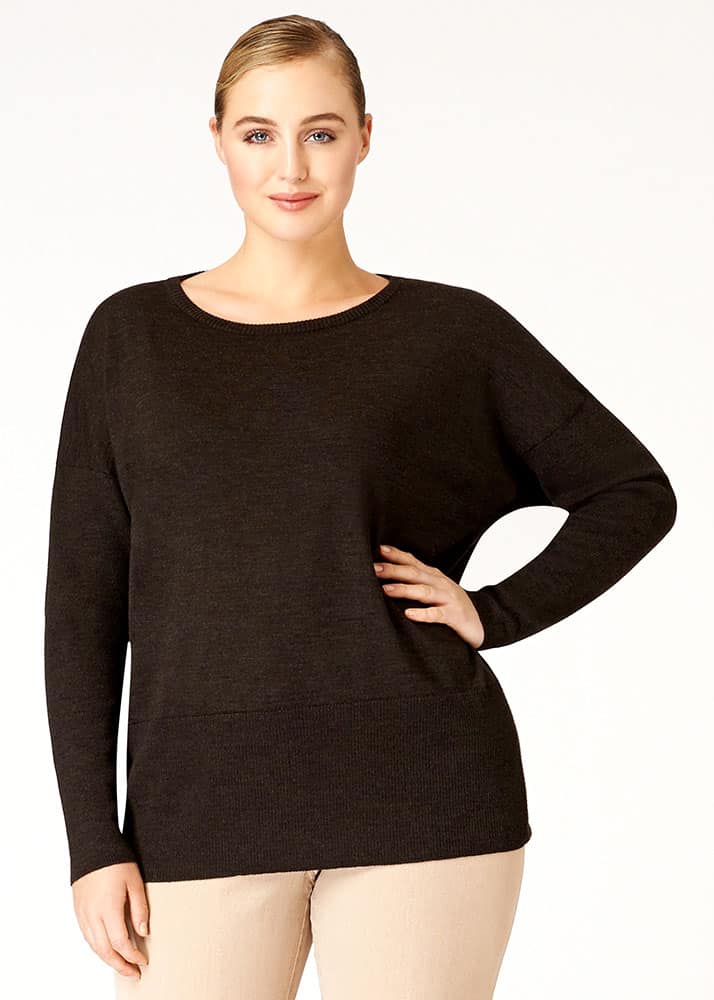 Cardigan
A cardigan is a knitted top with an open front. It is essentially a sweater with either an open front, or a button/zipper closure. Cardigans are made of many different fabrics and styles. You can find them cropped, boxy, long, fitted, hi-low, belted or with a drape front. With so many style options, no wonder ladies love them!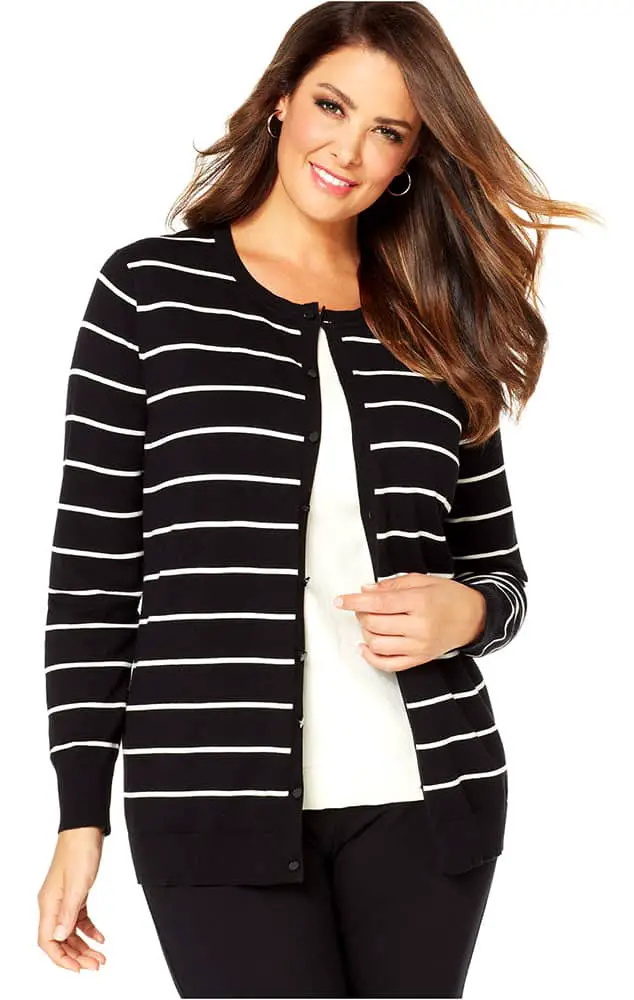 Collared (Shawl Collar)
A shawl collared sweater has a wide collar that criss crosses into a v-neck. You will find this neckline for pullover sweaters and cardigans. This is a sophisticated style for both women and men.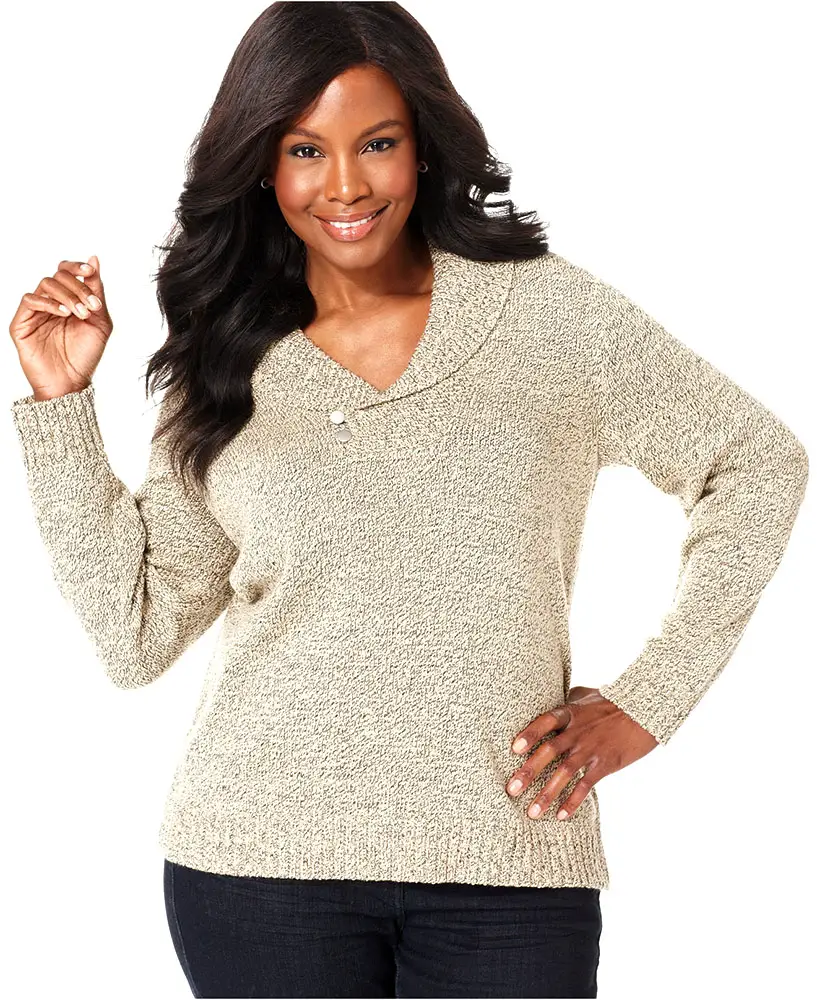 Hoodie
The classic hoodie is a sweater with a hood attached to the back. The most common type of hoodie is on a sweatshirt, which is why they are often referred to as "hooded sweatshirts". There are many different sweaters and cardigans with hoods, the most common for winter is the cable knit hooded sweater or one with pom pom drawstrings.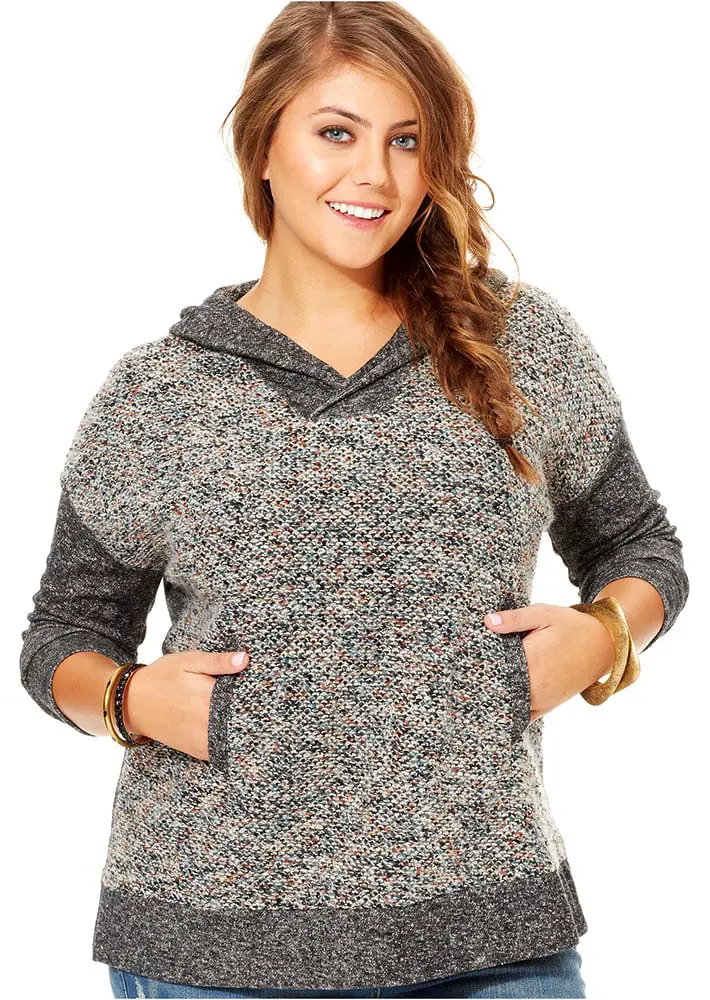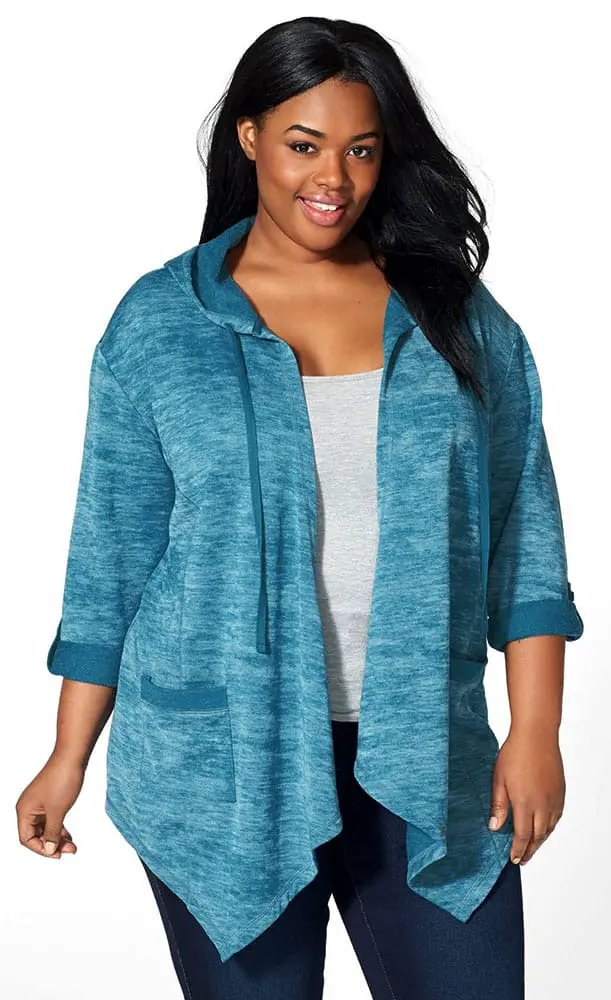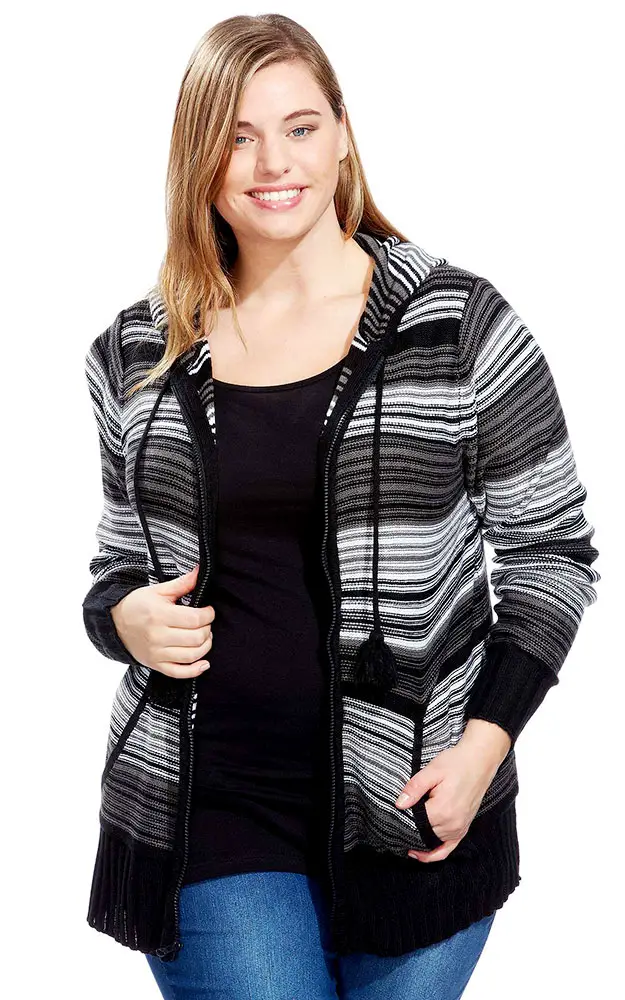 Oversized
As the name suggests, an oversized sweater is one that is several sizes too big. They are great cozy options to wear with leggings or skinny jeans. You can also transform oversized sweaters into a sweater dress by wearing tights and adding a belt for some waist definition.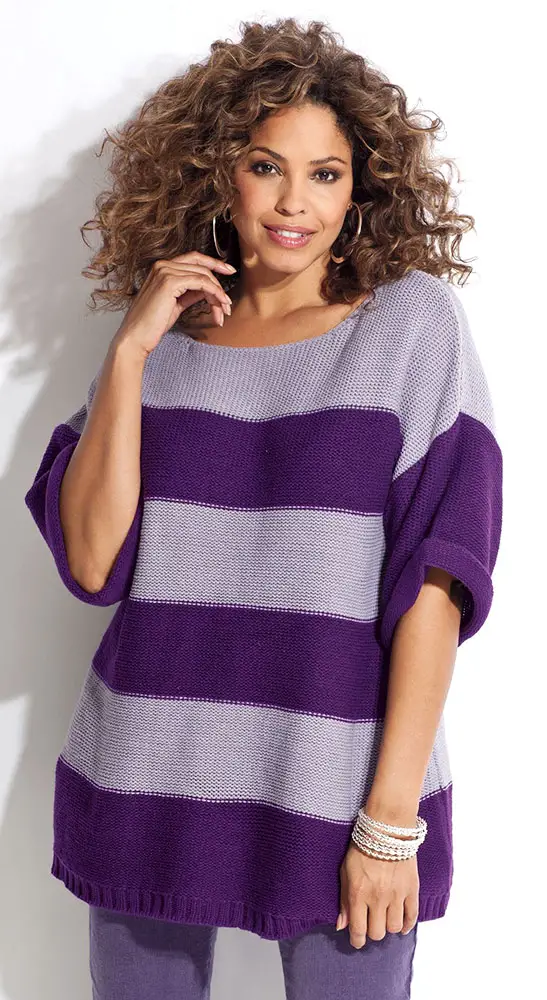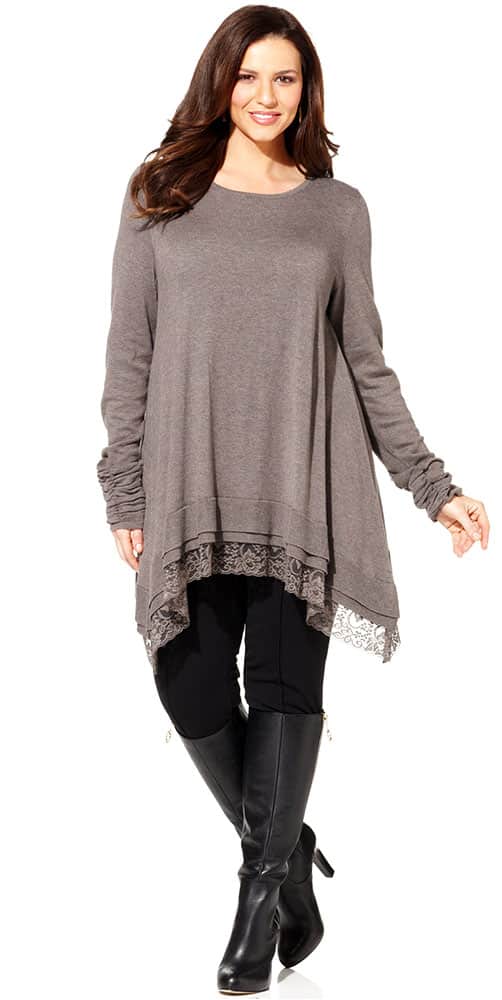 Poncho Sweater
A poncho sweater is a sweater style that looks like a poncho, but with sleeves. You will find a variety of styles and cuts, some with short sleeves, open sleeves, long sleeves and some will even have collars or turtlenecks.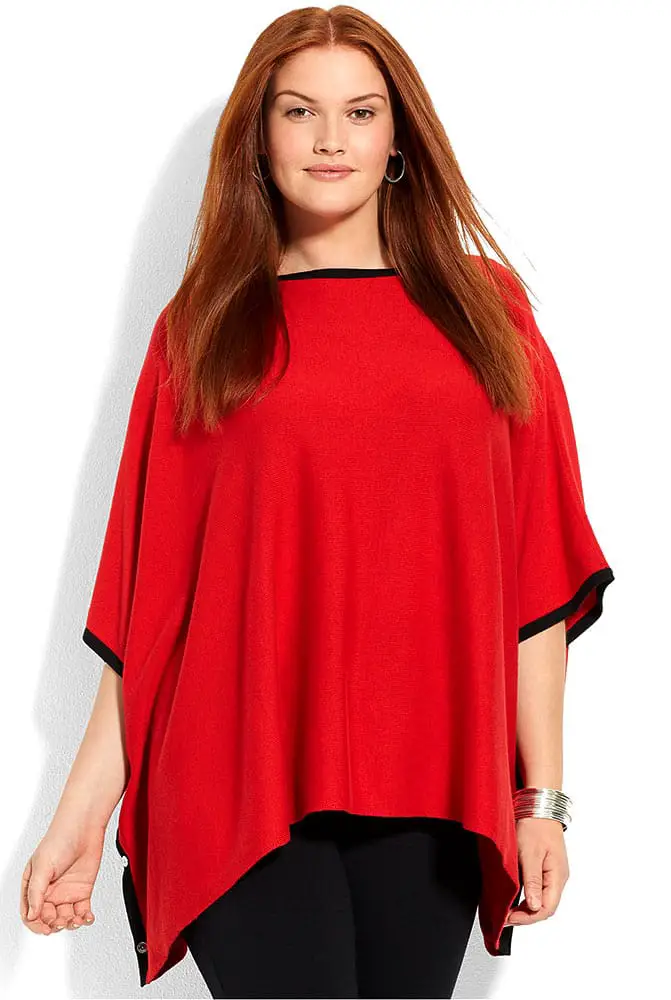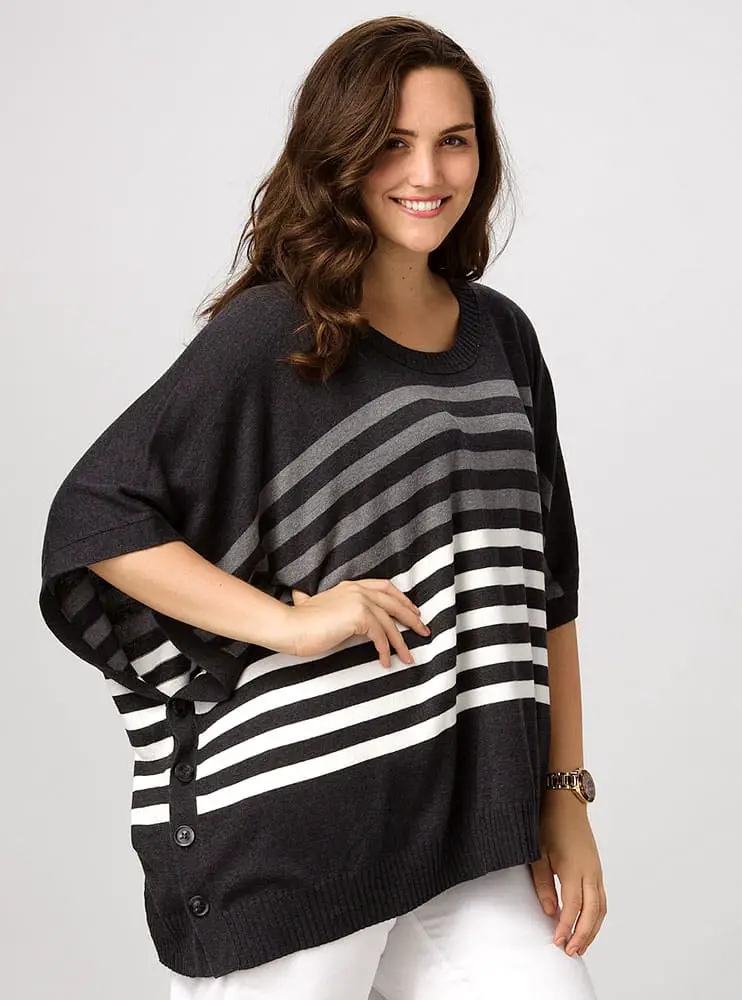 Pullover
A pullover sweater is one that you literally have to pull over your head to put on, because it does not have any buttons or zippers as closures. A pullover sweater is the most popular choice for cool weather and it comes in a variety of fabrics, colors and necklines. (To learn about different sweater necklines, checkout our necklines post here)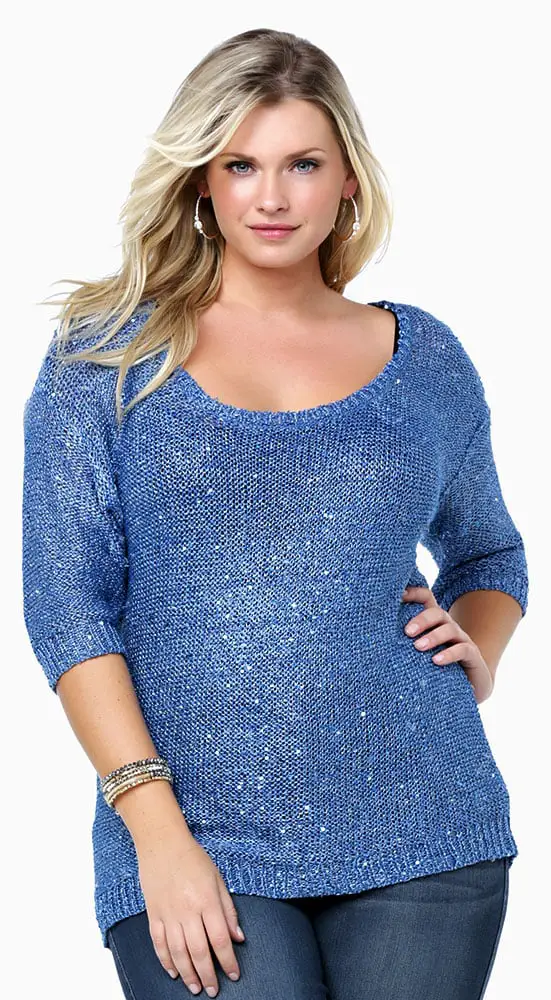 Shrug
A shrug is a very short cropped cardigan with either an open front or one that closes with buttons or zippers. Most shrugs will have long sleeves, but there are some that will have a variety of short sleeve styles. A bolero is a formal version of a shrug.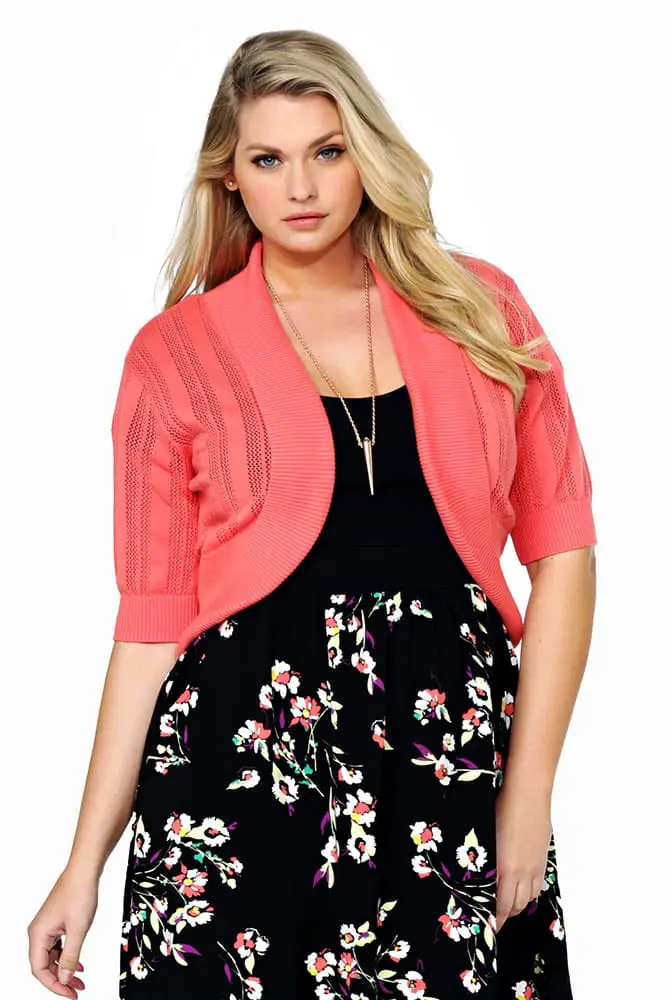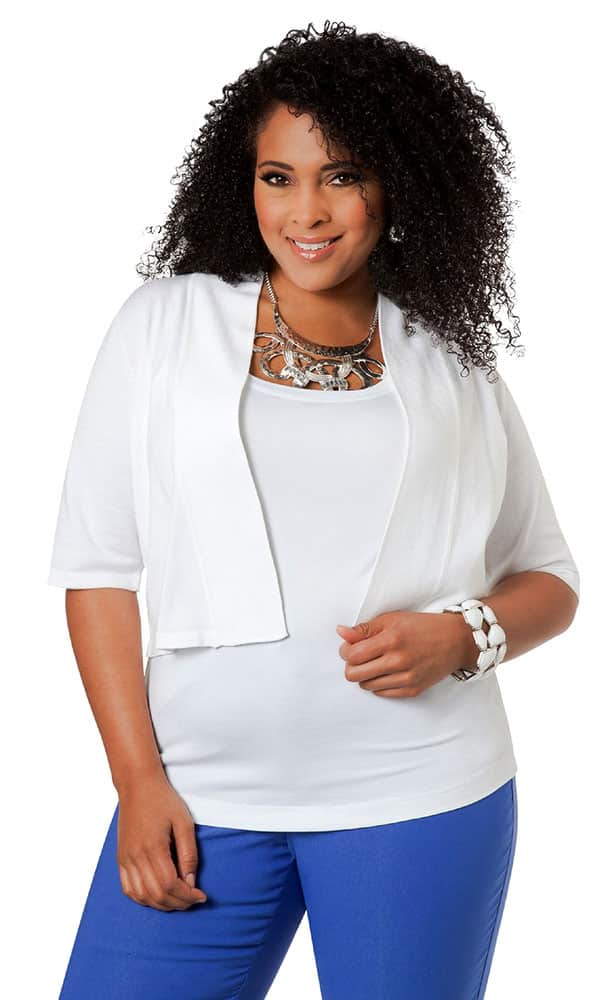 Sweater Dress
A sweater dress is a casual dress made to look like a sweater. Sometimes seen as an oversized sweater, a sweater dress will come in an array of lengths, sleeve styles and fabrics. The most common types are cable knit or ribbed dresses for the holidays.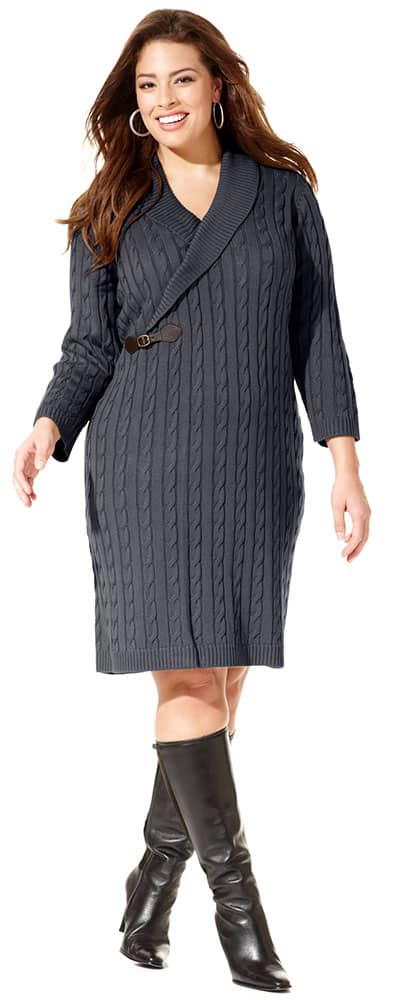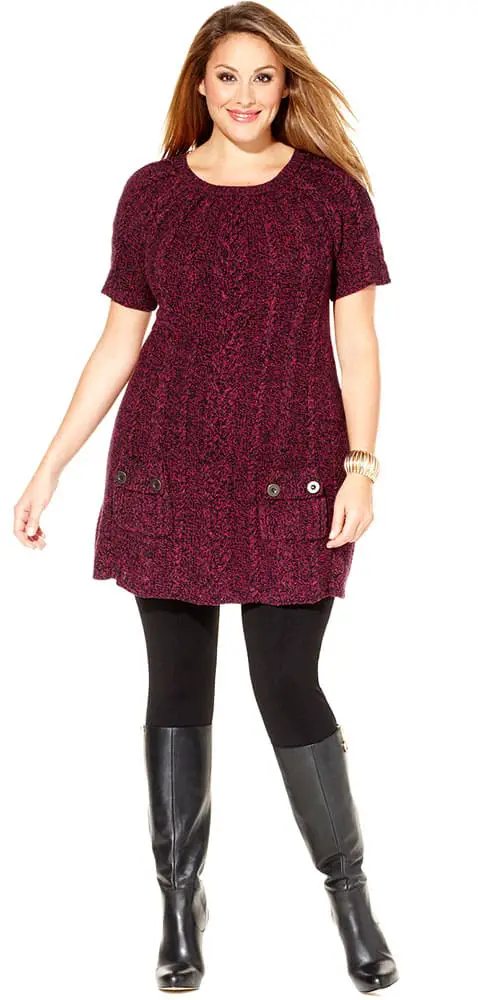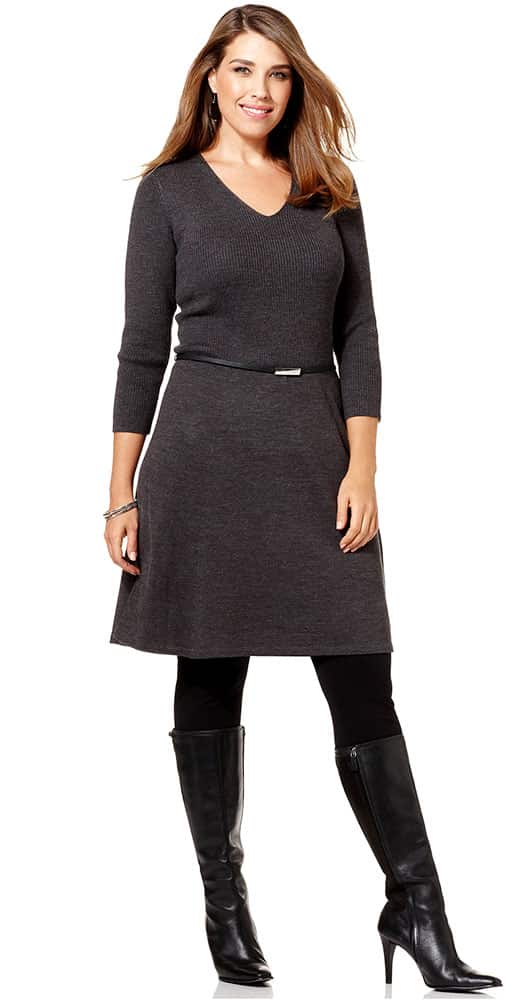 Sweater Jacket
A sweater is a versatile clothing item that can be worn indoors and out. When the temperature drops, a sweater jacket comes in very handy. They are very warm collared knit sweaters that are often layered with cotton, fleece or tightly knit fabrics to help block the wind. You can find sweater jackets in many different lengths and closure styles.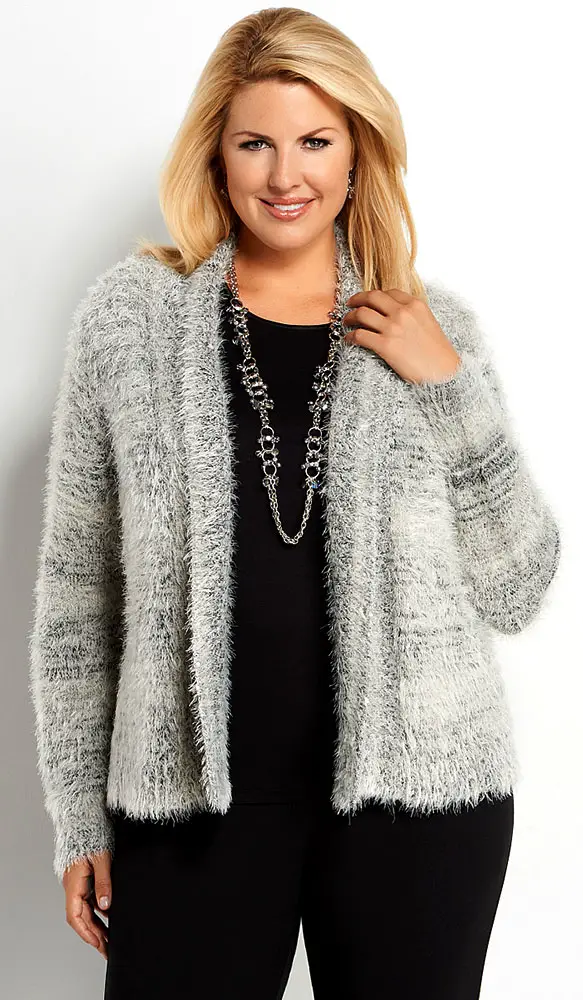 Sweater Vest
A classic sweater vest is a sleeveless sweater that is generally worn over long sleeved tops and button down shirts. They instantly give your outfit a preppy but stylish look. The most common sweater vest patterns is argyle.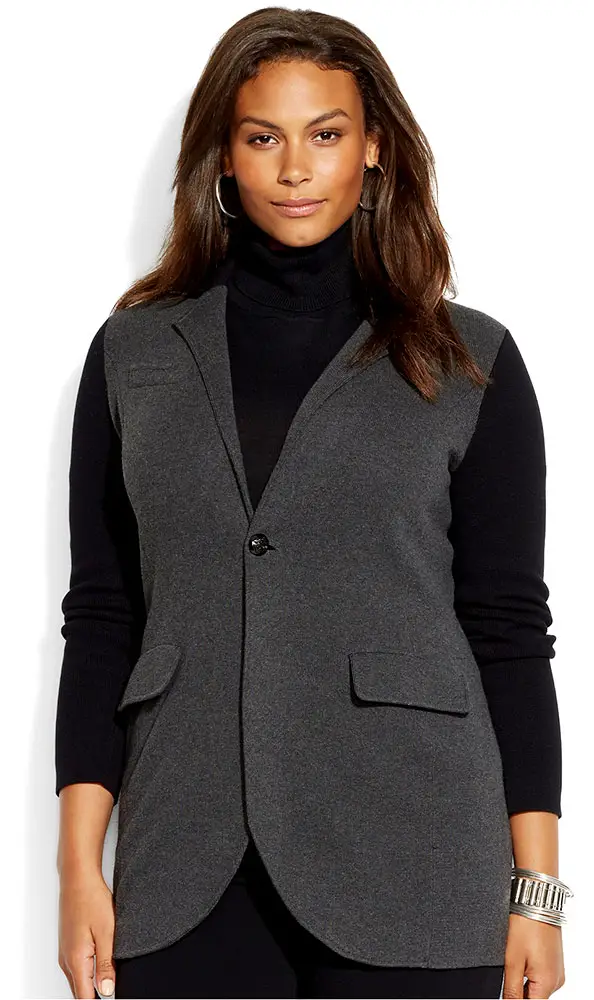 Tunic
A long tunic sweater will often have long sleeves and a variety of necklines. Cowl necks and turtlenecks are the most popular choice for cold weather tunic sweaters. Some styles will even have a belt for waist definition.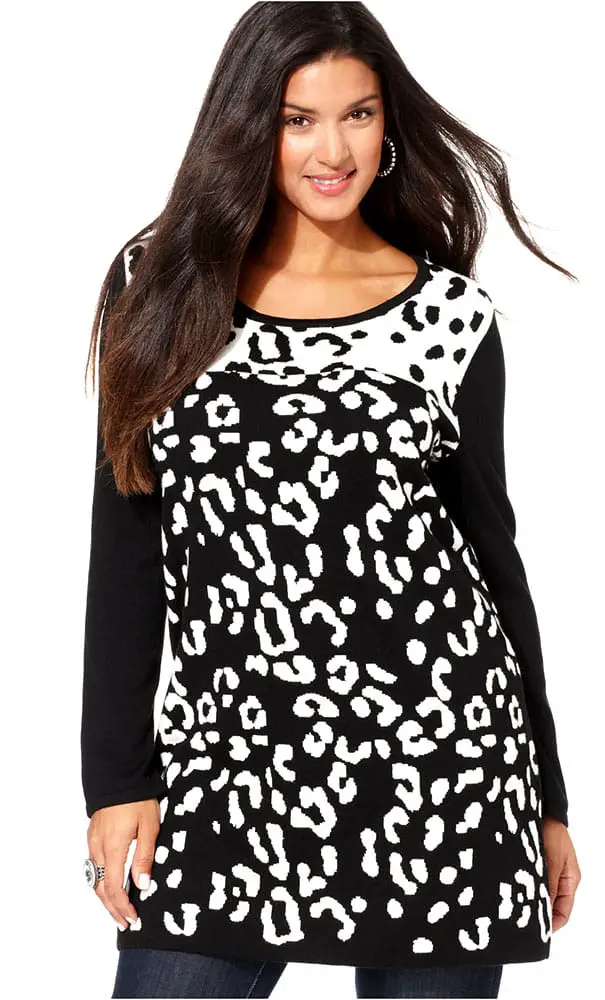 Turtleneck
A popular sweater choice for cold days is the turtleneck. The high neck can be worn high up or rolled down, depending on where you like the neckline to stop. Turtlenecks can be worn on their own and they are a great layering item that can be worn under vests, sweaters, cardigans and lighter jackets.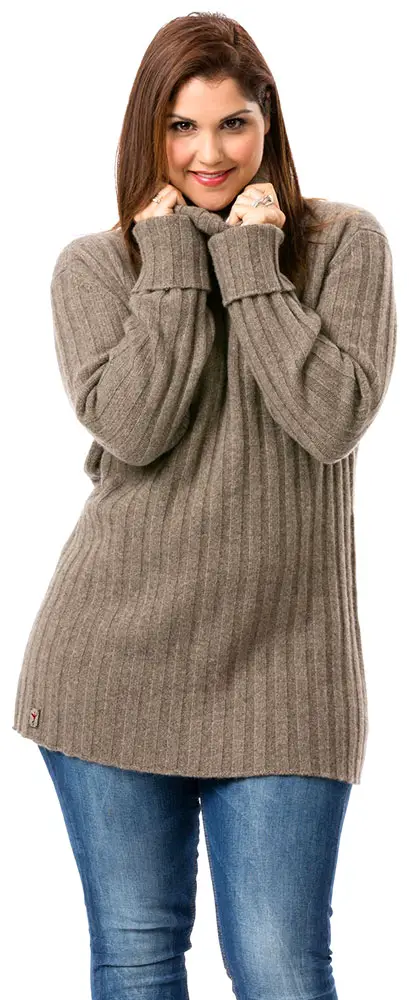 Wrap
The wrap style sweater looks like a cardigan, but it will wrap around the front of the body and often tie at the side. There are also some pullovers that are essentially a faux wrap. Wrap sweaters will often have a v-neck criss cross look and have an asymmetrical hemline.