Just like backyard barbecues and iced vanilla lattes, a white dress is essential for Spring and Summer. Just as ideal for a weekend at the beach as it is for a chic lunch with the girls, the white dress is as versatile as it is sophisticated.
Whether your closet is lacking a go-to plus size white dress, or you're looking to replace an old piece and need some style inspiration, consider this the only guide you'll need!
From an office-appropriate shift dress to a bodycon for the club, we've got a white dress for every body type and occasion.
Aside from the fact that style rules becoming less hard and fast and more about personal choice, there are still a three key rules to follow when wearing white.
Firstly, don't wear white to a wedding.
Often considered distasteful, it's more about respect for the bride. It's her big day, so let her have it.
Secondly, sometimes brilliant white isn't the way to go.
If you have pale skin with a rosy complexion, an off white or creamy white can work better for your skin tone, leaving you looking fresh rather than washed out.
Lastly, do consider your shoes. Your trusty chunky black heels are probably too overpowering for the white dress. Choose a delicate shoe in neutral tones like beige or gray for a more refined look.
Bodycon Dress
Once you've got these three simple rules down, it's all about your body type and which parts of your body you want to accentuate and which parts you'd prefer to glaze over.
A bodycon dress is perfect for hourglass figures and those with perky bottoms. Clever rouching and draping will ensure your body can fit like a glove and clings to all the right places. Meanwhile those with top details such as a double layer or voluminous sleeves will draw the eye up the body, ideal for balancing a pear shape.
Unless you're wearing your white bodycon to an evening event or clubbing, keep the hem at knee length or below and style with a statement necklace.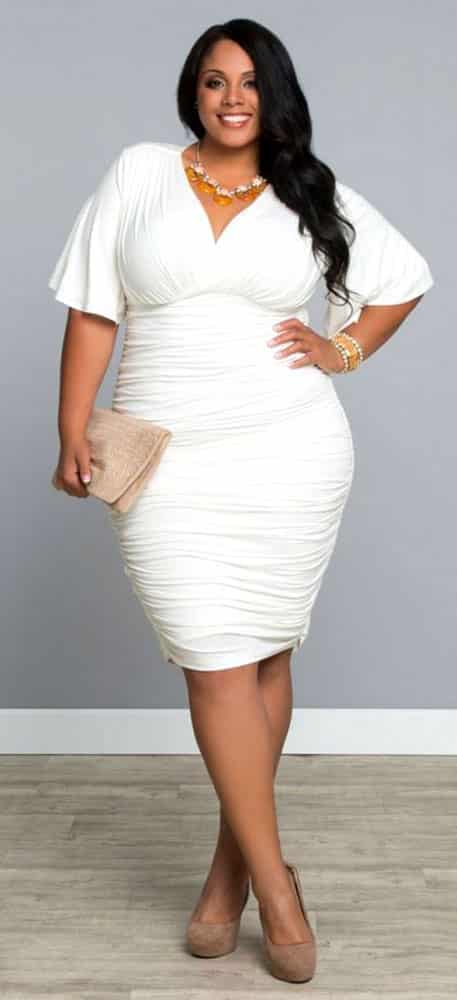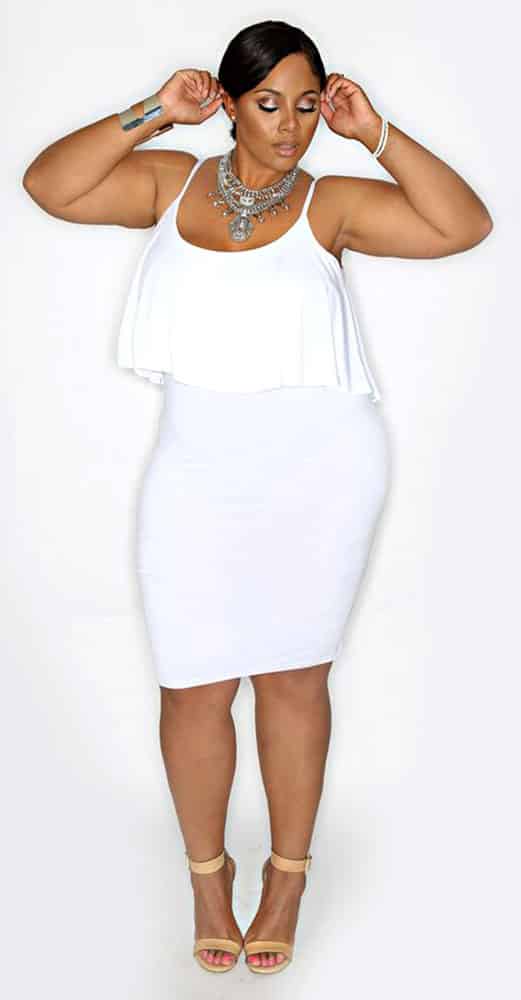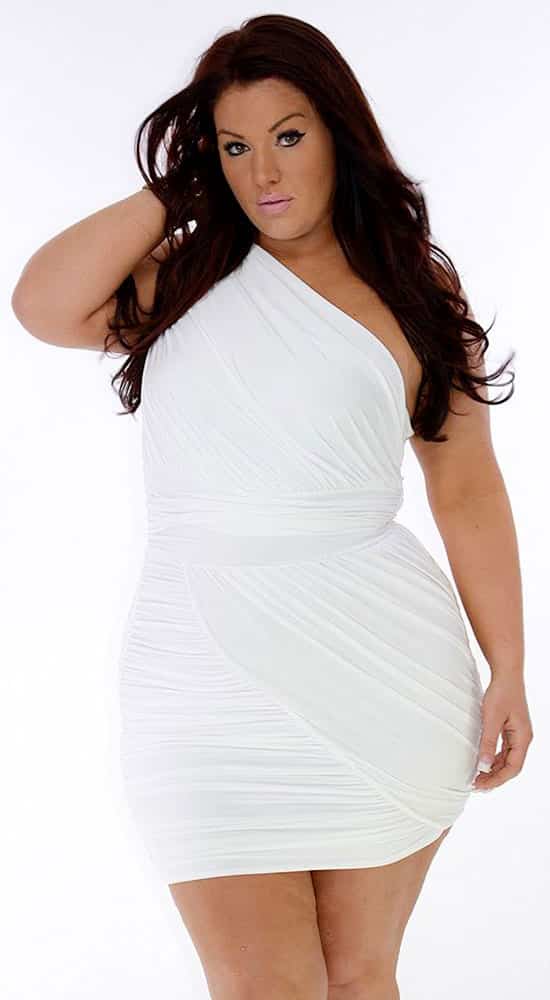 A-Line Dress
A more relaxed look can be found in an A-line style.
Flattering for large hips and busts, the A-line shape gives a floaty nature to your quintessential plus size white dress, allowing for more movement and a flirty feminine vibe.
Look for equally feminine fabrics for your A-line dress, including lace, crochet, semi-transparent voiles and delicate beading or appliqué to really make this look pop.
Do avoid spaghetti straps if you have chunky arms, as a thicker strap or three-quarter length sleeves will look more flattering.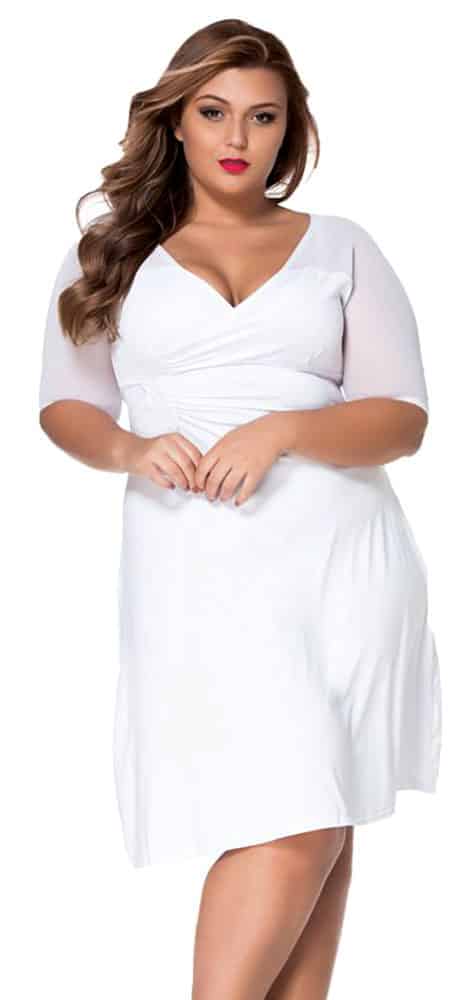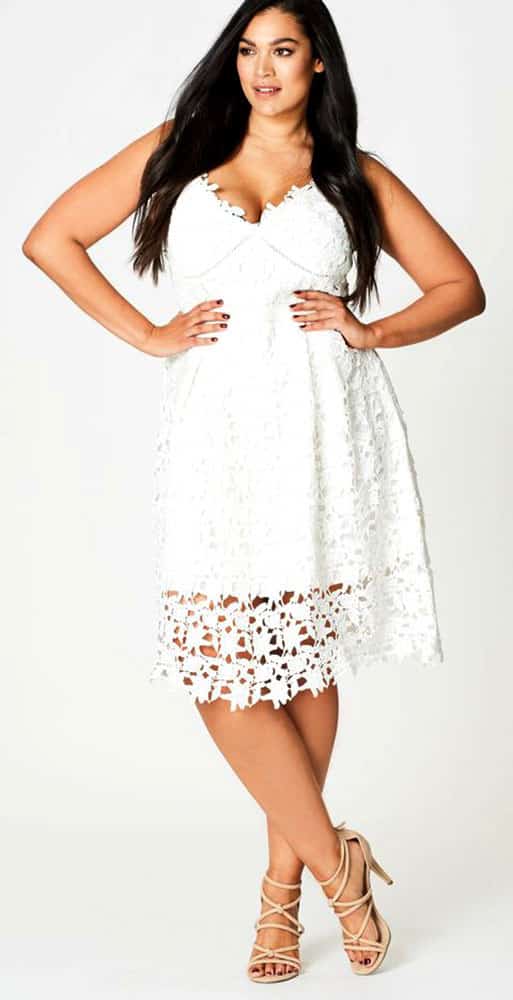 Empire Waist Dress
A white dress with an empire waist is a great look for busty women, providing a little lift and skimming over the stomach.
Fabulous in all lengths from maxi to mini, an empire waist with a deep V-neck and some interesting back or sleeve details can be an extremely versatile look.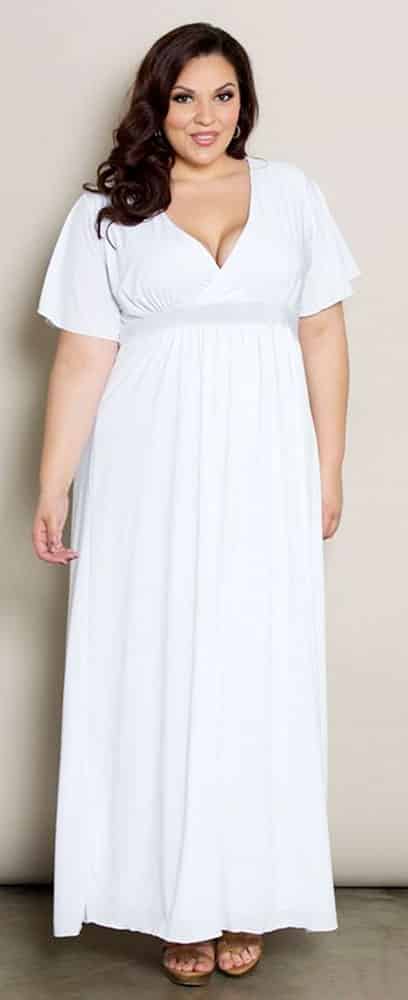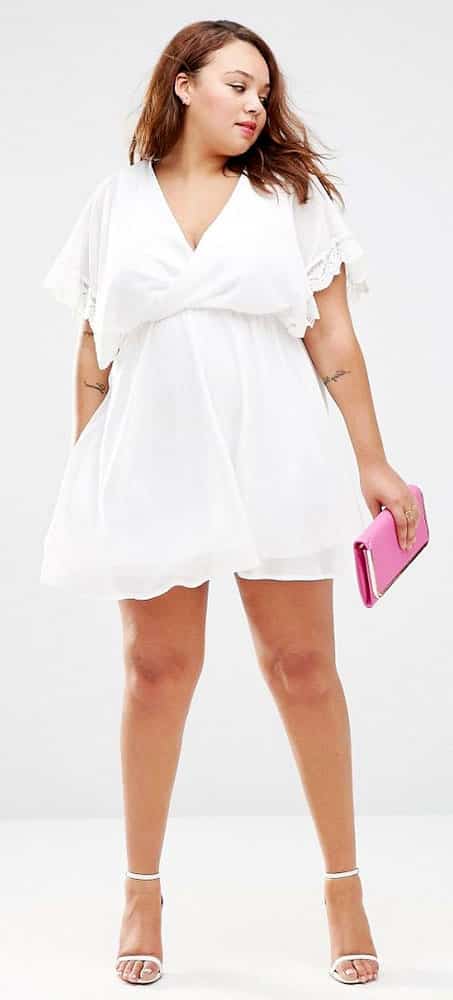 Shift Dress
A sophisticated shift dress in general is a must for every fashionista. So why not incorporate that elegant look into your plus size white dress.
The shift dress has been in fashion for decades and with good reason.
A happy medium between bodycon and A-line, the shift dress has a straighter silhouette that can either stay straight from hips to hem, or be gently tapered towards the end.
A classic silhouette that suits almost every body type, the shift dress is professional enough for the office and chic enough for date night.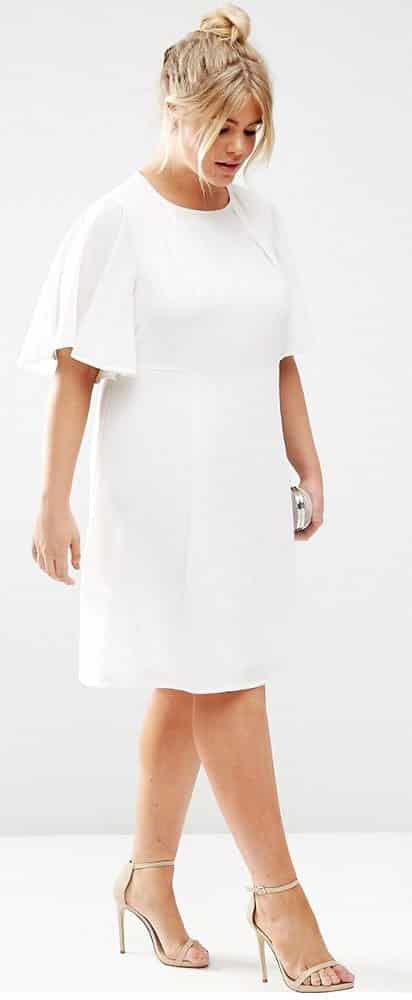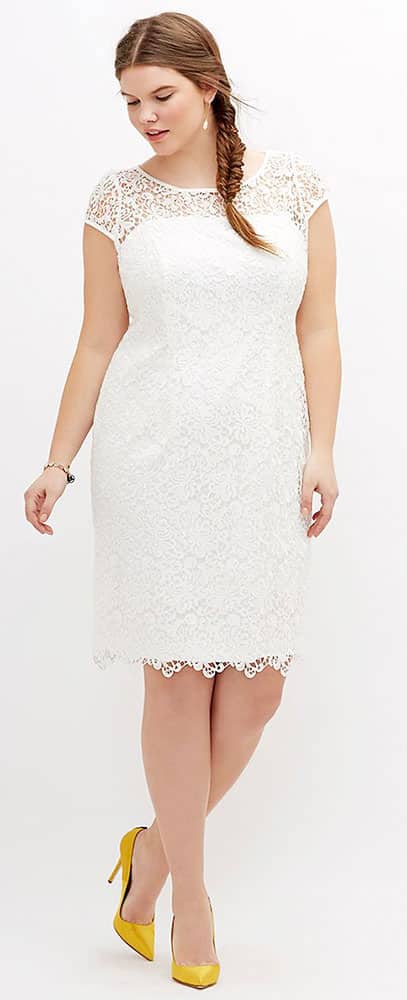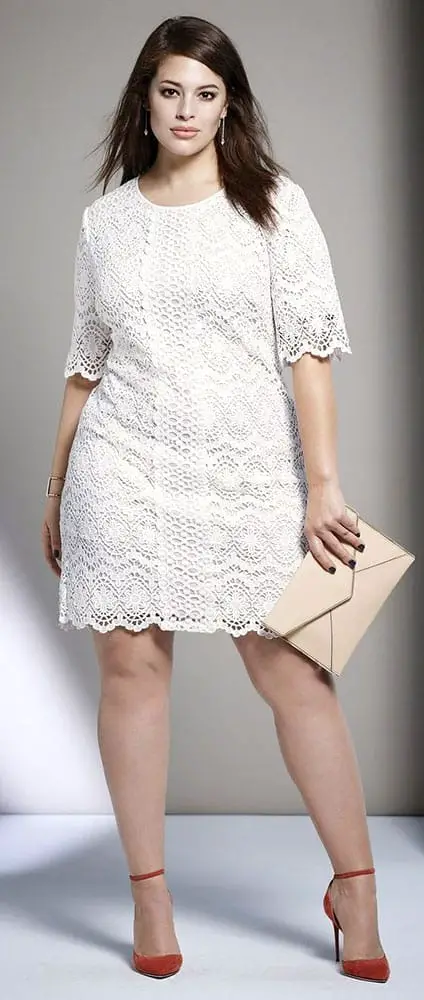 Do take care when wearing your white dress.
If you live in a bustling city environment, you'll know that wearing white is like flirting with the devil – it's usually a bad idea!
Take care whilst on public transport and avoid brushing up against cabs, two main culprits in cities for seemingly unexplainable and irremovable stains.
If you're out for lunch, avoid vibrantly colored food and sauces and switch your usual glass of red to a white or pale rosé to ensure you manage to get through the day in your white dress unscathed!