There are many different dress styles that are made to flatter various body types (Find your body shape here). The dress length and hem style greatly changes the way the fabric moves on the body, and can even add height by creating an illusion of longer legs. In this guide we'll take a look at the best plus size wedding dress lengths and hems to flatter your body shape.
Asymmetrical Hem
An asymmetrical hem is not a very common style to have for a more traditional wedding dress, but there are some brides who look for something unique. An asymmetrical hem will be cut longer on one side and shorter on the other. It offers and interesting touch to the final look of a dress, and it tends to add more movement in the fabric. Some destination wedding dresses will have this type of hem.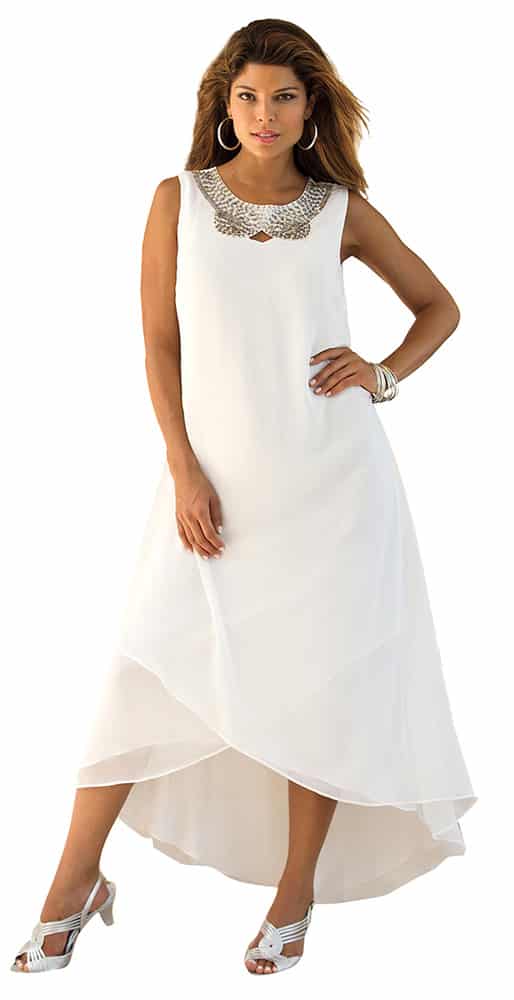 Ankle-length
For the bride who would like a long wedding dress without the fear of tripping over her dress, an ankle-length would work very well. Many beautiful dress styles come in this length and it's also a great way to show off those pretty wedding shoes.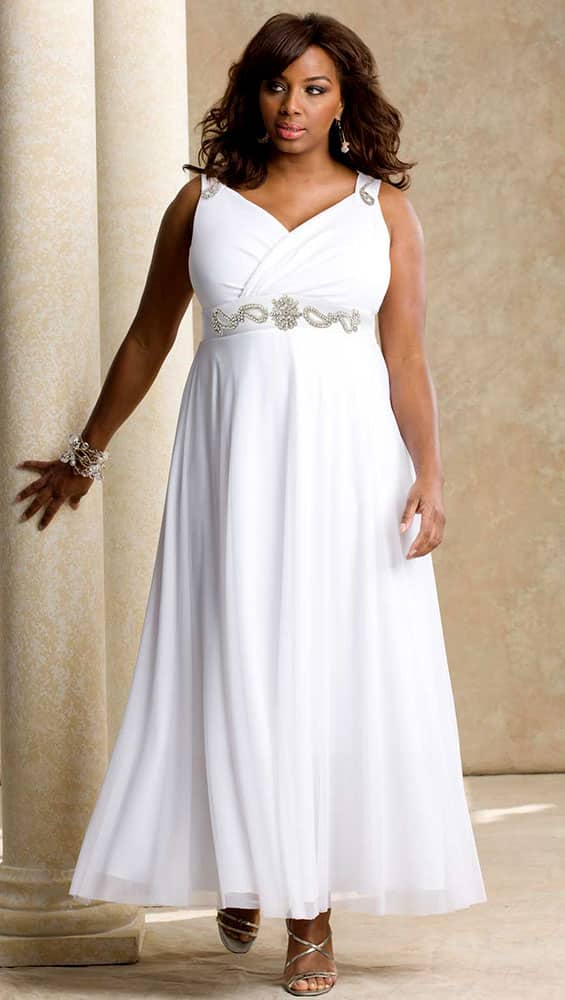 Bubble Hem
The bubble hem is a fun unique hem style for short wedding dresses. The hem is made up of a hidden hem that is tucked in to create a bulge at the bottom. Often found on shorter dresses and skirts, the bubble hem is another destination wedding dress style that looks beautiful on straight or hourglass body shapes.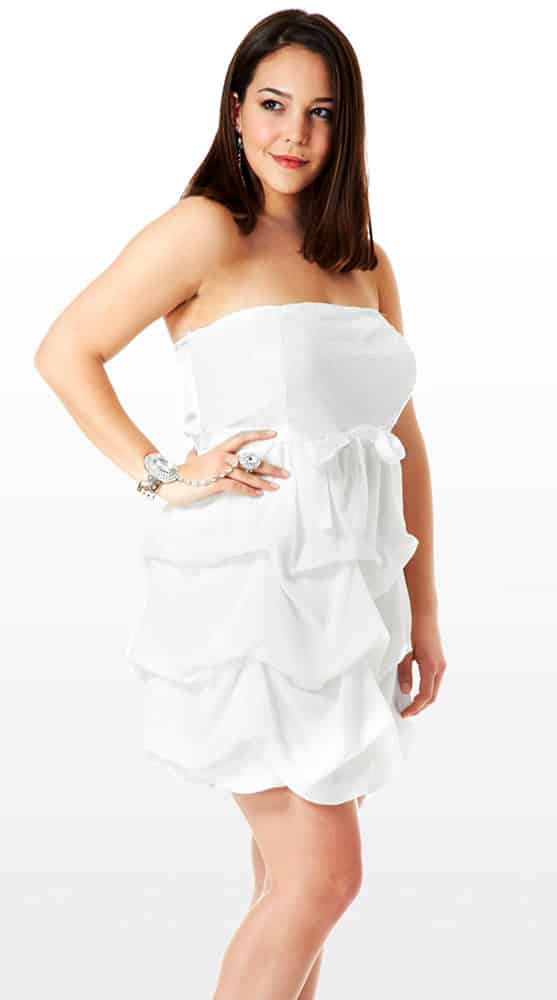 Cocktail-length
The cocktail dress length is quickly becoming a popular choice for many brides because the length is often flattering for any height and body shape. A cocktail length varies according to the dress brand. Some styles will fall mid-calf, while others will fall just above the ankles or just below the knees.
Check out our cocktail dress post for examples of styles and lengths.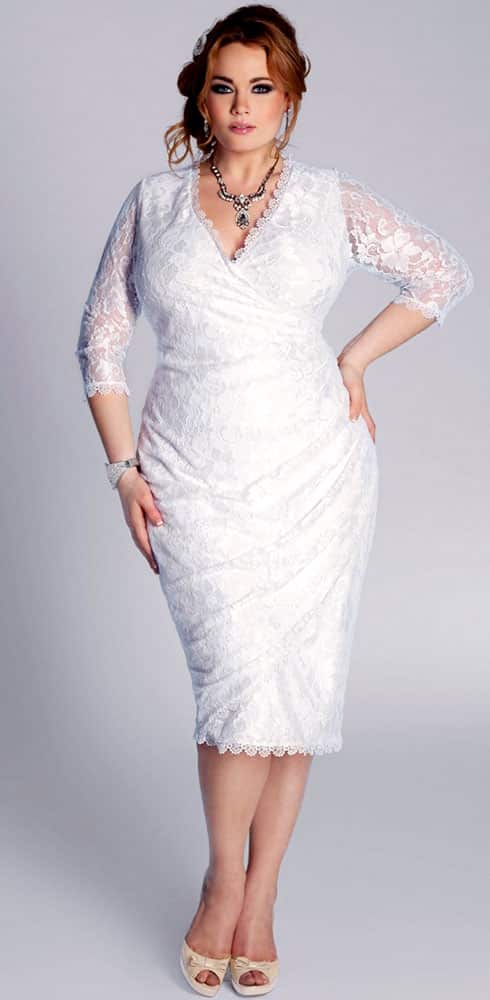 Floor-length
A floor-length wedding dress is very popular choice when you don't want to have too much dress trailing behind you throughout the day and night. These dress styles just graze the ground and look best with a nice pair of heels. Most traditional and contemporary wedding dresses will be floor-length.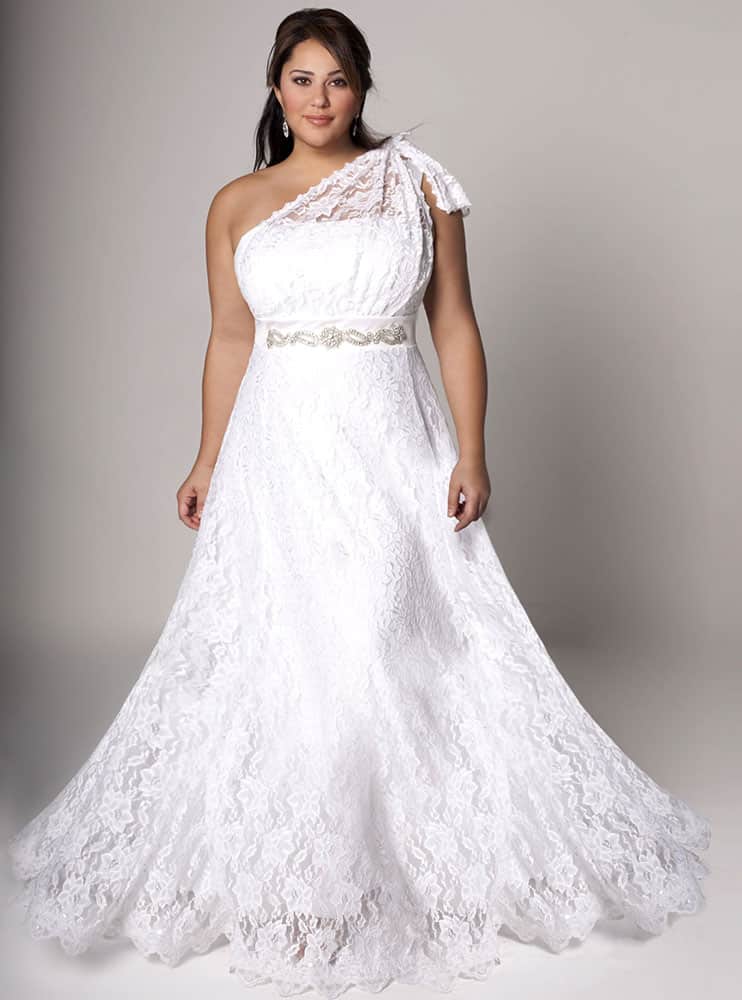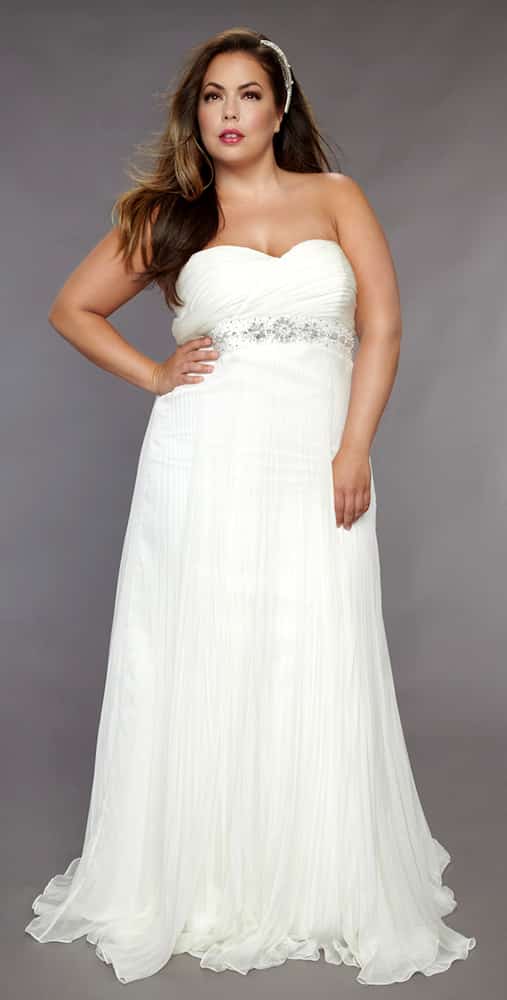 Flounce Hem
A flounce hem adds a flirty feminine touch to a dress. The flounce is essentially a large ruffle at the bottom of a dress (usually a sheath dress cut). This hem style will often be on dress lengths that range from mini to cocktail, but never longer. A similar style on longer dresses would be the mermaid hem.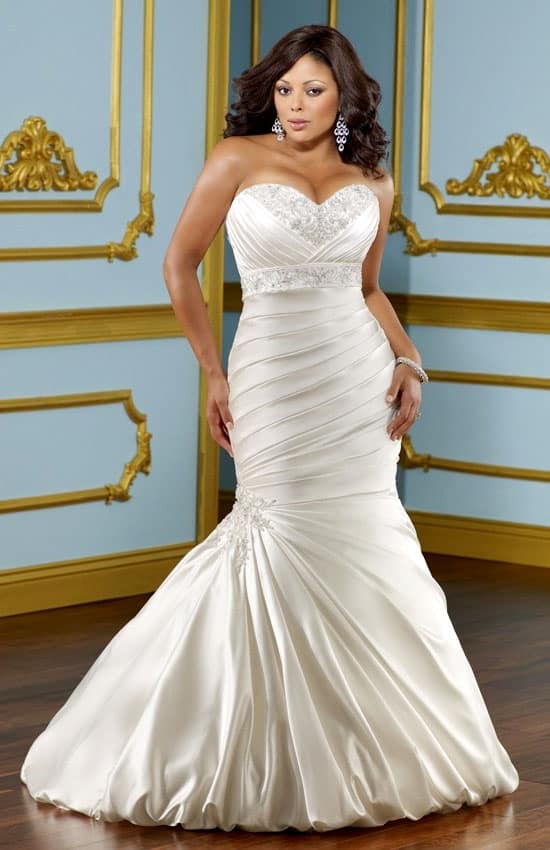 Handkerchief
A handkerchief hem is a unique hem style that is usually made up of several panels sewn together. The end result is a rough irregular look. The handkerchief hem will normally have one hem layer, but there are many skirts and dresses that will have several layers. This gives more depth and movement when worn. This is another hem style that only destination wedding dresses will have.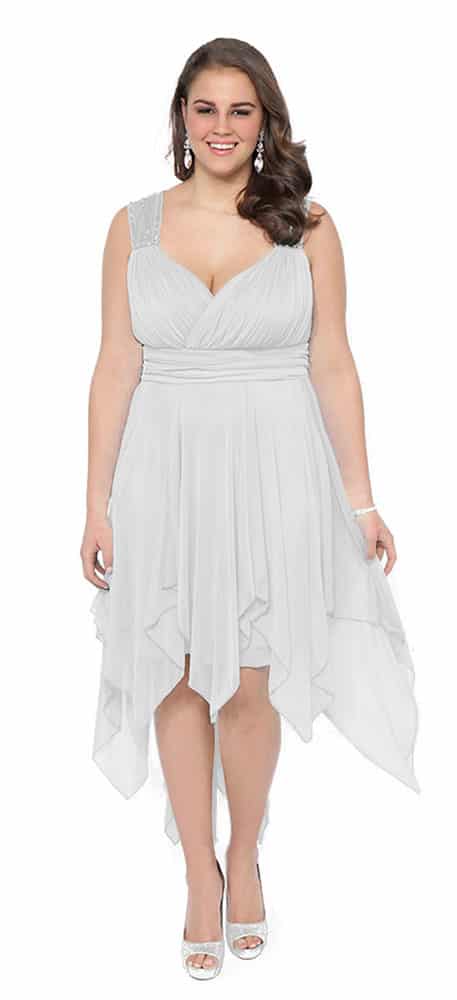 Hi-Low
A hi-low hem length is another version of an asymmetrical hem style that some brides choose because it's a unique choice away from the traditional. The front will be cut shorter and the back will be longer, giving the dress an almost flamenco feel to it. Hi-low dress lengths are a very popular choice for destination weddings.
Take a look at one of our previous posts to see examples of a hi-low hem.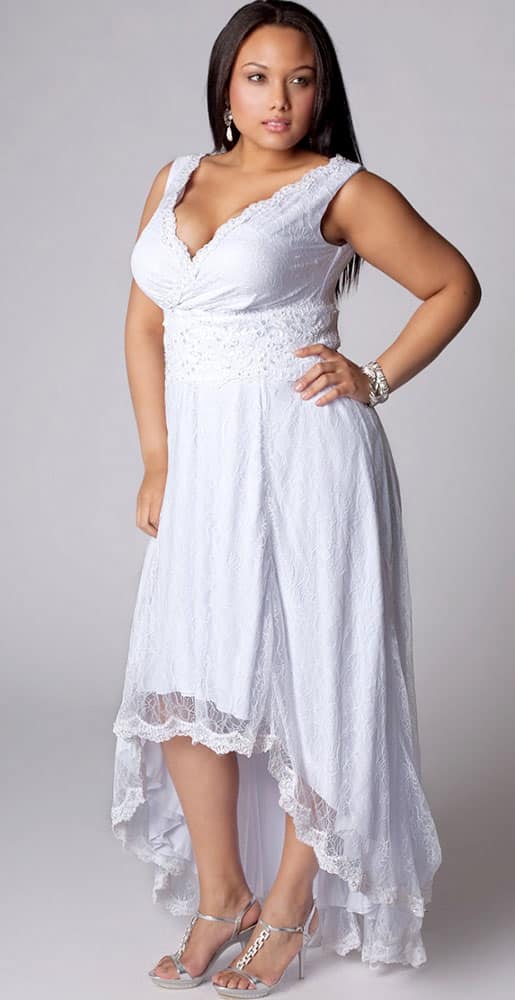 Knee-length
A knee-length wedding dress may seem far from traditional, but it's quickly becoming a favorite for brides of all ages. Flattering and easy to wear, this dress length is especially popular for contemporary and warm climate destination weddings.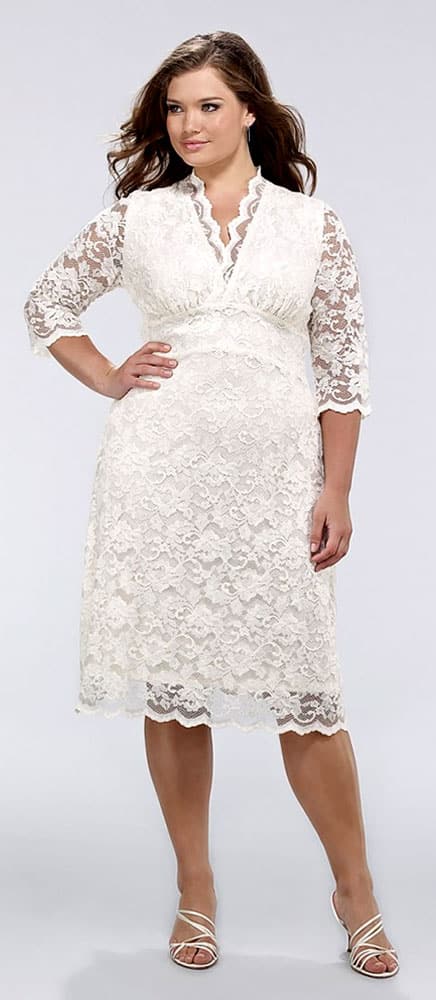 Maxi
A maxi dress length is essentially like a floor length, except this term is generally used on more casual dresses. The length will vary between just below the ankles to just grazing the floor. Some less traditional brides will find an array of cute white or cream maxi dresses for their low-key weddings.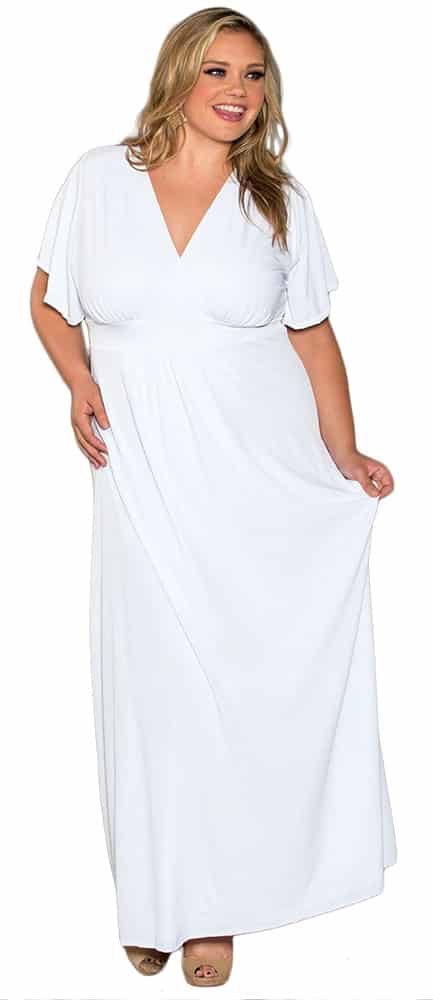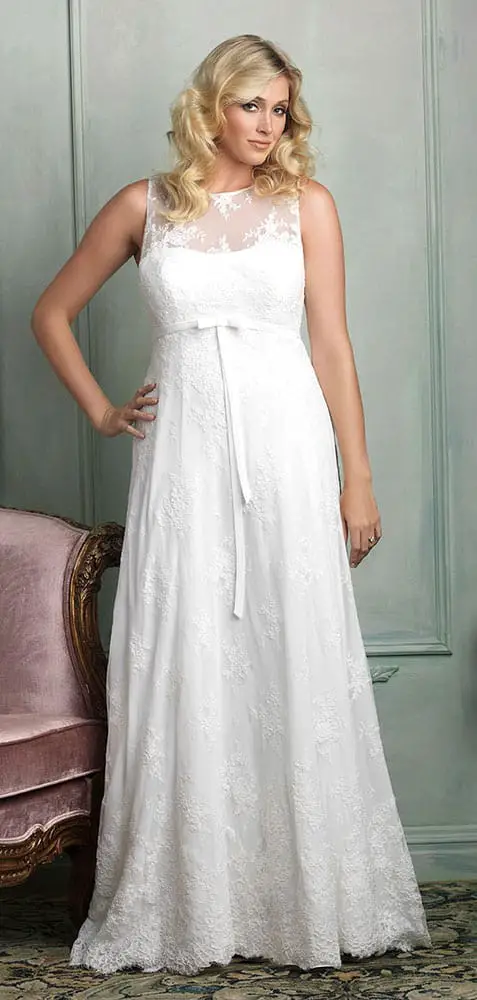 Mini
A mini wedding dress is perhaps not the first choice for most brides, but there are many beautiful mini dress styles available that flatter the body and keep you comfortable throughout the day. Most mini dresses are worn in destination weddings, as the reception wedding dress or even for rehearsal dinners. A great option for something unique yet still beautiful.