The classic white shirt. Feminine yet masculine, sexy yet powerful. A staple every fashion addict should have in their closet. Truly versatile and simple to style.
Yet many curvy girls find it extremely difficult to get the perfect fit.
From mean armholes digging into your armpits, to bursting buttons.
Finding a great fitting white shirt that you can take to the office and to date night can seem virtually impossible.
We don't want you to miss out on having a great white shirt. So use these helpful tips on your next shopping spree and you'll know exactly how to find your perfect white shirt.
Finding The Right Size and Design
Even though you're a curvy girl, you might not always have to shop plus size. Depending on the stretch of the garment, sometimes you can buy from the regular line.
When it comes to your white shirt though, always shop in the plus size section. Classic shirts tend not to have a lot of give. Even if the regular line fits you around the tummy, the rest of the cut will be off.
Plus size clothes are not just about being bigger in size. They are more generous in the cut and flattering in the shape. They are designed with a real voluptuous woman's body in mind.
Pick up your normal size and also a size above. You might find a size above gives you the extra movement you need to feel more comfortable. Try both of them on in the fitting room to make the best decision.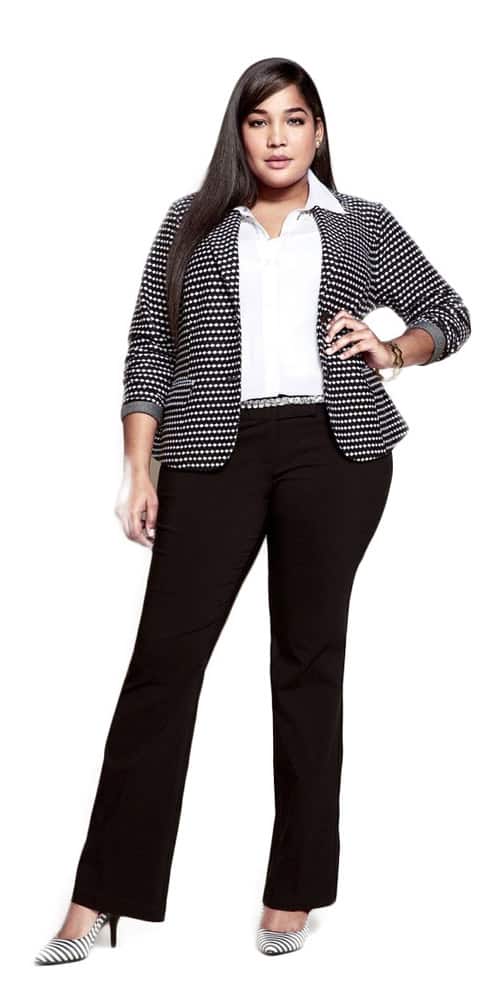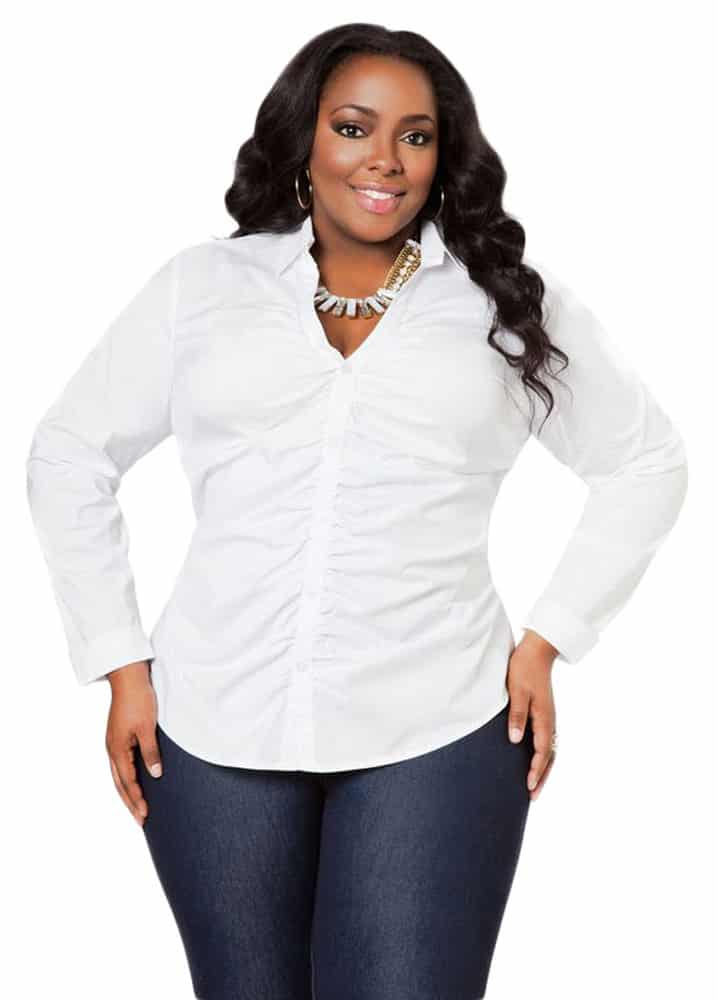 Cotton with some synthetic stretch fabric is the way to go. Many 100% cotton shirts are too stiff for a curvy body.
A shirt with a little stretch built in will be more comfortable. It will also help to skim over any problem areas.
Plus, it'll avoid any bursting buttons plackets at the bust. Button placket roushing will also help with any unwanted openings at the bust.
Three quarter length sleeves will flatter thick forearms better than full length. A more masculine, broad shouldered shirt will also balance out wide hips.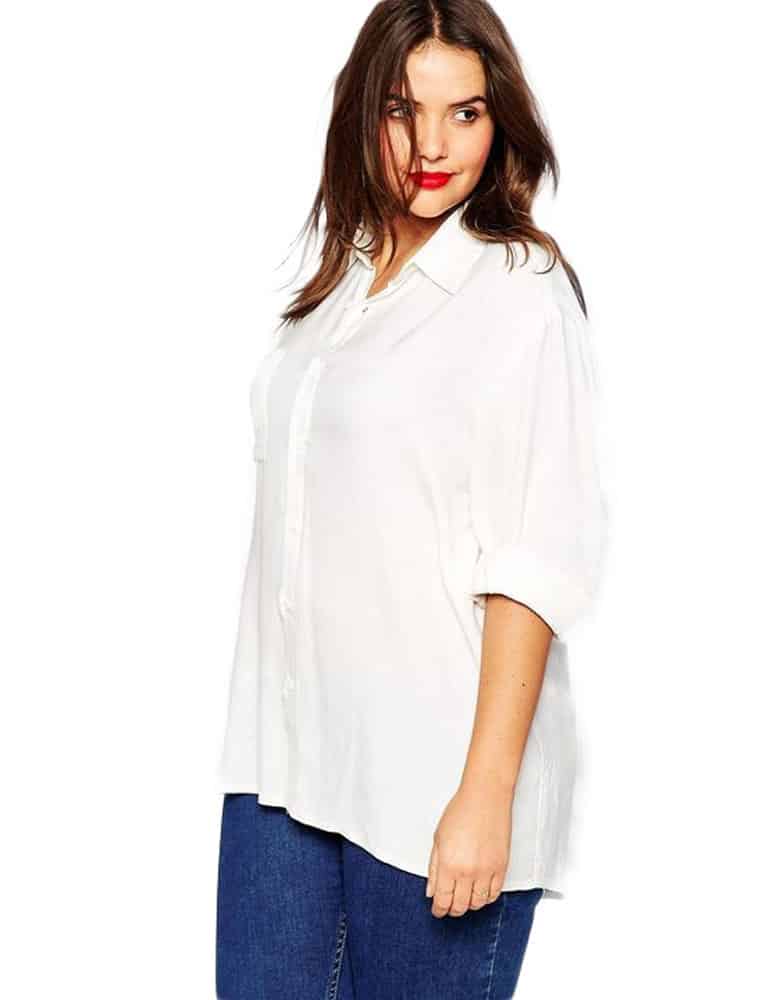 Choose Sleeveless
Another great option is to choose a sleeveless design. Sleeveless designs eliminate any arm hole problems. They also give the illusion of a full shirt underneath a jacket without adding bulk.
The sleeveless design will keep you cool and is also a more fashion forward style.
You can wear a sleeveless white shirt in just the same way as a regular shirt. Choose to button it up fully for a preppy look, or leave the collar undone for a more relaxed style.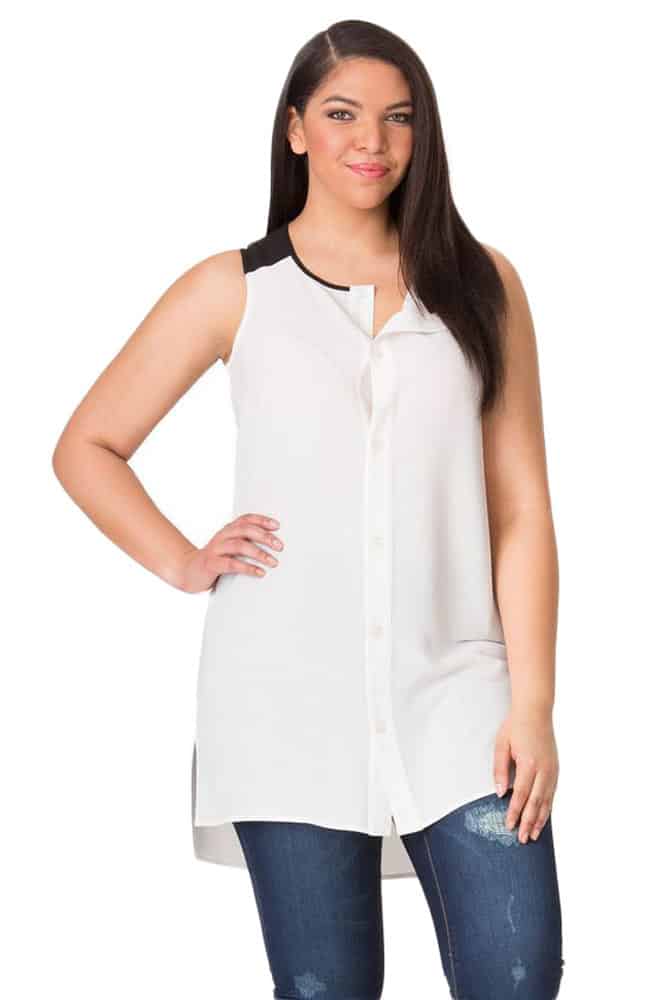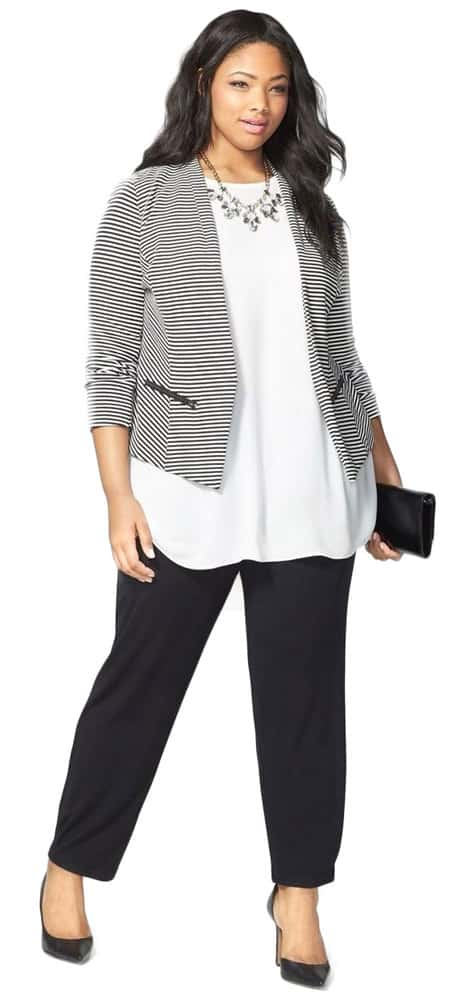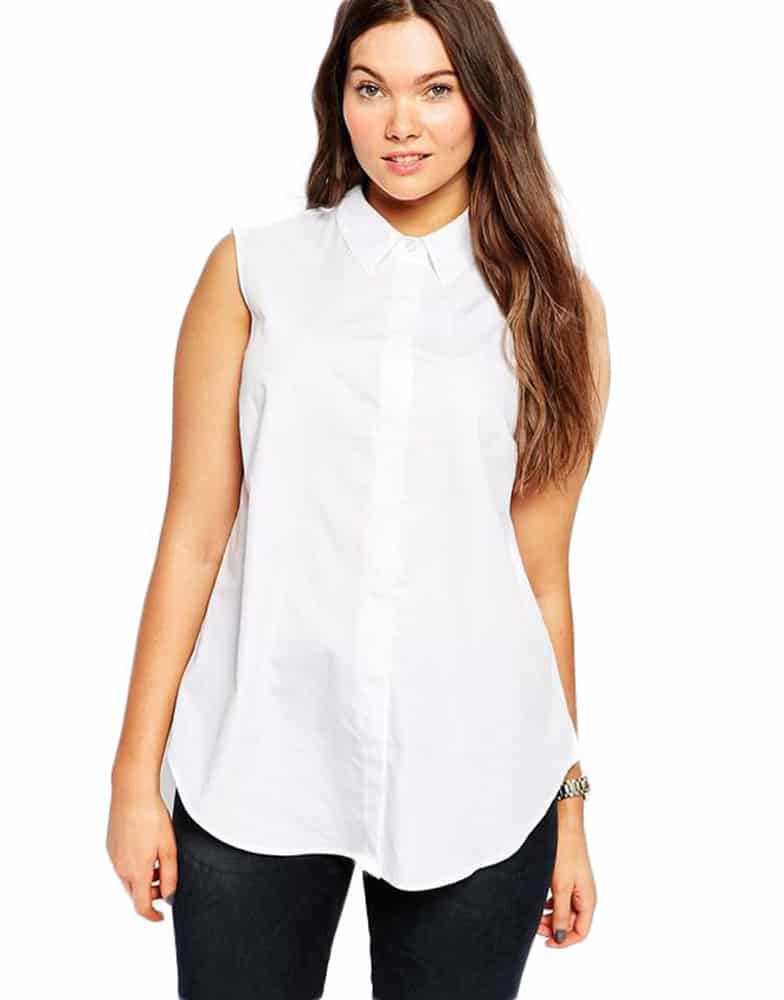 Choose Jersey Styles
Maybe you love the clean, crisp look of a white shirt. But you hate the restricted movement.
No problem. You can achieve a similar look with a simple jersey stretch white top. Once you pair it with your favorite blazer and slacks, you'll be office ready in no time. Plus, you'll be more comfortable.
Always look for breathable fabrics and stylish details. A high neck and peplum hem is a slimming look for any apple or pear shape. Collarless shirts are another ideal alternative. Pin tucks and lace details will add some sophisticated style to an otherwise simple white top.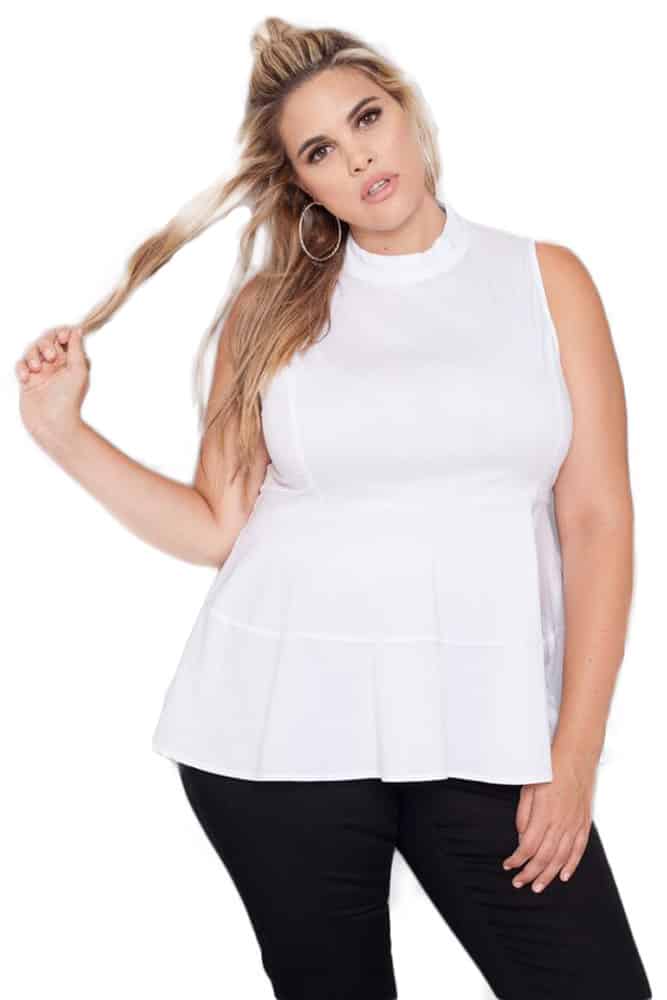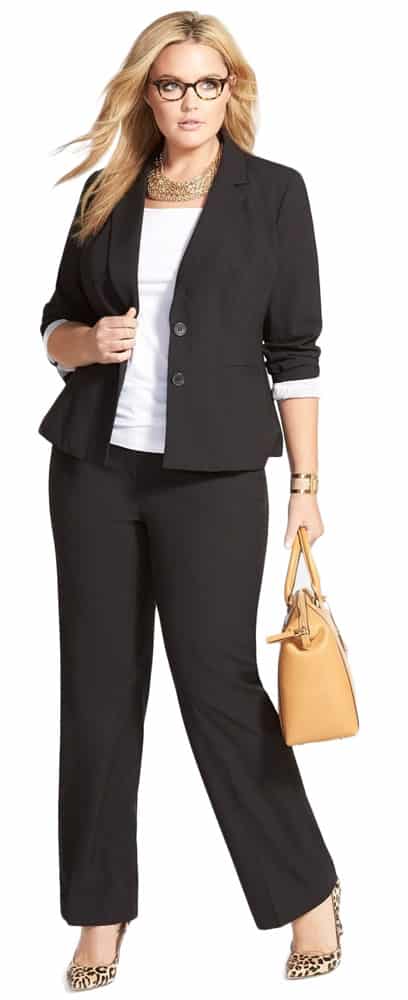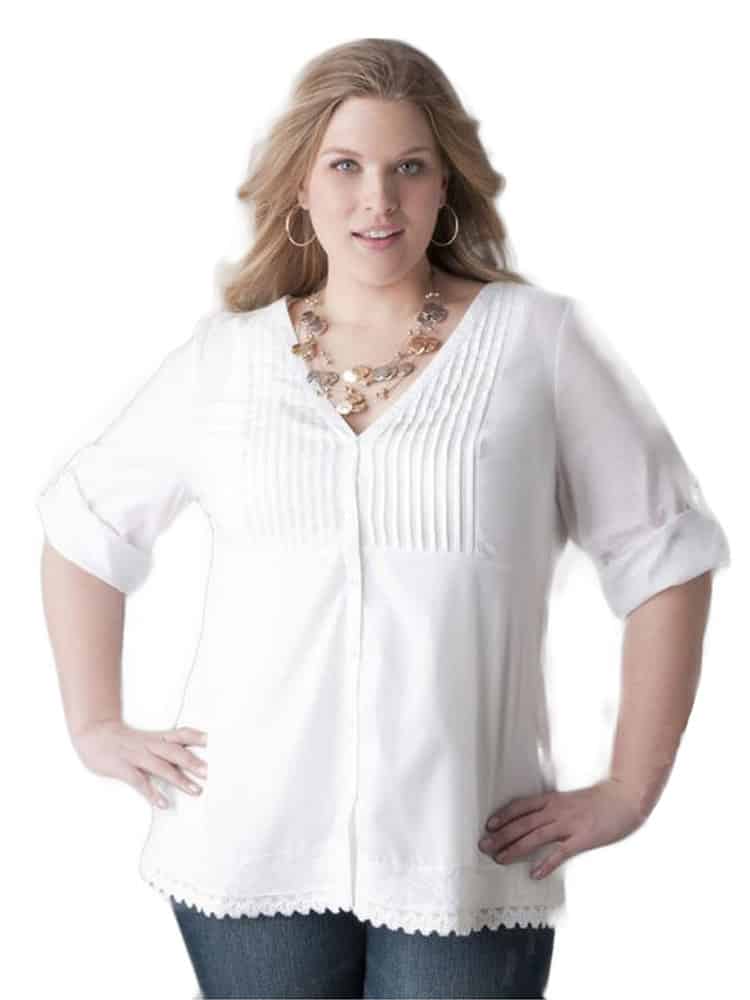 Choose A Shirt Dress
Shirt dresses tend to have more give than standard shirts.
Skimming over the hips, they are versatile and trans seasonal. Wear them with hosiery, leggings, jeans or even bare legged if appropriate.
Shirt dresses come in many different styles. Whether you prefer a fitted look or an oversized tunic style, there's one for every body shape and size. Simply add some delicate jewelry and a slick of mascara and you're ready to go!