Whether you're the bride looking to dress your plus size bridesmaids, or a plus size bridesmaid searching for the perfect dress for the wedding, you want to choose a dress that not only looks stylish and elegant, but will also feel great all day long. It might be the bride's big day, but bridesmaids should feel special too.
Thankfully, the tides have changed and it's no longer customary for all bridesmaids to wear identical frilly frocks, allowing each girl to dress for their own body shape and express a little of their own individuality. Many couples even choose to have different shades of the same color in their bridal party, ranging from pale to dark, depending on the wearers hair and skin tone – a great tip to ensure the dress flatters, whilst still matching everyone else on that all important day!
How To Plan If You're The Bride
Before settling on one particular designer, be sure they cater for all the sizes in your bridal party. The last thing you need is to choose a designer that only goes up to size 18 and you really need a 20. You've chosen your closest friends to witness you marry the love of your life, and they won't enjoy the day if they feel self conscious or uncomfortable in an ill fitting dress.
Larger stores will carry more sizes and have more style options, but smaller outlets will have more unusual and unique designs. Choosing to prioritize color over one style fits all allows your bridesmaids to choose a style that fits and flatters their own unique body. Ultimately it all comes down to fit and proportion.
If you don't have a big budget for expensive designer dresses, a good option is to take your store bought dresses to the tailors. The tailor will work their magic on fitting the dresses specifically to each bridesmaid, giving it that bespoke feel at half the price and trust us, your bridesmaids will thank you for it!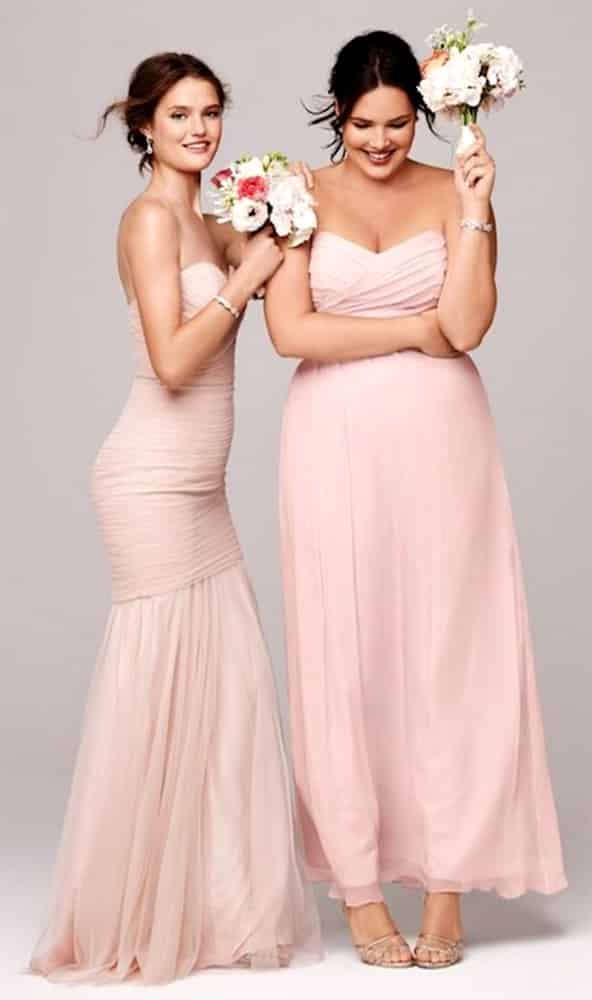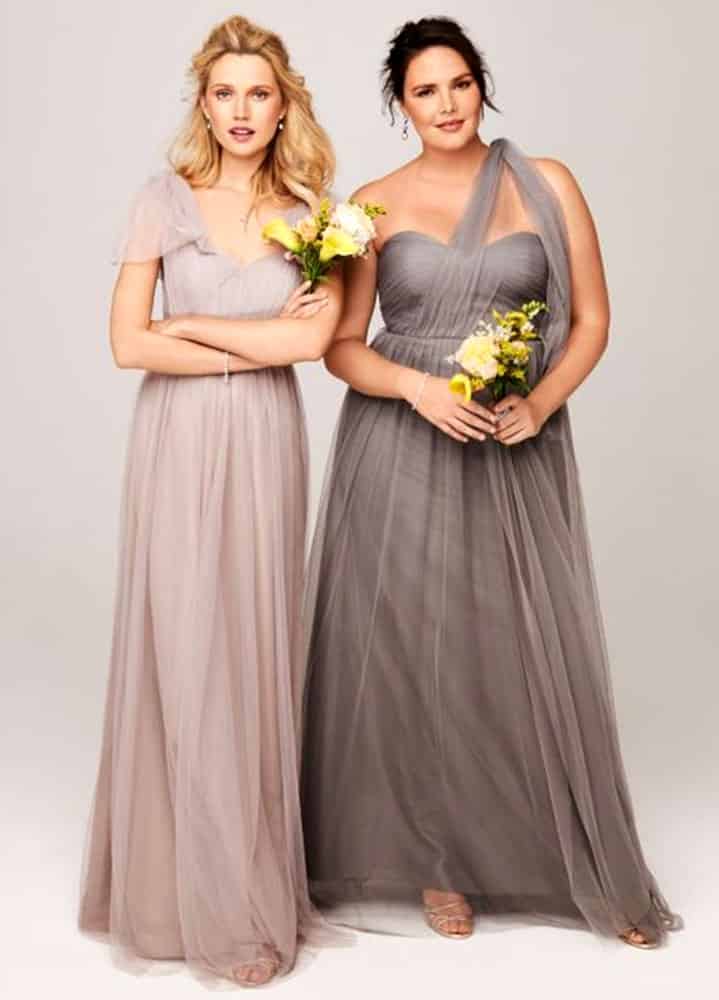 How To Plan If You're The Bridesmaid
If you have the permission from the bride to choose your own style, be sure to accentuate your favorite features. If you love your collar bone, try an off the shoulder number to really show it off, or if you have a great bust, emphasize it with a sweetheart neckline (universally flattering) or deep V neck.
In the same respect, disguise the areas you don't want to highlight. For example, if you can't stand to bare your arms, try a feminine number with detailed sleeves, or choose an A line silhouette to glide over large hips and thighs. Enhance any figure with clever tummy roushing, or soft draping at the back.
Consider your fabric choices too, stretch satin, heavy jersey and soft taffeta can be very forgiving and won't show off every ripple, bump and dimple, whilst harsh taffeta and light cotton can be much harder to pull off.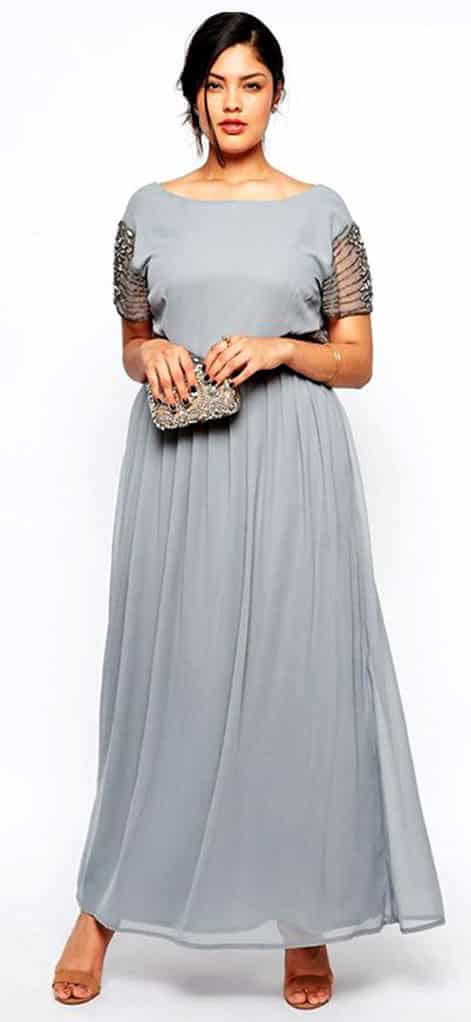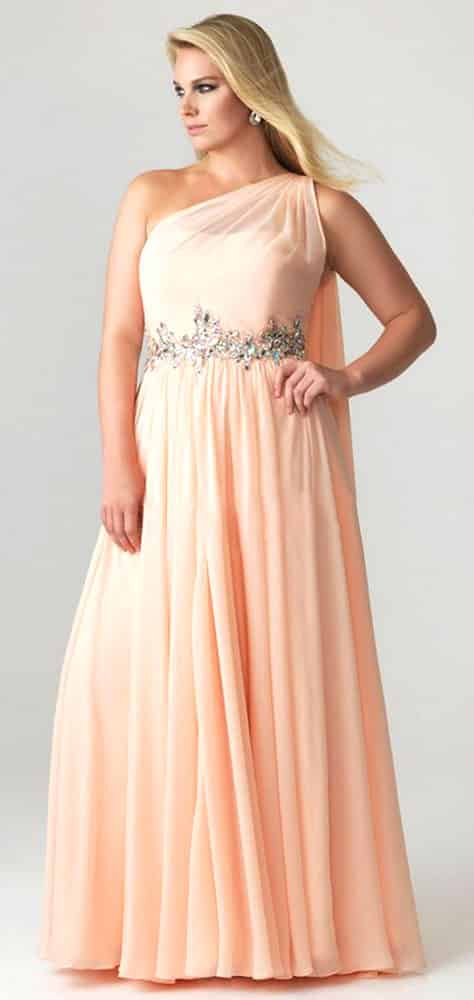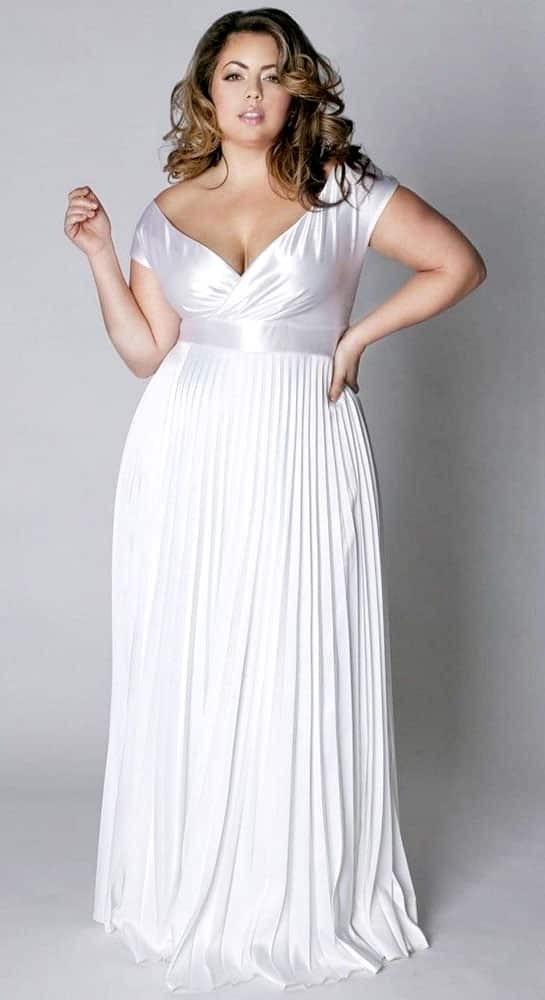 Having the right undergarments is absolutely essential for the overall look of your dress. Always be certain your bra has enough support and lift and that your underwear doesn't cut you off, creating visible lines in your dress. Don't forget a little magic shapewear to make you more streamlined, just make sure your shapewear isn't too tight otherwise you won't make it through the full day without wanting to pull all your clothes off.
White underwear can sometimes show up under flash photography, so opt for nude to be on the safe side.
To find a great bridesmaids dress for a big bust, opt for scoop necks which flatter ample busts, whilst strapless dresses look great on women with medium sized busts. Dresses with a built in bra can be a great choice too, as you won't have to worry about strapless dresses falling down or contrasting bra straps poking out from underneath the dress.
Off the shoulder is also a great style for most body shapes, as it flatters the neck and décolletage and heavy arms can always be covered with an elegant wrap.