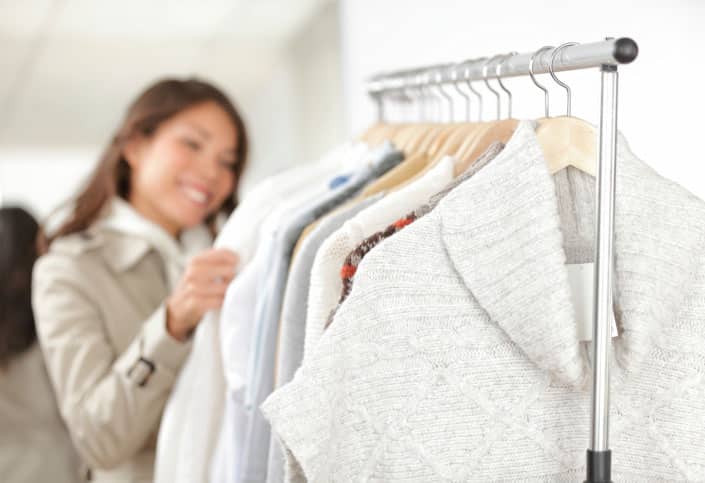 Plus size clothing tends to be more expensive and less available for purchase in shops and online. Even getting the standard wardrobe pieces can quickly add strain to any wallet. The thought of purchasing discount clothing gives many people the image of outdated or ill-designed clothes that are totally unflattering to anyone's body.  The key to getting a stylish and affordable wardrobe is to follow a few simple steps before starting the fashion hunt.
Research Plus Size Clothing Shops and Brands
Before heading out to look for shops that may carry plus size clothing, make sure to do a little research first. This will help you avoid wasting time and getting frustrated with the whole shopping experience. Many women hate going out to shop for clothes because they don't know where to go to get the right sizes and the right price.
The two most popular ways to get clothing today is by shopping in stores and buying online. Some people love going to the stores and trying everything on right away and others love to shop online with the option to return later. Regardless of which option you choose, research online is the best way to start. There is tons of information available at your fingertips, so you might as well use it!
Do a quick search for plus size clothing in your city, check out brands that offer a wide range of sizes or look up various shops that focus on plus size clothing.
Wait for Sales
Once you find shops and brands that have the clothing styles that you like, wait for sales and special deals before buying. Everyone knows that plus size clothing tends to be more expensive regardless of quality, so the best way to get the most for your wardrobe is to spend less in order to get more.
Add a Touch of DIY
Another way to save money and have a fabulous set of stylish clothes is to add your own flare with DIY embellishments. Start by purchasing plain tops, pants and skirts (which tend to be less expensive than other styles). Add lace, ribbons, ruffles, brooches or anything else you like to make it look unique and stylish but for a fraction of the price.
Take some time to look for great fashion shops that will get you a five star wardrobe and still have money left in the bank. A little effort in the beginning will result in a big collection of fun fashionable items that you can wear with confidence.